Larry Vickers is thinking about safety: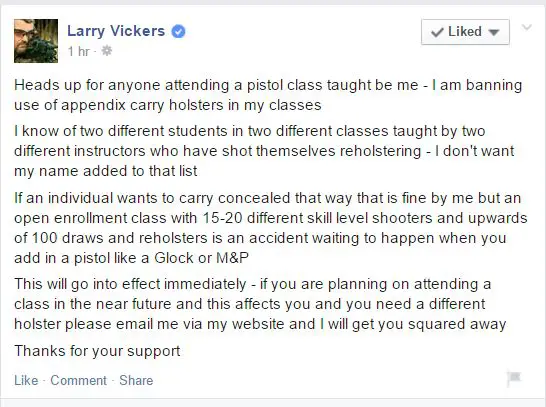 Hat tip Miguel at Gun Free Zone, who wonders if one of the mishaps Larry's writing about is this one. You can click the link if you like (and it's a good tale of real-world first aid), but for most of you, the illustration will remind you what can go wrong with appendix carry.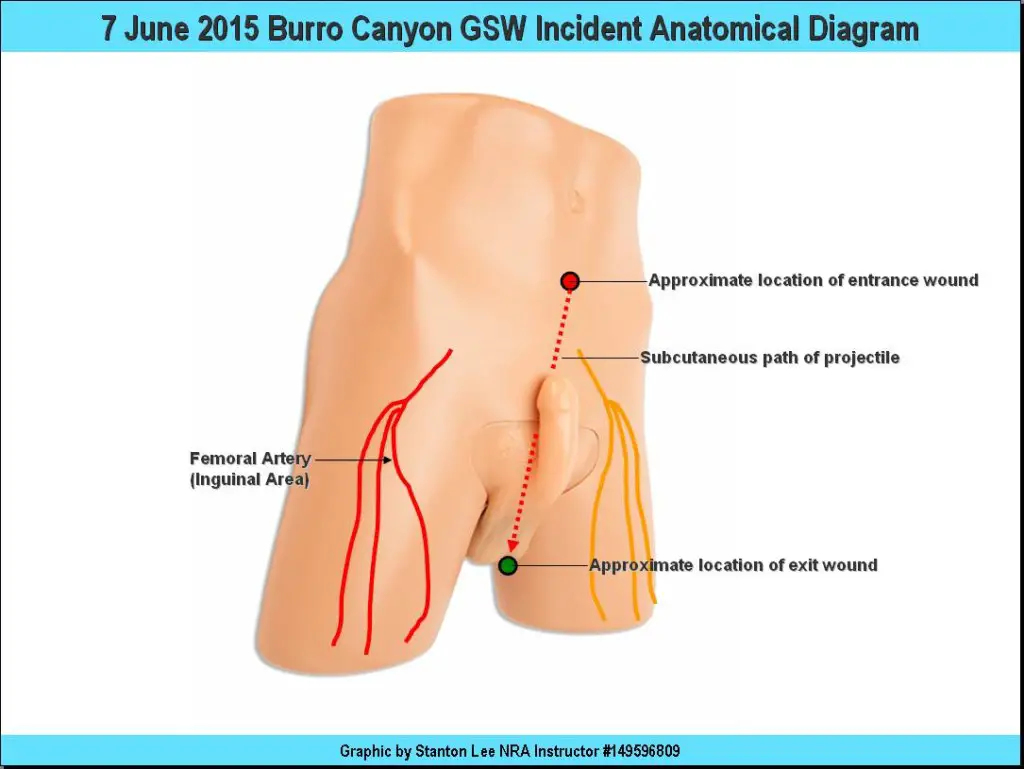 That cat was danger close to living to collect the usually posthumous Darwin Award, but apparently the projectile did not connect with anything vital in his junk. Good luck, though, explaining that scar to dates. ("Go ahead and kiss it. It's just a chancre!" probably won't fly).
Instructor (and aidman) Stan Lee's conclusions:
Briefing of the four firearms safety rules is of course a given, after that the first aid/gun shot wound treatment and medical evacuation plan should be thoroughly briefed as if an emergency incident had already happened to you.
He then runs through an emergency kit and emergency plan. It's a good idea, for reasons we'll cover in half a moment.
Someone should be able to brief all of the above in detail. That someone should be with the party from the beginning to the end. I think it's acceptable to have the GSW kit centralized but extra credit points for wearing it.
Stan learned his first aid in the Navy. All the services teach much better and more effective first aid than they did when old dinosaurs like Tom Kratman and I went in, and even better than my old unit had on our first Afghan tour. Didn't happen to our battalion, but in and around our time, other SF units lost guys because they exsanguinated, or developed tension pneumothorax, and the non-medics on site weren't skilled enough to treat them. (Well, that, and medevac was weak until 2004 or so — too few frames and crews, and it's a big country). That would never happen now; even support units get pretty decent combat life saver training.
Still, it's a lot better to use your superior weapons handling skills so as not to have to demonstrate your superior first aid skills.
Stan makes another point (and another reason to Read The Whole Thing™ on Miguel's site) in that simply briefing safety rules and plans at the start of a class is a Real Good Thing. In aviation, we found that when aircrews began briefing an instrument approach procedure-by-procedure, the number of errors (and mishaps) declined. In airborne operations, we found that when airborne units started doing a formal, stylized prejump briefing that everybody (especially devil-may-care skydivers) laughs at, the number of errors (and jump injuries) declined. It's great that an American paratroop officer can command his battalion, regiment or division from a wheelbarrow pushed by one of his privates, but he'd probably rather not go down in history for that. 
IWB and particularly Appendix Carry holsters introduce risk factors that are not present in an old-fashioned outside-the-waistband holster. (We also think that schools' focus on quick-draw engagements is usually misplaced). You can have an accident with any holster, but unless you've got a lot of experience, choose one that adds minimal risks.
As Larry notes, if you use a safetyless ("trigger safety", "safe action", anything that would have scared the horse out from under a 1909 cavalryman who had the grip safety added to the 1911) firearm you need to be extra careful about holstering and reholstering. Or, well, look at the picture.
Now, you can choose any firearm, and every one has its own risk factors. You can operate any handgun safely (we do not believe Larry has ever had an ND in God-knows how many Glock rounds), but you have to know it and its properties and operate it either with your mind on it 100%, or with skills drilled and drilled until you're always, instinctively safe with it.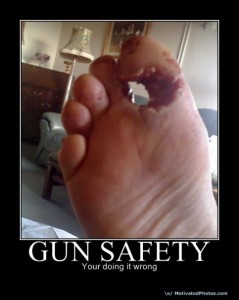 As the graphic we usually use with safety posts says, if you shoot yourself in a training class,  "Your [sic] Doing It Wrong." Like this fellow in the 'burbs of Orlando, Florida:
23-year-old man accidentally shot himself during a gun safety class at a pawn shop, according to the Orange County Sheriff's Office.

It happened at Instant Replay Pawn Shop and Shooting Range on Colonial Drive between Dean and Rouse roads, said Lt. Paul Hopkins.

The gun went off accidentally and the bullet grazed his leg, Hopkins said.
Amazing how this guns just "went off." No wonder newspaper guys all want to ban guns, they think of them as malevolent presences, stalking training classes and firing ranges, bent on bringing their primordial evil to bear on their hapless bearers.
Of course, that's all bosh and nonsense. They're simply machines, slavishly obeying the laws of physics and the input human operators apply to their user interfaces. In all history, the gun that "went off accidentally" is rarer that a comet sighting. He should admit he "set it off accidentally."  He, too, is going to live.
He'll probably never make that mistake again. But you know, we're supposed to be able to learn from his mistake, rather than only learn from our own.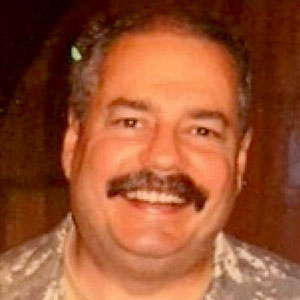 Kevin was a former Special Forces weapons man (MOS 18B, before the 18 series, 11B with Skill Qualification Indicator of S). His focus was on weapons: their history, effects and employment. He started WeaponsMan.com in 2011 and operated it until he passed away in 2017. His work is being preserved here at the request of his family.