Nazis: beastly but fascinating. They caused the second most trouble and death of any revolutionaries in history (the Communists have pretty much retired that trophy for all time). They spread their evil ideology from the Pyrenees to the Caucusus. And, what's probably the biggest source of their appeal, they had spiffy uniforms (with a tip of black hat to Hugo Boss) and terrific Teutonic technology.

But not all their technology was world-class. As the war ground on, the Third Reich's foothold in Europe contracted under the relentless pressure of the USSR in the East and the US and UK in the West and South, not to mention a wide range of national resistance movements and a bothersome strategic bombing campaign. Hermann Göring had planned that Operation Barbarossa would deliver the machine tools and industrial raw materials of the vast Soviet factories into his hands; instead, the Russians' rapid dismantling and displacement of industry — tools, fixtures, workers, and all — left him empty-handed. The new war-production overlord, architect Albert Speer, pressed every industry to do more with less. (This didn't happen only in Germany and Occupied Europe; put a "War Finish" British revolver next to a prewar example, or for that matter, compare the beautiful, polished blue on a 1930s Tokarev pistol to a crude 1944 example).
By 1944, the Germans were running out of small arms, and they couldn't build them as fast as they were being lost. So they began considering what were the barest minimum features a firearm needed to be militarily useful. They were losing men, as well; and desperate measures were soon in hand for personnel, as well as for armaments.
Many collectors have marveled over the crude arms issued at war's end to the Deutsche Volkssturm, and wondered what had so depressed the abilities of the Germans, supposedly Europe's leading technologists. But in 1945 hardened Russian, American and British forces were encountering ill-fed old men and boys armed with the military equivalent of crude zip guns. Many collectors today believe these guns to have been locally ordered and produced. But they hardly made a difference to the outcome of the war.
So, why the Volkssturm guns? Why such variety and crudity? And were they centrally planned?
The short answer is this: because they needed them, because no one source could supply enough, and yes.
The Germans were caught flatfooted by their 1943 defeats, and they were desperate to arm a replacement for the armies no longer available to defend the Reich. At the war's outset, they did not expect or plan for continued losses and resets of small arms, and small arms planners were late to learn of the late 1944 surge plan to create a nationwide militia of 6,000,000 sort-of soldiers – who were minus the 6,000,000 arms they needed to actually be soldiers.
Japan planned from early in the war to fight with limited natural resources. That's why, for example, Japanese rifles have chrome bores: not for the durability and corrosion-resistance benefits that have made them commonplace on modern military rifles, but because their researchers found it was a less costly substitute for expensive chrome-moly steels in increasing barrel strength. The Germans, on the other hand, did not expect to be resource-constrained. They fought the war, after all, to gain resources, including Lebensraum for the German people. Even when the war began to turn against the Axis, many German managers remained in deepest denial.
But by 1944, even Hitler had a hard time deluding himself about German expansion, and his appointed war production satrap, Albert Speer, was brutally realistic about German war production.
With entire German armies in the bag in Africa and Russia, and ongoing meatgrinders in Russia and Italy, the Germans were running short of manpower even before a second major front opened in June, 1944. The plans for the Deutsche Volkssturm, a mass-levied militia, went forward briskly. While many books seem to imply that the Volkssturm was merely a locally-raised militia beholden to regional Gauleiters, the Gauleiters were responding to a framework that was produced by Speer's, among others', central planning.
By November 30, 1944 the Staff Leader of the Deutsche Volkssturm (the German term is Stabsführer) envisioned a force of 6,000,000 men organized in over 10,000 battalions. The units were to be levied in four tranches and armed as shown: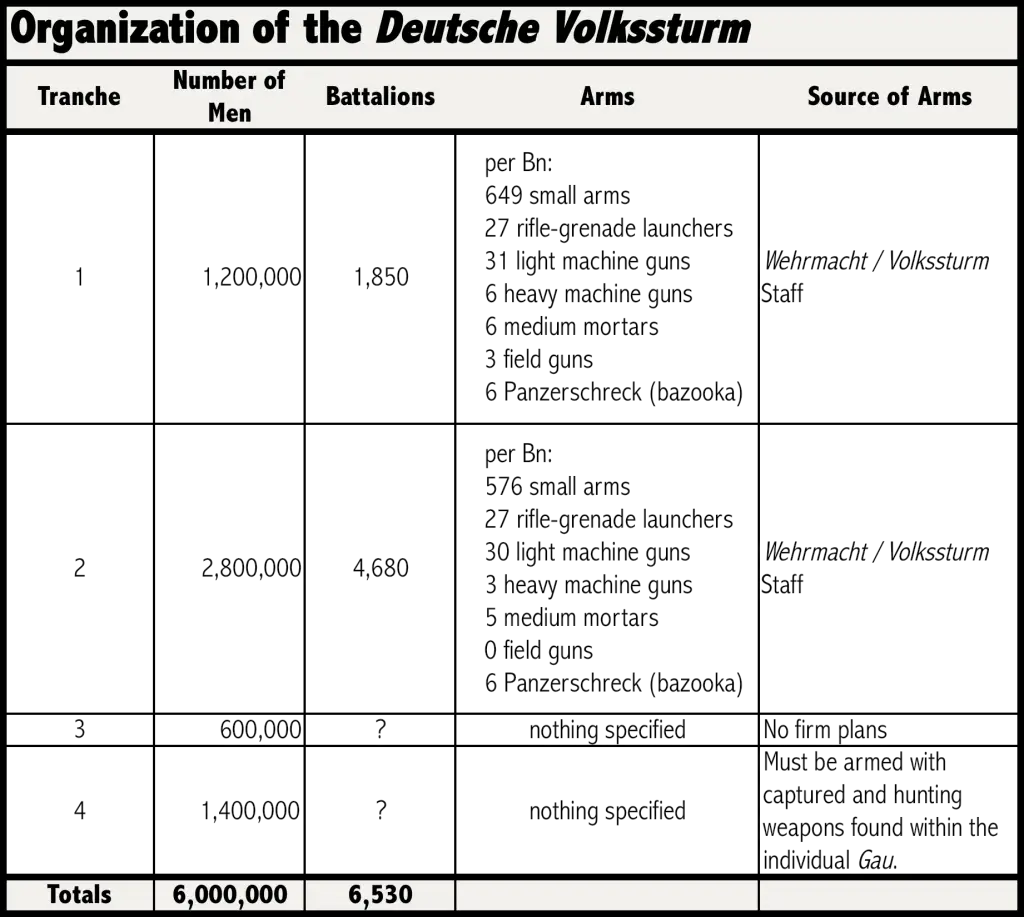 There was a slight problem with this, the staff director admitted, after further breaking down the numbers by particular Gau, he found that the Gaus that needed the guns the most urgently – the ones that were already invaded by the Allies, or were about to be, which two unlucky groups he called the "threatened Gaus" — had, on paper, a potential of 1,450 Volkssturm-bataillonen, yet of the needed 871,300 small arms, they had on hand only 9,690 – about two rifles per company, then.
It makes the 1942 Russian forces in Enemy at the Gates look positively lavishly equipped: why, every other or every third man had a rifle! Whether the real situation in Stalingrad got as bad for the Red Army as Enemy at the Gates's Hollywood version portrays, the situation for the Wehrmacht and especially for the Volkssturm by the late fall of 1944 was substantially worse.
By this point, facing a deliberate attack by an American mechanized battle group or a Soviet motorized infantry battalion was hard enough for fully-equipped, valiantly-led first-line German formations. For second-liners and militiamen, it was the equivalent of suicide-by-cop. But for them to even serve as speedbumps or to fill in inactive sectors of a defensive line the Volkssturm's old men and boys needed something.
That was the genesis of the Volkssturm arms program: to produce rapidly enough weapons to put one in the hands of each of six million cannon-fodder Volkssturmmänner.
Six German firms responded, offering nine different models, of four general types:
Single-shot guns that used the normal German 7.92 x 57mm cartridge. There were four of these, from: Appell; Bergmann; Gustloff-Werke; and, Walther.
Repeaters that used the 7.92 x 57mm round. There were two of these: one from Deutsche Industrie-Werke, which used the 10-shot detachable magazine of the K.43, and one from Röchling, which used 5-round stripper clips to reload.
Repeaters that used the 7.92 x 33mm short cartridge. Deutsche Industrie-Werke offered two different versions.
One semi-auto rifle that used the 7.92mm short cartridge. This came from the Gustloff-Werke, who hedged their bet with the single-shot turnbolt gun mentioned above. This is the famous VG 1-5, whose picture (from GunLab, where reproductions are underway) graces the top of this story.
Every one had a rough-hewn stock and rudimentary, usually fixed, sights. These rifles were demonstrated to Adolf Hitler (or maybe they weren't, actually) in the first week of November, 1944; and Hitler reportedly made his comments, issued his guidance, and selected the weapons to be produced.
To be continued.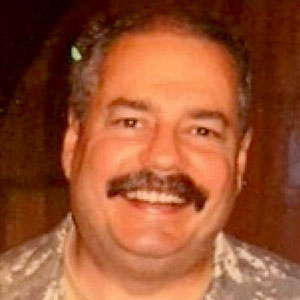 Kevin was a former Special Forces weapons man (MOS 18B, before the 18 series, 11B with Skill Qualification Indicator of S). His focus was on weapons: their history, effects and employment. He started WeaponsMan.com in 2011 and operated it until he passed away in 2017. His work is being preserved here at the request of his family.