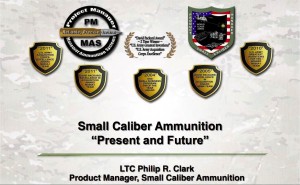 Here's a recent (2013) presentation (.pdf) from an Armaments and Munitions Conference conducted under the auspices of the National Defense Industrial Association, which used to, in the shadows of time, be the American Defense Preparedness Association, and which was before that the Ordnance Association. NDIA conducts regular conferences on many subjects of interest to WeaponsMan.com readers, and their briefing slides — the military being, for good or for ill, a PowerPoint culture — are generally available to the public at the Defense Technical Information Center. Small Arms and SOF conferences may be of greatest interest, but there are gems in some of the others, like this Armament Conference.
In the presentation, LTC Philip R. Clark, who was then the PM for Small Caliber Ammunition describes what the status of today's ammo is, and what's coming next. You can read Clark's slides as well as we can, so we'll blithely skip the present ammo inventory, except to slap one slide up here showing the 67 ammo products Clark was managing: eight 5.56mm rounds,  nine 7.62mm rounds, the single Mk248 .300 Win Mag round, ten .50 caliber rounds, and various odd jobs: .22 ammo, three pistol calibers, shotgun shells, training/marking, and dummy ammunition. (You get to 67 products from the 40-some illustrated below because of different ways they ship. For instance, M855 can be shipped bulk, in strippers, or linked).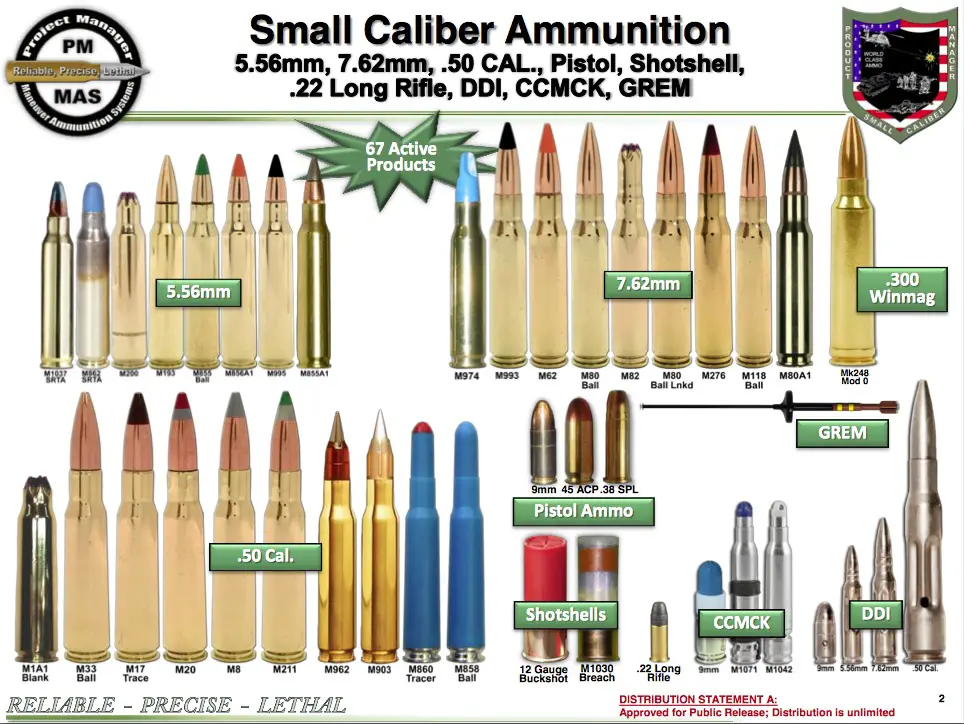 The military acquired and distributed about 1.4 billion rounds of ammunition in Fiscal Year 2013 (Oct 2012-Sep 2013). To put that in perspective, Lake City's total production was over 2 billion rounds, with the overage going to non-FMS exports and the sporting market.
Future: Fighting at Night
One fact implied in the presentation is that the future will see more fighting at night. Several rounds that offer dim-trace, IR-trace or "one way luminescence" are in development or in production. These rounds are meant to work with night-vision equipment, but also the OWL rounds (fortuitous acronym, that) are meant to upturn the old Murphy's Law of Combat, the one that reads: "Tracers work both ways." A world where you don't see your enemy's tracers coming is a more dangerous world. A world where the enemy doesn't see your tracers coming is less dangerous, though — for you, not for him.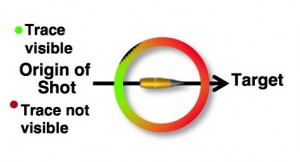 OWL isn't actually a "tracer" as we've come to know them, as it's not pyrotechnic in nature.
OWL is in R&D now in 7.62, and it's projected to come in during calendar 2016 in 5.56 mm. A future hope (pipe-dream?) is to provide OWL in ball ammo; it will be nearly 2020 before that's a reality, if ever. OWL is coming to .50, too.
Right now, the Mk301 dim trace round (not an OWL, but a needs-NV tracer) is in inventory for 5.56, in addition to the standard M856A1, the "green" version of the tracer equivalent to Green Tip. Outside of military night shooting, there's limited demand for tracers, but they'd look cool hog hunting and we still know guys who put a couple in the bottom of every mag so they're cued to be ready to change.
No tracer ammo is in production or in planning for the .300 Win Mag or .338 Lapua Mag rounds, which shows you how serious the Army really isn't about an intermediate or light-heavyweight machine gun.
Safer, Greener Training Ammo
Other major Army fixation is on "green" ammunition. In addition to that, they're pursuing safer ammunition for short ranges, ammunition that will allow them to reduce range fans (for which the current buzz acronym is SDZ, Surface Danger Zone).
One objective for RRTA,  Reduced Range Training Ammo, is to enable collective training (that's training of units, not individuals) in scenarios on live-fire 360º ranges. It's quite an engineering challenge to conceive and design a 5.56 round that is ballistically similar to a ball round at close ranges but that has lost all its oomph in 500 yards (460m).
RRTA depends on funding being available and research going well; it is years from being fielded. The Army seems to have scheduled an invention here.
Simunitions for All?
Special Operations Forces have long used Simunitions, marking ammunition for short range/close-quarters force-on-force training. The Army clearly desires to make use of such marking ammunition more widely in training, and doesn't want to buy proprietary stuff (like Sims) from industry.
Further Out:
Polymer cases offer a serious logistic benefit compared to existing case materials, for US small arms ammunition, mostly brass. There are still some problems (obturation is inferior to brass, and environmental impact greater). Development continues under the name LSCA, Lightweight Small Caliber Ammunition. Barring some unimaginable breakthrough, polymer cases are a better bet for the future than caseless.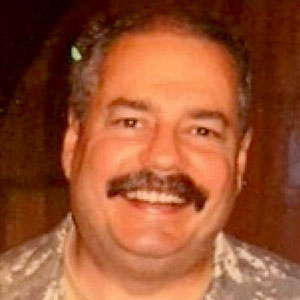 Kevin was a former Special Forces weapons man (MOS 18B, before the 18 series, 11B with Skill Qualification Indicator of S). His focus was on weapons: their history, effects and employment. He started WeaponsMan.com in 2011 and operated it until he passed away in 2017. His work is being preserved here at the request of his family.