Actually, we're entirely in the wrong end of Florida for it to be the Southland any more. The most common accent you hear around here is New York, followed by Joisey and Bawston. In the Panhandle or around Lakeland, we sometimes need the bailiff to step out and fetch the New Hampshire Turkey Herder interpreter, because the noises the locals make are clearly an attempt at communication, but are unintelligible.
Conversely, in Palm Beach County, home of the hanging chad — fifteen years ago, now, the Sore Loserman election — you might as well be in Rego Park in 1965, because it's all the same people. That's OK by us. Like people everywhere, nine-tenths of them are OK and the other ten percent is gonna wind up on TV sooner or later.
Usually, doing the perp walk.
So what do we like about Florida?
Well, the weather, for one thing. When we think of New England weather at this time of year — even though we've been having an unusually mild autumn, more like an extended Indian summer — our overall impression is one of bleakness. In high school we were made to read a dreadful novel, "a classic of New England," said the teacher, by somebody Forbes (Esther, maybe?). The book was called Ethan Frome and its climactic events took place during a wild, plunging sleigh ride. It radiated an overall sense of bleakness and depression, and we recall thinking, "If this is what every other poor bastard in high school is being made to read, the impression that New England is a horrible, austere, bleak place who deserve a violent sleigh crash at minimum will be universal in the nation." New England winters are beastly, bleak, and about February, interminable — like Ethan Frome — and that must generally be endured to the end — again, like Ethan Frome. They are proof that mankind has extended his dominion far beyond the latitudes that humans thrive in.
Florida, conversely, is an environment that humans thrive in. Of course, there is nothing natural about it. Before vaccination, antibiotics, drainage, and mosquito control, it had a reputation for being "deadly for the White Man." Which just goes to show how the ethnocentric chroniclers of old didn't take the suffering of the Red Man seriously, because the Seminoles suffered under all those same problems, plus an invasion of illegal immigrants bent on replacing them. Maybe that's why the Seminoles were our toughest Indian nut to crack; they went down, but they went down fighting, and they, and the bugs of Florida in millimeter, micro, and nano-scale, made the Seminole Wars America's costliest Indian Wars.
So we also love the history of Florida, so different from that of our native New England, and so similar. The Floridian driving from condo to Wal-Mart to chain restaurant doesn't know that he's driving on ground fought over in the 19th Century, which is kind of funny, because back home hardly anyone knows that some of the prominent features in town were named for 17th Century Indian fights.
Nowadays, the Seminoles, in what has become Indian custom, have partnered with "gaming interests" (think, Don Vito) and run casinos, and are proud to have their tribal name associated with sports teams,especially when there's a license payment involved. Twenty years ago, they had a chief who liked to fly and he got the tribe building airplanes. The venture failed but the airplanes they built were extremely good; their product was called the Micco SP26, and it's just a fantastic airplane and the owners tend to hold tight to them. People out there keep track of which Micco owners are over eighty and have google alerts set in a ghoulish obituary watch. You think of American Indians, and you don't immediately think, "building superior light aircraft," but there you go.
The "Indians" in New England "resurfaced" from tribes wiped out in King Philip's War, and end to have rather more Sicilian ancestry than Native American. So we like Florida for its Indians who are real by-god Indians, thank you very much. Stick to the coasts and you won't meet that many, but they're still here and they're good people.
We love Florida also because it has sensible, which is to say few, gun laws. Our first ever visit to a well-stocked Class III dealer took place in St Augustine, and the guys there showed a couple of little kids (Your Humble Blogger may have been 13, and he's the elder Rong Brother), outcrops of history and, to us, beauty: Maxims and BARs and OSS clandestine weapons and a Hi-Power with a shoulder stock. That was in the 1970s, when the hard part of buying some of these things was swinging the transfer tax ($200). The advent of NH->FL nonstops means that we don't have to maintain two sets of carry guns.
But the primary reason we come to Florida is for family. In a perfect world, and if we were granted perfection, it would be the primary reason we did many things.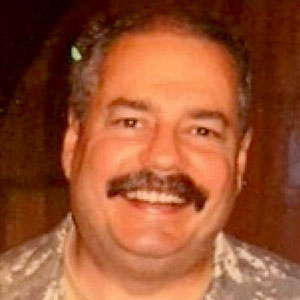 Kevin was a former Special Forces weapons man (MOS 18B, before the 18 series, 11B with Skill Qualification Indicator of S). His focus was on weapons: their history, effects and employment. He started WeaponsMan.com in 2011 and operated it until he passed away in 2017. His work is being preserved here at the request of his family.