"WeaponsMan," we can hear you thinking. "Dey already done dat." Well, not exactly. Sure, they printed a gun before, but this time they did something pretty amazing: they printed all 34 non-spring parts in a single go (see the photo of the parts below, fresh from the laser-sintering machine with only the unused powder removed yet). And they printed it of Inconel 625, which you've probably never used in a gun before (but if you've ever flown in a jet airplane, it was probably the turbofan engine's hot-section shaft and several other critical parts.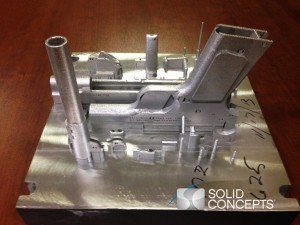 Inconel is fairly expensive and is normally not used in firearms for three reasons: (1) cost, (2) lack of necessity (steel, aluminum, and stainless steel have gotten the job done for the last century), and, (3) until now, it's been fairly difficult to work with.
Indeed, one of the greatest applications for Direct Metal Laser Sintering (and SLS and other metal-sintering additive manufacturing processes) is to make things out of those materials that break or wear down subtractive-manufacturing tools, or need exotic tool bits or inserts. That includes Inconel and Titanium alloys, of course, but we also hear rumors that sintering Tungsten is possible. How recursively self-referential does it get? Imagine 3D printing the tools you need to do final milling on 3D printed parts… that tomorrow could be today very soon.
Our second iteration is composed entirely of Inconel 625, a material that is stronger than Stainless Steel (and a bit heavier) save for the springs which were not 3D Printed. The gun is once again composed of thirty-four 3D Printed components. Our second gun will be stress relieved and post processing will be by hand once again.
This is an important note, that last sentence above. The parts don't come out of the DMLS machine ready to be snapped together — not parts for a precision machine like a firearm. But they go on to note that they're learning as they go:
Inconel 625 is a harder, stronger alloy than 17-4 Stainless Steel. We modified the geometry for this second iteration to incorporate different tolerances in order to make hand finishing sufficiently easier. With our first prototype, we had to hand sand to perfect a few tolerances, but our tweaks to the design should remove the need for such sanding. Our first gun is now up to 700+ rounds.
Because it's taken a while for us to bring you this, that 700 rounds is not up to date:
The #3dprintedmetalgun has now succesfully shot 1000 rounds! pic.twitter.com/oX1nknUY4Q

— Solid Concepts (@SolidConcepts) November 20, 2013
We're thoroughly enjoying this research-development-improvement process for an internal project. The implications of its success for our customers' future projects – from aerospace to medical – are very uplifting! Thanks to our followers for their support and enthusiasm, it has been quite the ride.
via World's 2nd 3D Printed Metal Gun – Solid Concepts Blog.
There are still some things we'd like to know about what Solid Concepts is doing. One is whether the powder from which the products are sintered is recycled or not? Aerospace firms working with Inconel parts produce a great deal of waste: chips from milling and drilling, and dust and powder from grinding. It would be great if that waste material could be transformed readily into raw material for a new process.
We're high on additive manufacturing here, an exploding new sector with new concepts, technologies, and even a new magazine, which we read avidly. It has applications far beyond guns, but guns are a natural application for this technology — if it's not strangled in the crib. Who would do that? Well, the only enemies guns have, some wag has said, are rust and politicians. Neither of the SC printed guns is very prone to corrosion due to the materials used, but additive manufacturing and home prototyping are being targeted in Congress by, who else, anti-gun politicians. The two leading the charge are Chuck Schumer in the Senate and Steve Israel in the House. Both are New York Democrats of a liberal bent.
Their proposals may not impact Solid Concepts (the firm has a manufacturing FFL, which will insulate it from some of peaks and valleys of Congressional misunderstanding). But they will affect all of us indirectly. Somewhere, maybe even in the New York so poorly represented by those two gentlemen, a 20-year-old kid has the potential to be the next John Browning or Gaston Glock, or even a Steve Jobs of physical things. (Schumer and Israel were not in Congress in the 1970s to ban homebuilding of computers).
We see incredible new vistas of the imagination. (Imagine bringing Grandpa's broken shotgun back to life by printing a new hammer, after scanning the parts of the broken old one. Imagine having that technology in your gunsmith shop). Will people misuse the technology? You bet. Will criminals print guns? Maybe. Criminals are not the masterminds you see on TV, but in 10 years you won't need to be, unlike today's early adopters who are paying thousands for technology that will very soon be obsolete. But we can easily imagine unethical restorers printing, say, matching parts for a mismatched Luger and aging them. (Even that is only unethical if the result is passed off as original).
Many things that were out of reach once are not now. Also, the economics of manufacturing may be changing, to favor small runs of valuable items.
Imagine a commemorative gun for your Army unit or Navy ship. "The USS Miami plankowner .45". The decoration could be designed right in — it would cost no more to make a highly customized gun than a slabsided standard one. (Guns are a tiny market for this technology. Think of what Bridezillas will do with the ability to have something shiny, of stainless steel, and personalized for every member of the wedding party and guest. Imagine hot-rodders printing different-length fuel-injector runners to accommodate a reprogrammed timing chip).
The upside of this technology is scarcely imaginable. This could be as big as the 1970s computer revolution, and all of us can be part of it. We just need to keep those with fascist tendencies (we're heil-ing you, Schumer and Israel) from strangling it in its crib. And that's where we are as 2013 closes: at an inflection point between revolutionary science, and reactionary politics.
History tells us how this ends: science wins. But not without our help.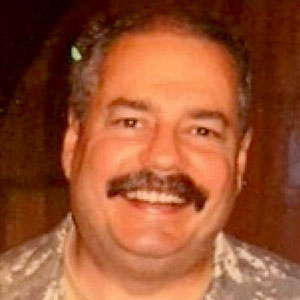 Kevin was a former Special Forces weapons man (MOS 18B, before the 18 series, 11B with Skill Qualification Indicator of S). His focus was on weapons: their history, effects and employment. He started WeaponsMan.com in 2011 and operated it until he passed away in 2017. His work is being preserved here at the request of his family.