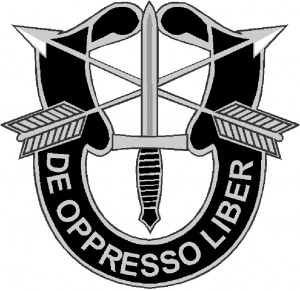 This document, linked in this post, is official Army doctrine on Special Forces operations. It will be very boring to those of you looking for a JADE HELM smoking gun, or even a lot of nuts and bolts about how SF does things; most of those details live in team and unit SOPs, and those don't circulate beyond the community.
FM 3-18 is less than a year old and covers many thing better than previous editions of itself and its forerunner (FM 31-20 and 31-21). Among the things it covers better is SF integration with ARSOF and joint conventional forces, and it even includes an excellent and accurate recounting of SF origins and history.
Special Forces units are oriented to specific missions and regions. This drives their area studies, contingency mission planning, and language and cultural training. A unit's area orientation is expressed in mission tasking letters, which are classified documents. Until relatively recently, the general orientation of specific SF elements to specific unified combatant commands was classified SECRET, even though it was very widely known and ridiculously easy for anyone to figure out. In this unclassified document, the regional orientations (which are adjusted from time to time) finally come out of the closet. Old-timers will note the disappearance of LANTCOM; its mission and responsibilities were divided among NORTHCOM, EUCOM, and Joint Forces Command (JFCOM) beginning in 1993; JFCOM has since been disestablished.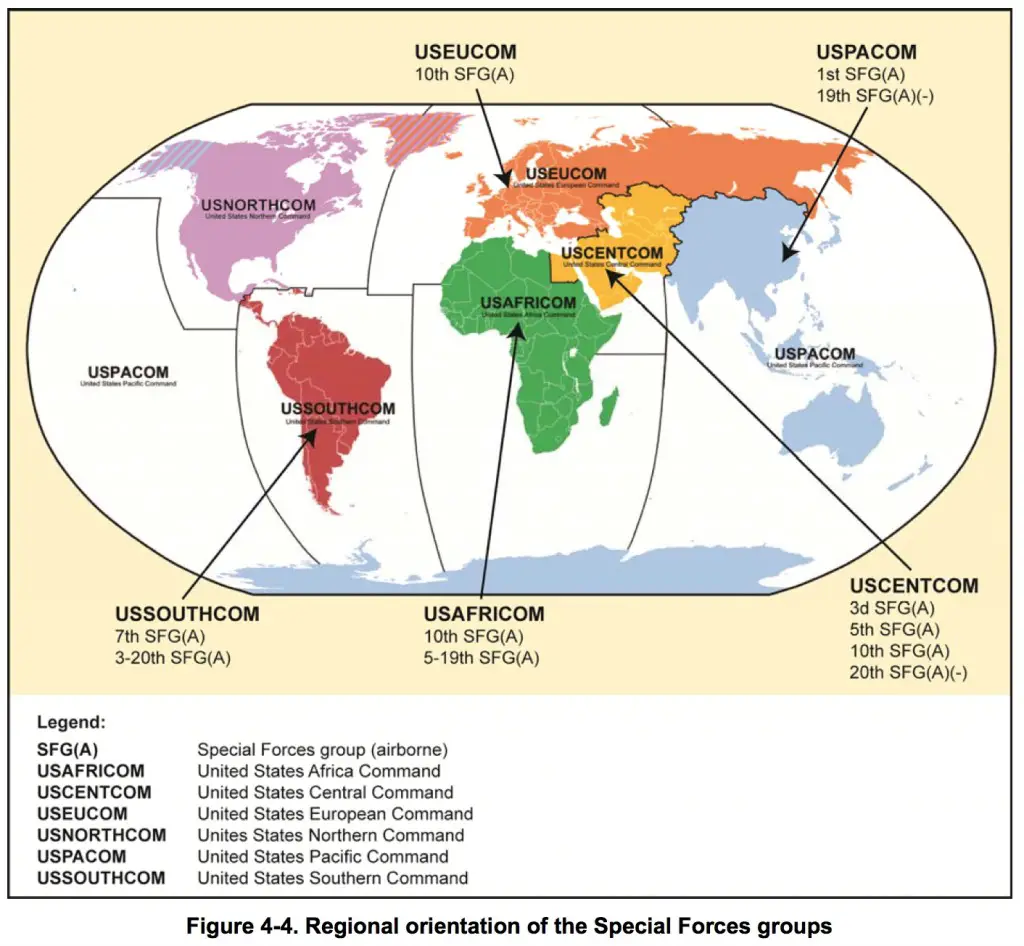 In addition to the Special Forces units, some other ARSOF and other services' SOF plan to fall in on specific commands in specific contingencies, but none has the highly developed, long-standing and persistent area orientation of Special Forces.
There are many key ideas to be distilled from this document, for instance:
The following five criteria provide guidelines for conventional and SF commanders and planners to use when considering the employment of SF:

It must be an appropriate SF mission or activity. SF should be used to achieve effects that require its specific skills and capabilities.

The mission or tasks should support the [Joint Force Commander's] campaign or operation plan or special activities.

 The mission or tasks must be operationally feasible. SF is not structured for attrition or force-on- force warfare and should not be assigned missions beyond their capabilities.
Required resources must be available to execute the mission. Some SF missions require support from other forces for success.
The expected outcome of the mission must justify the risks. Commanders must make sure the benefits of successful mission execution justify the inherent risks.
Doctrine like this is catnip to force and strategic planners. It tells them what units can and can't do; it alerts them to the range of practical possibilities. With any luck it fires their imagination.
SF has evolved a good bit since we first darkened their door in the long black night of the Carter Administration. In the 1980s, SF avoided disbandment by offering commanders the capability to conduct deep strike and strategic or special reconnaissance. Despite the wonderful array of technical intelligence, surveillance and reconnaissance systems today, there has proven to be no substitute for intelligent, American (or American-controlled), human eyes on target. SF has proven to be a great distributor of "ground truth." But the evolution of other SOF elements has produced other units that can do eyes-on-target, and that can do DA missions. (In some cases, some specific combinations of unit and mission, they do these missions better, and in some, not as well, as SF would do).
USASOC has identified 13 different principal tasks that special operations units must conduct. Of these it she's the following nine, in the brown boxes, suitable to a greater or lesser extent for SF units.

Since the 1970s development of units specially oriented towards surgical strike tasks, SF has concentrated more of the "green spectrum" of special warfare tasks. Only a small subset of SF, now called the Crisis Force (formerly, the Commander's Interim/Intervention Force or CIF) maintains proficiency and currency in surgical strike tactics, techniques and procedures.
More SF doctrine document discussion Real Soon Now™.
Update:
Oops. We meant to attach the document. Heck, that was the whole point of this post. Here: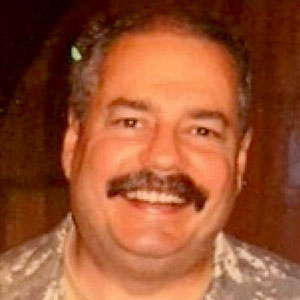 Kevin was a former Special Forces weapons man (MOS 18B, before the 18 series, 11B with Skill Qualification Indicator of S). His focus was on weapons: their history, effects and employment. He started WeaponsMan.com in 2011 and operated it until he passed away in 2017. His work is being preserved here at the request of his family.