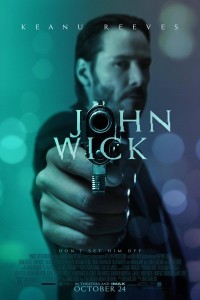 If you're looking for a realistic movie, keep looking. If you're looking for an entertaining rollick, have a look at this. It's on the movie channels at present.
Keanu Reeves is the title character, John Wick, and he's the guy with whom you simply do not want to get crosswise. He has retired from a career in murder and mayhem and lives quietly and introspectively by himself with his adorable dog, his Boss 429 (the first choice of cars for low-profile, off-the-grid operators, naturally!) and the memories of his deceased wife, Helen (played in flashback by Bridget Moynihan).
The beagle puppy wasn't just any irresistible pooch, but a posthumously-delivered gift from his sainted wife.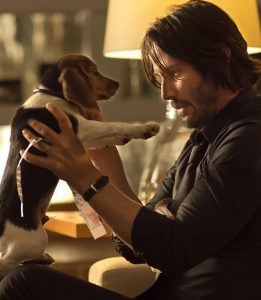 This contemplative isolation is interrupted when the spoiled, worthless kid of a Russian organized crime figure (it's Hollywood, the bad guy has to be someone without an Association for Advancement or Anti-Defamation League or Council Of…) takes a shine to his classic Mustang. In the end, Wick ends up with a beating, and Little Ivan ends up with his car.
And oh, yeah, they murder his dog. Just in case you had any doubts about who the bad guys were. The rest of the movie is gold-plated, ultra-violent revenge fantasy.
Acting and Production
Keanu Reeves makes Wick about as believable as anyone can make such a unidimensional cutout. His athletic ability is taxed more than his ability to emote in close up as he throws, shoots, stabs, slings, skewers, slices and dices armies of doomed criminal mooks, often applying several types of brutality to the same target at once.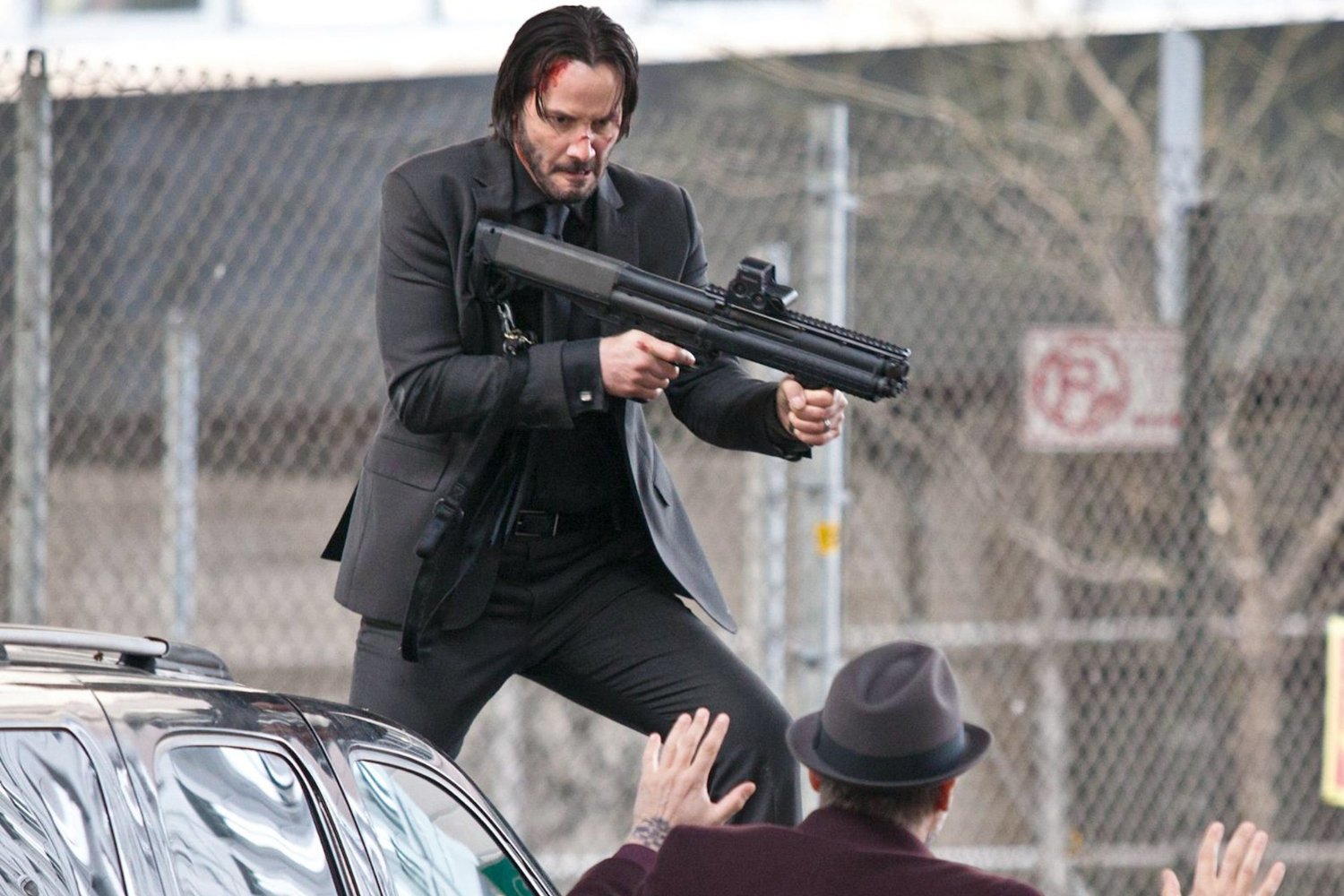 Most of the other actors exist either to support him or to be killed in grisly, spectacular, choreographic fashion. Willem Dafoe plays the sort of creepy character that occurs when directors specify that the writers write a part for Willem Dafoe!
Reeves has come a long way and has taken some interesting action roles. At least here, he's not trying to act Japanese, as he did in 47 Ronin, a movie about a Japanese historical event that had highly consequential cultural impact. (47 Ronin is another movie that we thought we had reviewed in this space, but hadn't). He pulls together the dichotomy of the title character's and his opponents' refined, beautiful surroundings and their tendency to violent action.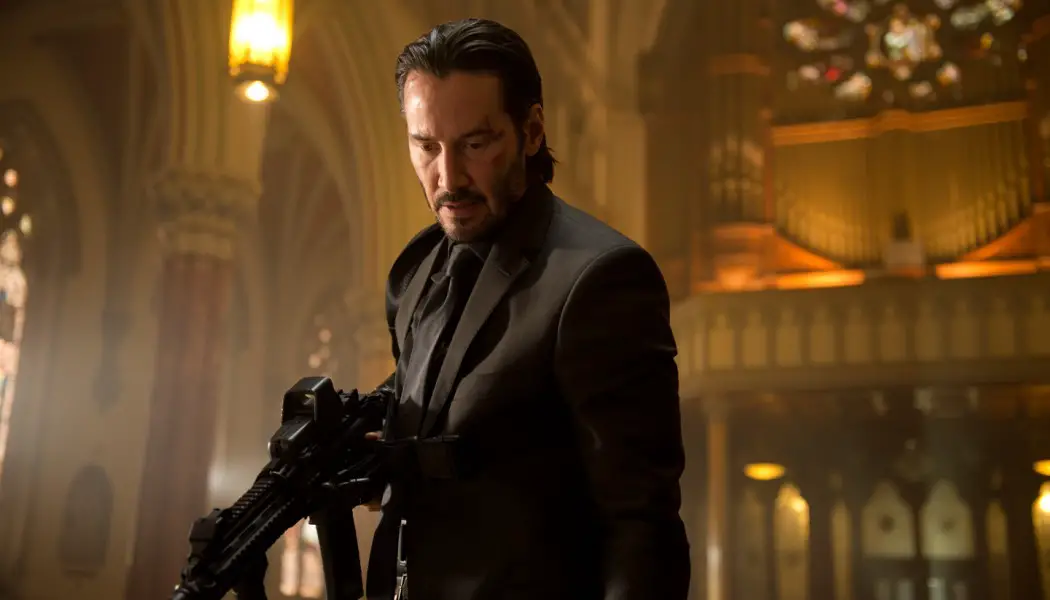 The directors were first-time-out major-pic guys who had worked as 2nd Unit directors and, perhaps most importantly in this stunt and effects extravaganza, in the stunt world. They delivered a hell of a movie against a $20 million budget.
Because of the puppy's grisly end in the movie, the dog actor had to show up at the Oscars for proof of life. Here it is: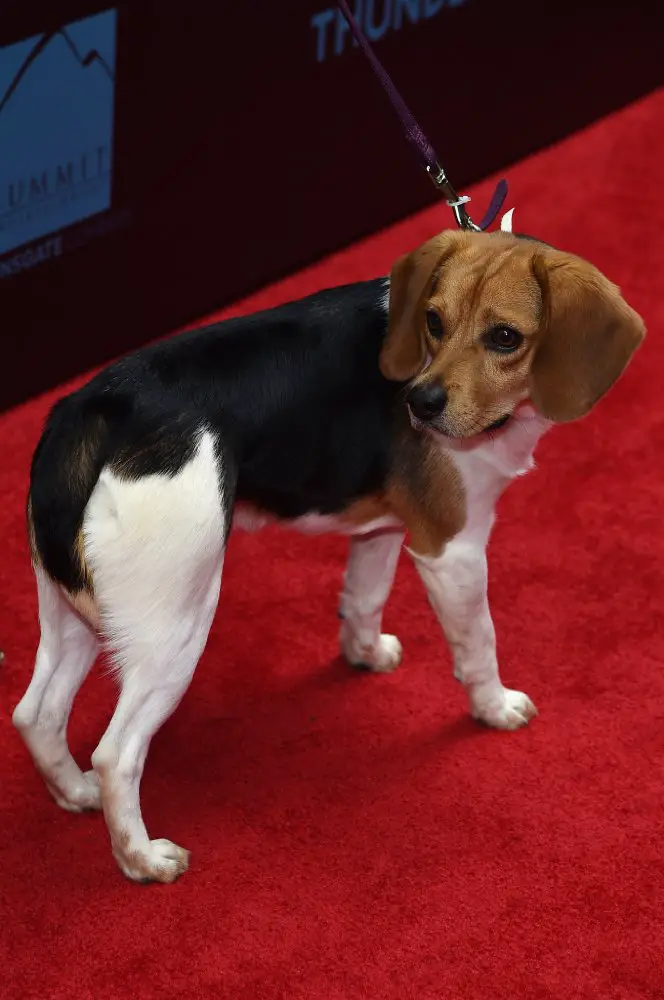 You'd have your tail between your legs around that crowd, too. Where do Hollywood types turn when they run out of jailbait?
The film has that currently popular dark cinematography — it's not something you watch happily on a small screen wth the lights on; put it on the largest screen you've got, in a darkened room.
As you might have guessed from the picture above, Wick learns the lesson of trying to be low profile with a classic Mustang Boss 429, and spends the rest of the movie with a similarly classic Chevelle SS.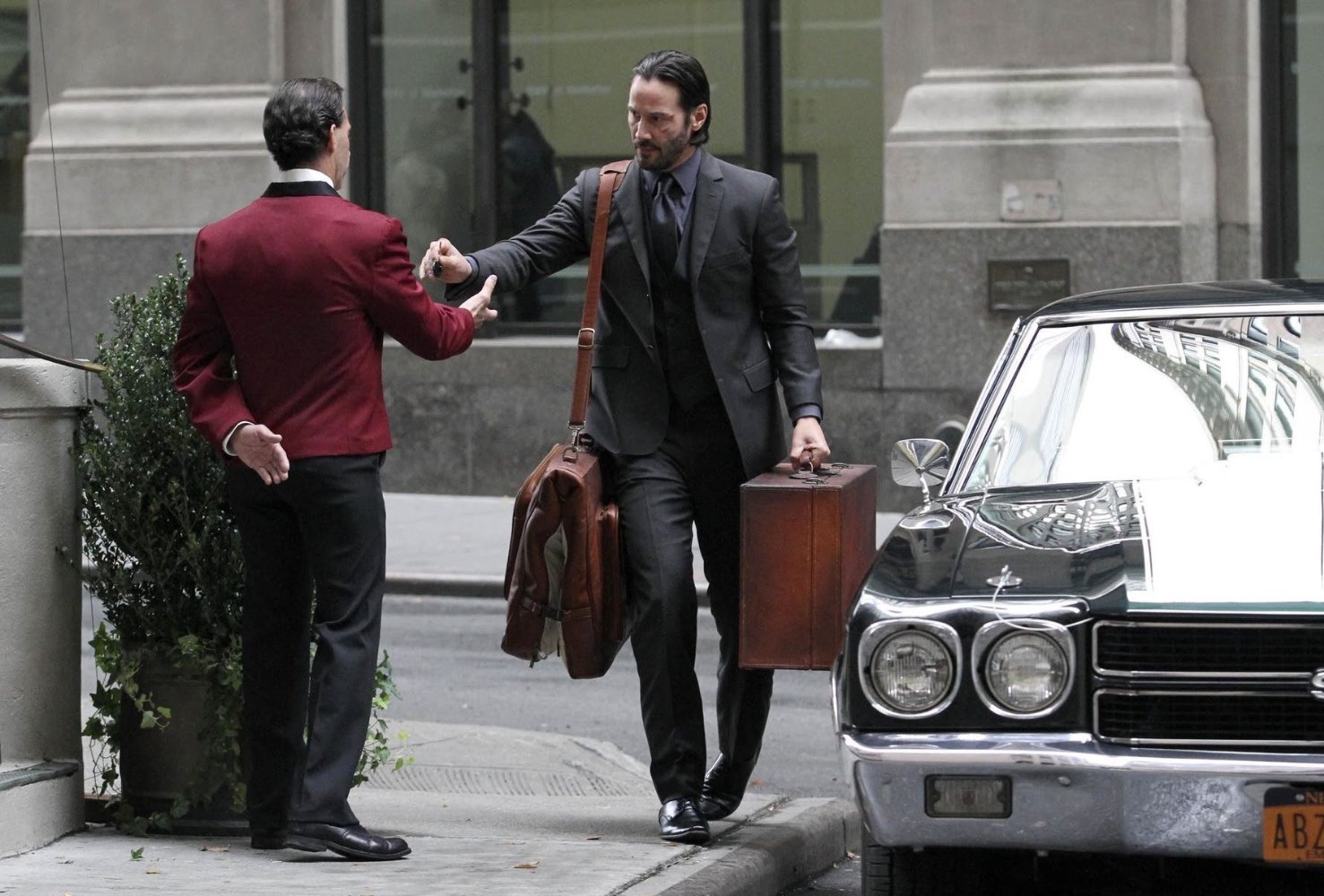 Watch this one with your best dog curled up by you and a beer in your hand, or a gun in your hand to laser-cartridge the bad guys (combining the gun and the beer in the hand can lead to bad consequences, like spilled beer for example. Not recommended — pick one or t'other).
Accuracy and Weapons
Do not look for accuracy here; it's no less fantasy than the Harry Potter series, at least inasmuch as firearms, knives, and hand-to-hand personal combat are depicted. Choreography, not combat. But it's fun.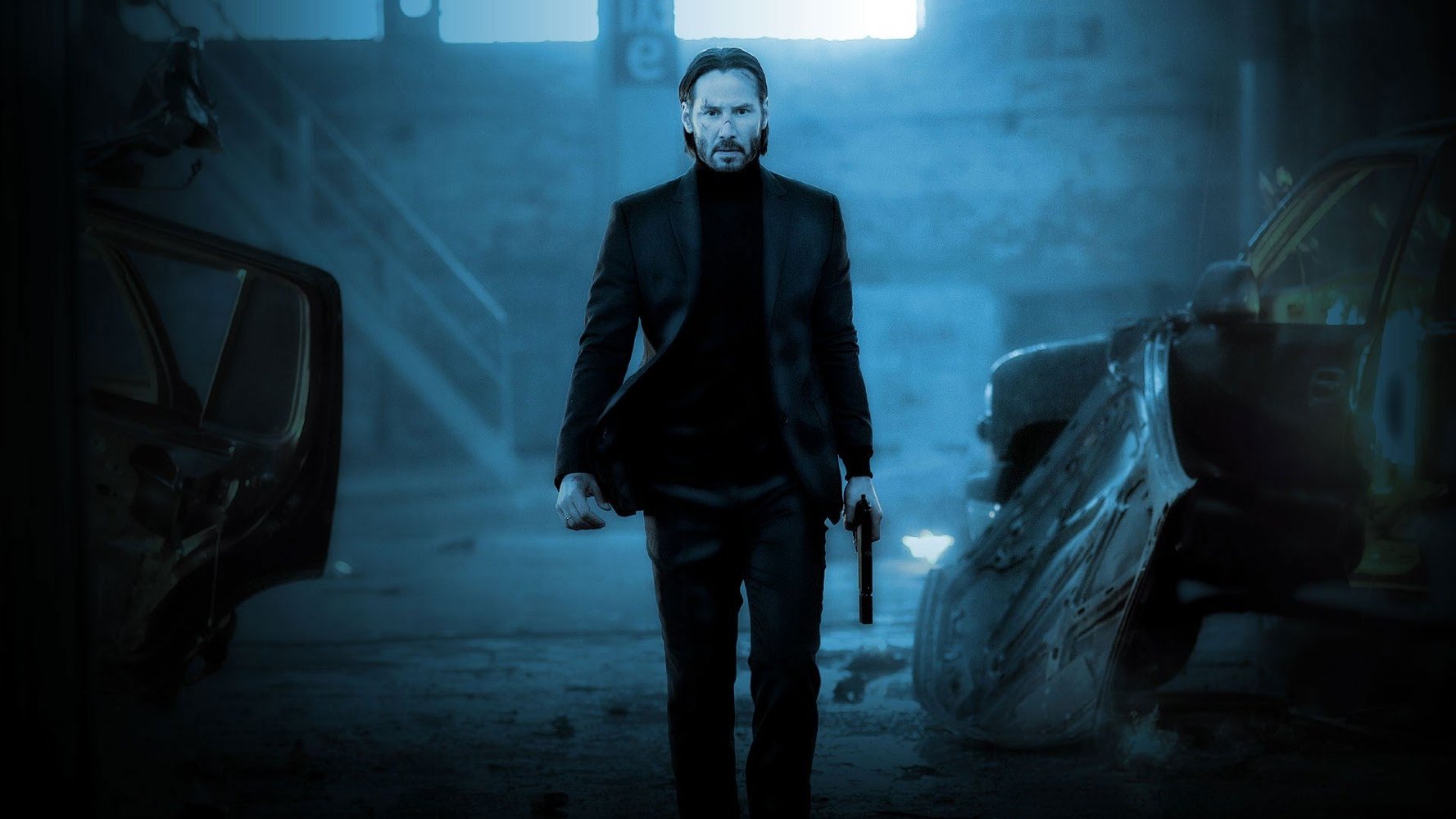 Reeves worked very hard to master the martial arts moves and tactical shooting skills he displays in this cult hit. There are videos around of him prepping for this role, and for the sequel, about to hit the big screen, he sought out a bunch of live fire instruction and developed into a skilled practical/combat two-gun shooter.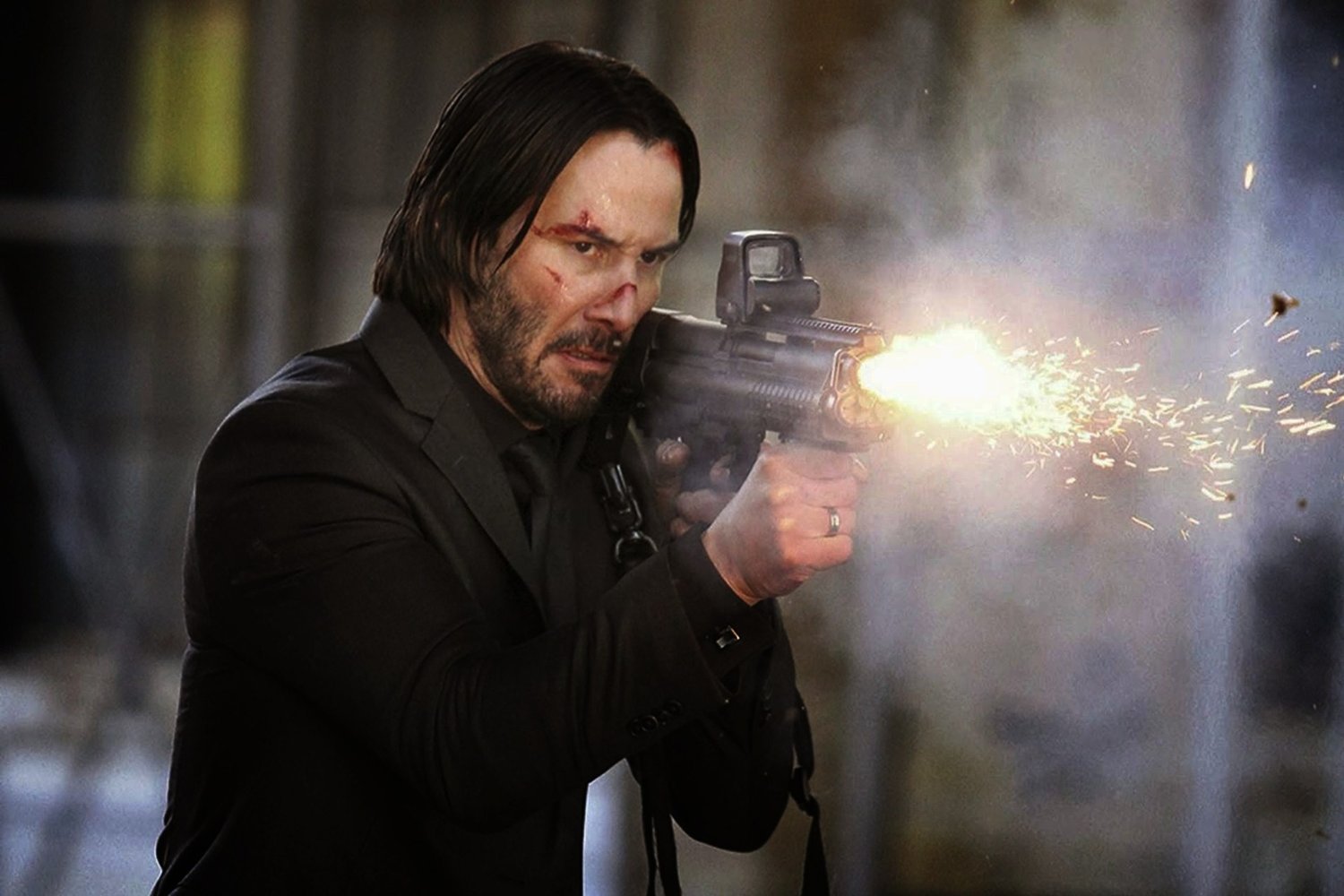 The bottom line
John Wick was never positioned as Oscar bait, but it put asses in theater seats, and so it got the ultimate seal of approval from The Academy of Motion Picture Arts and Sciences: a sequel. We doubt the sequel can bear up under the expectations fans of the first bring to it, because the first was a really entertaining film. Don't take it seriously, just enjoy the movie. It begins with a man who has retired from a career in murder and mayhem and lives quietly and introspectively by himself with his dog, his car, and his memories. What could go wrong?
And what can you do to get ready for the sequel? Watch the first John Wick!
For more information
These sites relate to this particular film.
https://www.amazon.com/John-Wick-Digital-Keanu-Reeves/dp/B00OV3VG96/
It's also available as a digital rental/sale product:
https://www.amazon.com/John-Wick-Keanu-Reeves/dp/B00T484DKC/
http://www.imdb.com/title/tt2911666/
http://www.imfdb.org/wiki/John_Wick
Rotten Tomatoes review page (85%):
https://www.rottentomatoes.com/m/john_wick
https://infogalactic.com/info/John_Wick
History vs. Hollywood Page. (n/a).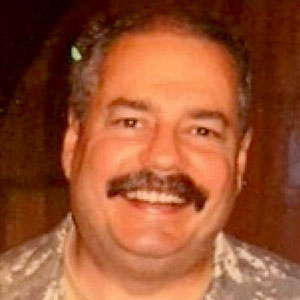 Kevin was a former Special Forces weapons man (MOS 18B, before the 18 series, 11B with Skill Qualification Indicator of S). His focus was on weapons: their history, effects and employment. He started WeaponsMan.com in 2011 and operated it until he passed away in 2017. His work is being preserved here at the request of his family.