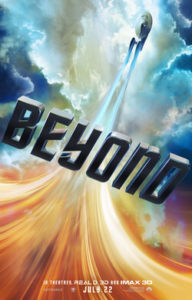 The movie is called Star Trek: Beyond. So what, exactly, are they beyond? Well, the last two episodes of the Star Trek "reboot," maybe. The edge of known space? The box-office reach of endless sequels? The capacity of endless CGI to entertain?
Has the Great Buggernaut inserted a gratuitous attempt to mainstream teh ghey?
Yes. Yes to all of those, to all of it.
But… it's not all bad, particularly for fans of, or at least people familiar with, the original Star Trek TV series. There are numerous homages to the original, including: known taglines: "I"m a doctor, not a…"; the expected interplay between Bones and Spock; and, worthy of a laugh out loud, the officers of the Enterprise running through a cheesily-lighted set of even cheesier papier-maché "rocks," just like Shatner, Nimoy and Kelley did fifty (yes, 50!) years ago.
There is at least one missing cliché: Kirk doesn't fall for any of the women (alien or crew). But then, they're all arrayed along the Galactic H-Line between Homely and Hideous; you won't fall for them, either. That may be the reason for Kirk's un-1966 chasteness, or it may just be that the imaginary century being depicted here is post-hetero or something.
So it has the entertainment value of any average 50-minute Star Trek episode, crammed tightly into over two hours of plot twists and more and more CGI. Apart from the above-mentioned cameo by the fake rocks of 1966, the entire movie seems to have been shot in front of a green screen.
Acting and Production
The actors are all competent and all have clearly studied the TV versions of their characters; for most of them, the continuity is remarkable. The exception is Zachary Quinto as Spock; he's a perfectly logical bowl of seething emotions, whatever that is.
A vast fortune was spent on pixels that were blown hither and yon by CGI. By and large, the effects, while dominating the film, don't fail at their role in telling the story. But the score also tries to dominate the film, and that's worse luck. It's jagged, distracting, and just generally "off." A good score often goes unnoticed, but this one kneels on both armrests of your theater seat and punches you in the face — and then comes back to do it again the next time the director's insecure about the DRAMA or TENSION (his caps, honestly) in a given scene.
The movie is available in regular and 3D; we recommend, after watching the 3D for a stinging $14 a seat, and being somewhat disoriented at times, given the 3D a miss.
The script was co-written by Simon Pegg, the talented British actor who plays Montgomery "Scotty" Scott. Pegg's brilliant comedies are essentially a string of episodes only loosely organized by a plot or storyline, and, sad to say, this script is like that, too. On the plus side, he did write a decent part for himself, so there is that.
Idris Elba's talents are utterly wasted as a mostly unexplained Starfleet-officer-turned-immortal villain, and he's stuffed in a fake rubber Creature from the Black Lagoon suit anyway, so it could have been anybody.
As we have said in other recent reviews (John Wick, for one, although we might not have hit publish on that one), the current trend in cinematography of loading up the dark end of the histogram means that this will have a hard transition to the small screen.
Accuracy and Weapons
Space opera is not the place to quibble about accuracy, but the physics of the Star Trek movie universe is so far off plumb as to be inadvertently funny.
We could give endless examples of this, but here's one: a spaceship reenters a planet's atmosphere and tumbles to the surface in a jagged, mountainous area. On impact with a jagged, rocky crag, it breaks the crag off. And this doesn't happen just once, but every time the screenwriter is stuck for a way to get Character X from space to surface, and the screenwriters seem to get stuck a lot.
In true Roddenberry, fuzzy-thinking-LA-denizen spirit, numerous saccharine platitudes about the universal and overwhelming power of peace and love are floated out by the script, before the situation is resolved by the good guys with a massive arsenal blow the living Jesus out of the bad guys and their massive arsenal.
The bottom line
Star Trek: Bryond is a must for Star Trek completists. It's not a bad movie to take a teenager to, because it has enough cartooney violence to please the kid without the violence ever failing to be cartooney. Really, it's basically just an overgrown (and scriptwise, unnecessarily convoluted) Lost Episode of some baby boomers' favorite childhood TV show.
See the matinee, though, and don't splurge on the 3D.
For more information
These sites relate to this particular film.
Amazon.com DVD page (preorder only):
http://www.amazon.com/13-Hours-Secret-Soldiers-Benghazi/dp/B018IDVB5S/
You can also find Blu-Ray at that link. Amazon also has the book on which the movie is based:
http://www.amazon.com/13-Hours-Account-Happened-Benghazi/dp/145558228X/
(Interesting to note: most of the reviews max the book out, four stars. But there are some one-star reviews. Or are there? When you click on the one star to read them, they are mostly very positive. Apparently if you ignore the stars when reviewing, Amazon defaults to one star).
http://www.imdb.com/title/tt2660888/
(none)
Rotten Tomatoes review page (60%):
http://www.rottentomatoes.com/m/star_trek_beyond/
https://en.wikipedia.org/wiki/Star_Trek_Beyond
History vs. Hollywood Page.
(none)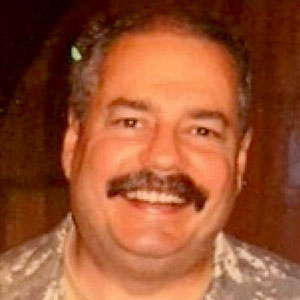 Kevin was a former Special Forces weapons man (MOS 18B, before the 18 series, 11B with Skill Qualification Indicator of S). His focus was on weapons: their history, effects and employment. He started WeaponsMan.com in 2011 and operated it until he passed away in 2017. His work is being preserved here at the request of his family.