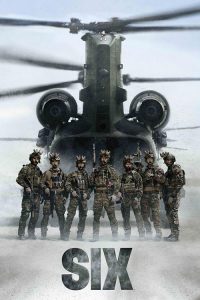 You can almost see the pitch meeting as you watch the show… kind of like a scene from The Producers, but not funny:
"Hey, let's have a show about an Elite Super Ninja military special operations unit. Let's hire a high-profile vet as a military advisor so we get all the details of uniforms and weapons right, because the rubes in flyover country, and their slackjawed banjo-playing chump kids who signed up, care about that crap. But let's make the characters reflect our own Hollywood values, and make sure that their real conflict is internal in the unit, nothing to do with the actual war they're waging against actual hadjis. Let's leave no well-worn cliché or trope unmolested. And PROFIT!!!"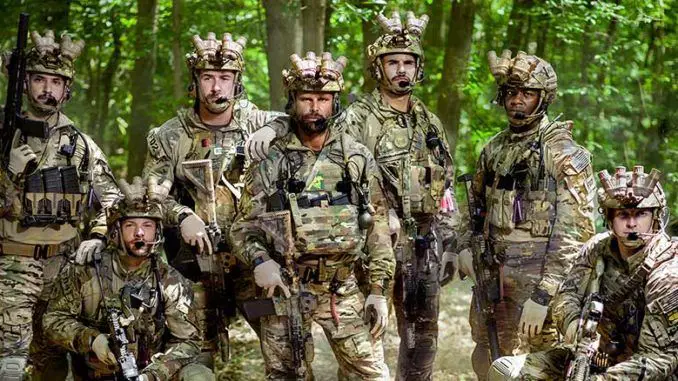 No, we're not reviewing The Unit, the David Mamet-helmed series about Delta that started off with a somewhat realistic pilot, and after four years had so lost the plot, that the fifth year story arc, which was mercifully canceled a-borning, was going to be about a unit member's personal battle with homophobes. (We were sure we already reviewed that series, but searching the archives tells us we didn't). We're reviewing SIX, a series that appears to have been produced by A&E but then fobbed off on the History Channel, a late night filler in place of their usual crap about Sasquatch, junk pickers, and ghosts.
And, somewhat cruelly, we're reviewing it based only on the pilot. Normally we'd give a show a few episodes, or watch the whole thing, because shows do change, characters do develop, writers do find a voice. But a pilot normally gets more care and resources, because the show runners know it's their best single chance to win, or alienate, an audience.
Consider us alienated.
Before the first commercial break, the protagonist commits multiple atrocities, scalping a slain enemy and murdering another who is in hands-up-don't-shoot mode. Yeah, they went there, the same tired place that damn near every Hollywood turkey about Iraq or Afghanistan goes. There's also a hint of a coming racism plot, because you flyover-country rubes need to hear more repetitions of poorly educated but attractive philosophers hectoring you with their deep philosopy: racism is bad m'kay? 
Our guess is that most vets didn't make it to that first commercial break. But we watch these things so that you don't have to.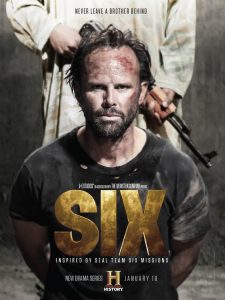 If you hung on like we did, you got to see Our Hero get taken captive.
After production, they then began to worry, and there was a sort of PSA on the commercial break with the principal actors, in costume, talking about their respect and support for "the troops." You know, those guys that they portray as victim / monsters. Us.
Gee, Hollywood people. Thanks. We've never been supported quite like this before.
Another amazing thing: the writer/show runner is a Vietnam vet as a Marine officer, and he only spent half his tour in Saigon as a general's aide. We guess his objective is to treat vets of the current wars like his Hollywood pals treated him when he got back 50 years ago.
Acting and Production
The actors are competent at their craft and you never think "oh, he's really acting there". They're all relative unknowns, but they'd be credible in their characters, if the writers have given them credible lines, something the writers largely have not done. In just one episode, the characters are very broadly drawn:
The Hispanic guy is the Man Who Is Torn between Mission and Family. He agrees to go on one last mission. (We all know what that means, in the 'Wood, but spoiler: he has not croaked by the end of the pilot. Yet).
There's the Christian Family Man who doesn't see the Crisis of Conscience Coming, no matter how often they stomp a foot three times so that the audience knows this is coming. 
There's the Rebellious Free Thinker who Will Turn Out to be Right, a little bit of Hollywood among all these meat-eaters.
There's the Guy So Troubled By His Conscience that he….
Well, you get the idea. The team's wives all have the same role: woman who is long-suffering victim of her man's war lust/adrenaline addiction. And they're setting up a conflict with an enemy mastermind who doesn't just hate America, he hates America for how these specific SEALs have abused him. Bad, naughty America. Bad, naughty SEALs.
Bad SEAL, no herring.
For a war drama, the budget was probably too low. (If it wasn't, it just wasn't spent wisely). A director has several jobs, including getting the best performance out of the actors, setting and staging the scenes, getting it all down, and editing it. This is a show done in the handheld-camera-and-rapid-cuts style, which seems far more popular among entertainment makers than entertainment viewers.
It was shot on location, if California is Afghanistan and North Carolina is Nigeria. In all seriousness, little if any care has been taken to scout and find realistic locations. We recall a low-budget Iraq movie that was shot, successfully, in Minnesota. How? Careful location selection and set construction. (Where do you get a desert in Minnesota? They used a sand quarry and lots of close-in shots. Sounds ugly, but it worked).
Accuracy and Weapons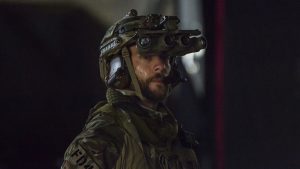 Of course, you can't have SEALs without weapons, and unlike literally any other aspect of this show, the care taken with the weapons and equipment comes across. It's almost as if they thought "well, if we equip these guys right people will miss the emetic plot and coarse characterization!" None of the guns are glaringly wrong, and they show them running suppressed. (They do seem to run without armor more than in the real world).
There are even MP7s, not available to you, because you suck and HK (and the US Congress) hate you, but always available to Hollywood. Because it's a national priority for you to be disarmed, but a higher national priority for you to be propagandized.
After all, it's important to look good — that's a value shared by Hollywood and the actual SEALs, so they have that in common.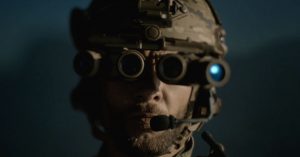 The "night vision goggles" were mock-ups of the real thing, and it must be a challenge to act when you've got a hunk of opaque plastic in front of your face.  But they do pull it off.
The village they raid has an exact resemblance to the same Afghan village used in every single war flick for the last fifteen years, and if you look closely, you'll see it's the same old Western village, just with the set dressed a little differently.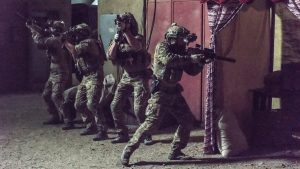 The tactics are a mess, but that's arguably story-driven — real tactics wouldn't register on camera, much. They had a SEAL who has gone from the usual quasi-Hollywood life to a real Hollywood life as adviser, and one gets the impression that the writers (a father-and son team, the son being said to be a "military special operations veteran" with no more detail) and director only trusted him on the small details. The result is a strange mismatch of small-detail accuracy and big-picture wrongness that is probably more jarring for an Afghanistan special-ops vet than for a member of the general public, but it's got to be jarring for anybody.
One of the small details they do get right is some of the dialogue. While there's never as much witty repartee in actual combat as movies show, there's usually quite a bit in team rooms, and it usually takes the form of picking at personal details. (We used to make fun of a teammate's thumbs, which had an unusually short last joint, until he became hyperconscious of them).
And again, the depiction of team dynamics (very different among frogmen then among us SF types) is not all bad. One scene from the pilot shows "new guy" Robert Chase struggling to catch up, using demolition "school solutions" in shoot-house training, while the guys are less than helpful, leaving him to sink or swim. (Many viewers may miss this, but the second time he blows the door, he gets it right: he swims, although the experienced teammates give him scant credit). This is very reminiscent of The Unit, in that SIX was so close. It could have been good.
Another thing where credit is due is that the enemy is depicted, accurately, as radical islamists. They counterweight that with hints of a backstory about how the real moslem villain, an American, was pushed to it by bad old America, and with a loyal Afghan-American on the team (he barely registered in the pilot, easily mistaken for an interpreter, but they presumably have plans for the character).
While we're mercifully spared Hollywood gunplay, "dual-wielding whilst flying through the air," the pilot for SIX may have the single most pathetically wrong Hollywood explosion in the whole sad history of cut-budget special effects. A truck meant to be a VBIED "blows up" in a classically fake fireball and its blast kills all the "Afghan forces" approaching. But the fire and smoke clears to show the truck has been mildly scorched.  There are probably a million Americans who have seen what a truck bomb detonation, or at least its aftermath, looks like, and nobody connected with this production thought to find one and ask him or her. Suffering Cecil B. Demille, that's lazy. (Lazy is not a word I usually connect with TV and movie production people. Hollywood people may not share Americans' values, but they work like John Henry at the coal mine).
None of the civilian trucks are right for Afghanistan either, probably a function of budget.
The sounds of combat are very muted, probably so the dialogue can be heard. As a result, the suppressed weapons are even quieter than the usual production, but at least they sound like guns and not the usual Hollywood "thwip."
About the "Got Your Six" Certification they're Boasting About
The show claims "Got Your Six" certification, which is something that is claimed to make it veteran-friendly. You should look for films that purse this certification and avoid them like ebola; it's a partnership between a gang of usual Hollywood suspects and the Democratic Party veterans' group, Iraq and Afghanistan Veterans of America, itself is a major promoter of the "broken tripwire vet" myth. However, they do bestow the certification, unsought, on popular movies as well, so you shouldn't necessarily avoid the films like ebola… it's possible that they never asked to be certified by the "oh-the-poor-veterans" crowd.
At this rate, the Taliban is as likely to make an honest film about the war as Hollywood.
The bottom line
SIX is about five and a half short. Not only are there better war shows out there, there are better war shows about SEALs. Yes, there is a certain unfairness in writing a harsh review when only one episode has aired… but we don't see this going anywhere but down, and frankly, our time has value. If people were begging us, we might watch the next episode, but according to the numbers, not many watched the first, and I'll be surprised if half of them are back next week for Episode 2.
For more information
These sites relate to this particular show.
https://www.amazon.com/SIX-Sneak-Peek/dp/B01NBM2MZ8/
Show home page at History
http://www.history.com/shows/six/
http://www.imdb.com/title/tt5541338/
Rotten Tomatoes review page: (60%)
https://www.rottentomatoes.com/tv/six/s01/
Infogalactic  page: (none yet_
History v. Hollywood page: (none yet)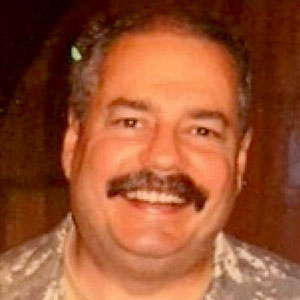 Kevin was a former Special Forces weapons man (MOS 18B, before the 18 series, 11B with Skill Qualification Indicator of S). His focus was on weapons: their history, effects and employment. He started WeaponsMan.com in 2011 and operated it until he passed away in 2017. His work is being preserved here at the request of his family.