On 21 June a new Ranger Class (8-15) kicked off at Fort Benning and RAP Week is on. Among the trainees are three Day One recycles from Class 7-15, all women. Two men were also offered a Day One recycle after failing the Darby phase, but declined the recycle and went either back to their units (if they came from troop units), on to the next stage of their initial training cycle (if they were newly accessioned officers and had training schools still ahead), or, if they came from Ranger Regiment, back to haul their gear across base to a non-Ranger unit.
Whatever we can say about these women, two lieutenants and a major, you can't criticize their guts. They haven't, however, done well leading patrols. There are a number of reasons for this, but one of the ones no one seems to be considering is that leadership is not for everybody. The Army is pretty good at teaching its people to fake it till they make it, and even introverts can be effective with the simple checklist leadership taught at Ranger School.
A common beef is that, as the women don't come from combat arms, they can't be expected to know anything about patrolling or, say, warning orders. That's nonsense; patrolling is necessary for any unit to secure its perimeter, and writing warning, operations, and fragmentary orders is a common skill at all officer and NCO leadership levels. One of the struggling candidates is a major, for the love of Mike, and therefore has ten years in a wartime Army, and is ambitious enough to want to pursue this badge on the theory that it will catapult her into high command. Can't do an operations order?
Maybe this gig is not for you.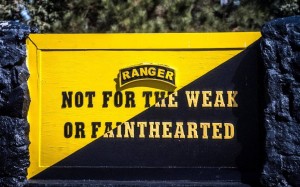 The press reaction has been about what you might expect. The Christian Science Monitor carefully explained that these women who failed are better than the men who passed, because feminism or something. The Washington Post went to one of its go-to experts on the military, Ellen Haring:
Ellen Haring, a reserve Army colonel, expressed disbelief that none of the 19 women who originally qualified to try Ranger School has succeeded. ….

Haring said that the longer that Ranger School is left open to women, the more accepted it will be in the ranks and the more likely it is that a woman will graduate. She questioned how men who do not come from a combat arms background can pass Ranger School after attending a preliminary courses at Fort Benning, but no woman has.
The Post elides a lot of Haring's background. They say of her:
She's a leader of No Exceptions, a campaign organized by the non-partisan Truman Project and Center for National Policy that calls for all jobs in the military to be opened to women who qualify.
The Truman Project is so non-partisan it's named for the Democrat who rose to the Presidency by accident (and stayed there largely by wit) and is the nearest thing to a saint today's irreligious Democrats recognize. Start a timer now, stop it when the Post writes "the nonpartisan Reagan Institute…."
And Haring's "No Exceptions" is a group that argues for the elimination of standards so that careerist women officers — we'd say, like Haring, but she's a Reserve officer, well over 50 years old, so what career? — can rise "proportionately" regardless of merit.
Haring herself has tried to sue herself to military advancement, a fact well known to the Post's dishonest Dan Lamothe, but left out of Lamothe's article. Of course, manipulating regulations and threatening and executing lawsuits are a common tactic among careerist women; these typically female passive-aggressive behaviors are more or less the opposite of markers of leadership potential.
"If you know your enemy, but don't know yourself," Sun Tzu wrote, you're not going to win consistently. This absence of self-knowledge is evident in the subtext of the following paragraph by Dishonest Dan:
Sources familiar with the assessment said some of the final eight women were shocked and frustrated when they learned they didn't pass the next part, the Darby Phase. It is known for its daunting Darby Queen obstacle course, but includes a variety of exercises in which Ranger students take turns planning and leading foot patrols through the wooded hills of Fort Benning. That's where most, if not all, of the female students were dropped.

Ranger students are graded by both peers and Ranger instructors (RIs). The sources, who spoke on condition of anonymity due to concerns about damaging their careers, said many of the women who made it to the Darby Phase were graded well by their fellow male Ranger students — a process known as peer reviews — but informed at the end that they had failed at least two patrols and wouldn't be able to continue.
The anonymous sources Dan is relying on to tell his story here may or may not exist. The Post frequently makes up military news using phony "anonymous sources." The one thing that ID's this guff is that it always fits The Narrative™. Remember "Jessica Lynch, Amazon Warrior Woman?" That story was made up by the Post's Dana Priest using the fiction of an anonymous source. (Lynch was unconscious during the battle where Priest had her singlehandedly slaying the Iraqi Army, then being captured).
"There's the sense that no RI really wants to be the first one to pass a woman," one of the sources said.
Let us fix that for you: "There's the sense that no RI really wants to be the first one to pass a woman," Dan Lamothe said. Note the passive, evasive construction. Hell, maybe his source is Haring but based on the Post's usual ways of military reporting, it's 100% anal extraction.
Male students who had women in their patrols also failed at an unusually high rate, the sources said. The average Ranger Course typically sees a few dozen soldiers wash out during the Darby Phase, but eight women and 101 men did so in the class that begin Ranger School on April 20. Thirty-five of those men failed to meet the standards to try again, but the rest were allowed to "recycle" and try it again later in May, Army officials said.
Again, Dan's cryptic "sources" are probably primarily Dan, with a Greek chorus of some members of the Careerist Female Officer Sisterhood.
But if there is an element of truth in the claim that men with women in their squads fail at a higher rate, there is a plausible explanation (if a speculative one. Note that we, unlike Dan Lamothe, tell you when we're speculating).
In Darby phase, all patrols are small — squad sized. Frankly, many would-be leaders have their hands full keeping track of 5 to 10 other soldiers. And one thing that comes with leadership, in Ranger school, is consequences. If Ranger Smedlap falls asleep in a security position or otherwise fails to perform, the consequences to Smedlap, who is in an ungraded follower position in a patrol led by Ranger Slobotnik, can be severe: a major minus Spot Report. Spot Reports do a number of things — they blot the Ranger candidate's copybook, in a way that he (or she) has to soldier out of, if possible. Too many and you get dropped (two major minuses, IIRC. Dunno — we only got one Spot Report, a Major Plus). X number of minor minuses add up to a major minus (again, we seem to recall the number was two, but we could be wrong). Worse, from the candidate's viewpoint, is that a Major Minus Spot flags all the other RIs that this candidate bears watching. One secret to success in Ranger School is to be the grey man. That possibility evaporates once you get a Spot Report, positive or negative.
But the consequences to Ranger Smedlap are secondary to the consequences of Smedlap's screwup to Slobotnik. Slobotnik gets a no-go, unless he (or she) has done something that mitigates the potential consequences of Smedlap's failure.
See, you can do everything right yourself, but if your subordinates fail, in Ranger School (unlike many, many places in the Army) you own it. To us, that is the most probable reason that adding females to the squad causes patrol failures, given that none of these females have really demonstrated they're any good at this.Guts only take you so far. In the end, you have to perform.
Or you can be Ellen Haring, and sue.
Update
One of the commenters on the Post site nails it, in light of comments we've already heard from Chief of Political Staff Ray Odierno:
And just like clockwork, here's Phase II of the entirely predictable campaign to lower standards for women until they can compete, without regard to the consequences of such a policy.

Phase I, of course, is to admit women to the competition under the express condition that standards will in no way be lowered even if every female candidate fails. Phase II is, when all of the female candidates fail, immediately start pressuring everyone concerned to say that obviously the women failed because of discrimination. Phase III will be to create a loophole or different scoring system so women who fail the course are deemed to have passed anyway.

Phase IV will be sending soldiers home in body bags because members of their unit couldn't hack it but were included anyway out of political correctness, but we never talk about Phase IV. I mean, even less than we never talk about the first three phases.
 Amen.
Update II
In the New York Times, a response to the snoozefest that is the WNBA:
There is one easy way to inject excitement into the sport and get these athletes more of the exposure they deserve.

Lower the rims.

The women who play college and professional basketball are amazing athletes — but they're also undeniably shorter than their male counterparts. Both in the pros and the college ranks, the men have about seven inches on the women.
Got that? The same no-one-in-my-family-ever-served-or-would media drones who want to stuff women into the military, want standards lowered for them in sport.
Because equality.
Update III
Jonn Lilyea at This Ain't Hell also examines the Post article, and he too remembers Haring. By the way, as you might expect for a bitchy, litigious slug underachiever who still made O6, she is an Academy grad, married to an Academy grad.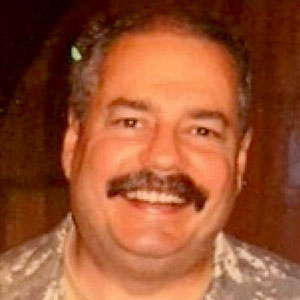 Kevin was a former Special Forces weapons man (MOS 18B, before the 18 series, 11B with Skill Qualification Indicator of S). His focus was on weapons: their history, effects and employment. He started WeaponsMan.com in 2011 and operated it until he passed away in 2017. His work is being preserved here at the request of his family.