An LEO friend was knocked out recently to enter a chain restaurant and find this display: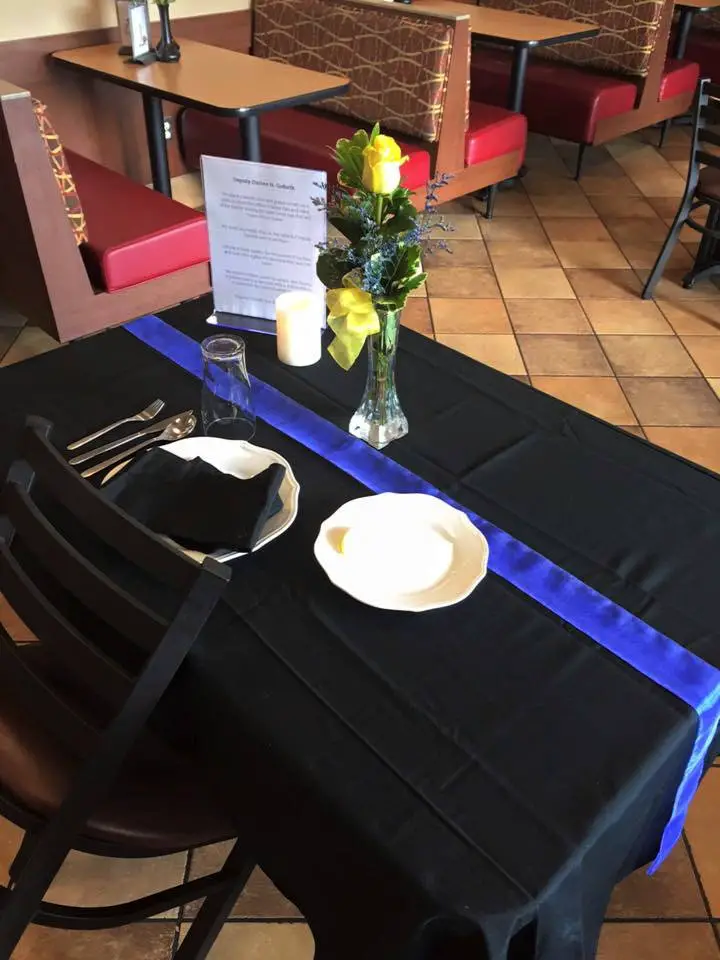 Yep, table set for a fallen officer. Thing is, that community hasn't lost a cop lately. It is there as an expression of principle; the card on the table describes the service and sacrifice of murdered Deputy Darren Goforth, yet this restaurant is easily a thousand miles from the Chevron gas station in Harris County, Texas where a con named Shannon Miles fired fifteen point-blank into the unsuspecting deputy from behind as he stood at Pump Nº 8, gassing up his cruiser.
We're hard on law enforcement when they screw up, and, being human, they give us lots of opportunities to do that, especially in those big cities where the leadership is too afraid of guns to get their street cops decent shooting and street-survival training.
But most of our cops are good most of the time. That's something to bear in mind. And none of them — no, not even the corrupt ones — deserve to be shot down dead. There are not many ways to show the cops that you respect and support them without coming across as an ingratiating suck-up, which beats an ambush murderer, but that's about it.
Anyone want to guess what chain chow place this was?
Update
The gas station where Goforth was slain has made several gestures of respect to the murdered deputy, including shutting down during his funeral, and plans a permanent memorial. TV news points out that this is going to cost them money. Manager Amjad Latief, who was on duty at the time, shrugs the cost off: "It's our honor," he said.
When Guns are Outlawed, Only Outlaws Will Have Crazy Mothers.
In a country where sane people are locked up in gated communities and the crazies are running around loose, it would be insane to expect things like this to stop happening.
But not taking action to stop things like this — wouldn't you call that insane?
And, of course, there's the minor question of what action can we take? Most of the proven effective methods of isolating dangerous mentally ill people from vulnerable persons have been outlawed over the last fifty years.
Christina Colantonio, 28, was charged with second-degree murder in connection with the death of her daughter, Genesee County District Attorney Lawrence Friedman said.

Police launched an investigation Thursday when an acquaintance visiting Colantiono at her apartment in Batavia, about 45 miles from Buffalo, found the baby's lifeless body and called 911, Batavia Police Det. Sgt. Todd Crossett said at a news conference Saturday evening.

Investigators believe Colantonio killed the girl "shortly after birth," about three months ago, Crossett said. Authorities would not say how the baby died, but Friedman said investigators "have enough evidence to come to a conclusion it was intentionally caused." A medical examiner will determine the infant's official cause of death. Friedman said the investigation was still ongoing.
via New York mom killed baby girl, lived with body for months, police say | Fox News.
But wait — she's not the only one. She wasn't even the only one this week. Different story on the same news site as the above:
An Arizona mom allegedly told cops she drowned her twin two-year-old sons because "nobody loved them and nobody loved her."

Newly released court documents show Mireya Alejandra Lopez, 22, admitted to killing the boys and said she attempted to drown another family member, but was stopped by a relative.

The probable cause statement released Monday also said Lopez said she takes medication for mental health conditions.
The idea that "it takes a village to raise a child," is anathema to a free society and greases the slippery slope to totalitarianism. After all, it takes a couple of parents to raise a child (a single parent can do it, but it's much more difficult and less sure of success). But it takes a parent or parents that are not crazy. Crazy parents are at best no great help, and at worst, at worst… well, meet Christina Colantonio and Mireya Lopez. Children shouldn't be with crazy parents. It's not prudent.
There was a time where you didn't have to spell that out, because the crazy people were kept securely under lock and key.
But now, the crazies are out and the rest of us are locking ourselves into gated communities and over-policed villages.
This will end well, eh?
Friday Tour d'Horizon 2015 Week 36
Sure, it's Labor Day weekend here in the US (we can't have the same labor day as most of the world, because Commies), and so hardly anybody's going to be reading WeaponsMan.com. That's OK, you can catch up when the kayaks are  back in school and the salt water is rinsed off the kids…. Naturally, we'll cover the usual subjects: Guns, Usage and Employment, Cops 'n' Crims, Unconventional (and current) Warfare, and Lord Love a Duck!
Guns
We really wanted to write more about these gun stories. So many guns, so few fingers….
Retro Builders: Griffin offers XM177E2 Clone Suppressor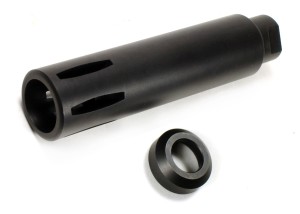 Because it, unlike Colt's original, doesn't reduce noise downrange, it's a non-NFA device. Pinned and welded to a 12.5″ barrel it produces an XM177 clone that's only 1″ off and that is eyeball-correct.
It's made of stainless steel and given a modern coating to prevent the color shift seen in some competing products. Link to Griffin Armament's for-sale page.
Recalls in the News (or not)
Two recalls were pointed out to us this week. One is for a very large number of Taurus pistols; the other, for a significant percentage of Tanfoglio Brothers' popular CZ-derived pistols. While the Taurus recall is this year's, the Tanfoglio recall applied to some pistols sold under the Euro American Armory (EAA) name in or before 2008 — seven years ago! An occasionally updated list of firearms recalls can be found at a couple of links, including this IP address and this dodgy domain name.
Lots of vendors have sales this weekend. ALGs is 30% off blems and keymod rails, and 10% off everything else (including decent triggers). Hat tip, Jerking The Trigger. No sale at related company Geissele Automatics (even better triggers and the Reaction Rod tool we recommend). But that's because Geissele offers deals through their dealers — check Brownell's. Michael Bane points out Apex has free shipping — not a big discount, perhaps, but a few dollars are as good to you as they are to them.
A Strange Parallel to Colt's Problems
An interesting case of a company in decline reported in The American Interest has a strange parallel to the mismanagement of Colt recently. The company is Viking, the high-end appliance maker of the 90s, based in charming Greenwood, Mississippi. Viking pioneered the concept of the kitchen range that looks commercial but meets residential code, a chef's delight. Like Colt, it was acquired by a publicly held corporation run by a makler on the make who's leached most of the value out of the company's once-legendary products (seriously, google "Viking range quality" and you'll get an eyeful), erased its marketing and service advantages, scythed off large swathes of the workforce, and pumped a bunch of one-time gains into the acquiring company's stock — and it's boss's pockets, which seems to be the big idea he had in common with the Colt looters. Promises made at acquisition were not made in writing, which didn't make them any less binding to the Mississippian sellers, but were clearly throw-away lies to the shifty buyer.
What caught our eye was the demographic detail he had in common with the Colt looters — he's Lebanese. What are the odds of that? There may be a cultural explanation for that. In Lebanon, for a very long time, life has been unduly hazardous, and there has been no concept of loyalty to much of anything except self and family, and this seems to be reflected in some Lebanese and Lebanese-Americans' business dealings. Still, people are individuals, with individual characters and motivations, not fungible members of groups or cultures. So it's always surprising to see parallels like this.
There would have been more gain in operating Viking with integrity, but that was long-term gain, and this corporate mosquito will be taking his blood meal from another doomed firm before then.
Usage and Employment
The hardware takes you only half way. (We got next to nothing this week, this post's going to be too long anyway).
Accident? Better Call Saul!
OK, Saul is a fictional character but his real-life counterpart, Jeff Hightower, wants to be your attorney if you're injured in a hunting accident. Hightower is all for the Second Amendment, "but…."
In his case the "abnegatory but," is, buy not you use a gun that's dangerous and shoot yourself or a third party with it… in which case it's the gun's fault and your ticket to riches, if you didn't die (in which case he needs a living relative as a plaintiff). What kinds of guns are dangerous? Rugers, Remingtons, Glocks, and any small firearm that wouldn't pass ATF's Nazi-inspired "sporting purposes" test for importation. He'll pursue a case against any of 'em, unless the company's out of business — no money in that. 
As well as chasing hunting-accident ambulances, he's been known to chase product-liability and aircraft-accident ambulances, too.
Cops 'n' Crims
Cops bein' cops, crims bein' crims. The endless Tom and Jerry show of crime and (sometimes instantaneous) punishment. There's so much going on here have to restrict our comment on these links.
It's usually a pretty safe job to be a cop. That's all changed thanks to incitement to violence at high levels of government, and enthusiasm for lawlessness from the last two attorneys general, both practicing racialists. Tell us again about the atmosphere of racial healing out there.
ITEM: Louisiana Cop Killed by Cousin
The guy responded to a domestic disturbance, and the male somehow took the cop's gun away and killed him with it, as well as killing his own girlfriend. And the suspect turns out to be a cousin of the cop he whacked. (There are two kinds of people in LA at any given time, we're told: kin, and Damn Yankees).
ITEM: Louisiana Cop Killer Caught by Citizen
In this case, a citizen, Robert Le Doux, tackled an armed cop killer, Kevin Daigle, and held him for police, after Daigle shot trooper Steven Vincent and was trying to take the mortally wounded cop's gun. Only after Le Doux subdued the killer did he realize that he was socially acquainted with Vincent; he thought he was acting for a stranger.
ITEM: Millis, MA Cop Faked Attack
He fired shots at his own car and crashed it and set it on fire. He's already been fired (see, all you bad-cop unions out there, this is the way it's supposed to work when cop is a dirtbag). We asked an experienced LEO why the cop did something so idiotic. "Attention!" was the reply. Well, if he wanted attention, he's getting it now. Good and hard.
ITEM: Texas Ex-Cop Jailed in Murder Conspiracy
Well, police come from society, and while they like to think they're more law-abiding than average (and they might well be, as a group, but it's a big enough group that they're not all angels). In this case, the guy wanted to avoid paying child support to a pregnant girlfriend who'd dumped him. Any money he saved is not going to help him where he's going.
ITEM: Washington, DC Cop Attacked With Own Gun — by White House Staffer
After a "sexual encounter" at her house. Amazing… Barvetta Singletary is somewhere between just plain ugly and repulsive, so was she paying the guy? (If it's even a guy). Singletary was allowed to resign, not fired; after all she just stole a gun and shot at a cop, nothing serious. The national press is remarkably uninterested in this story, perhaps because homely Barvetta is a "Special Assistant" to President Boyfriend. Twitter and Twitchy are glad to fill the news vacuum.
ITEM: Madison WI Cop Attacked by Mob
Screaming, "We need to start killing these officers." The press skirts around it, but the mob (sometimes reported as a "crowd" because the word "mob" is racist) was black "youths".
If that isn't, what is? This:
The months-long annual sting, now known as the National Johns Suppression Initiative, was led by Sheriff Tom Dart of Cook County, Il. A total of 39 law enforcement agencies across 18 states arrested 961 men trying to buy sex and 71 pimps or traffickers, more than in any of his previous stings.
Yeah, that'll keep a lid on things.
(The Feds have busted a website that put gay prostitutes and customers together, too. Because a few hundred murders are just vibrant diversity, or maybe it's diverse vibrancy, but if people gay or straight are paying for sex, that's an Offense Against Social Justice and must be crushed. How do some gay guys engaging in transactional sex pick our pocket or break our leg? Is it or is it not a free country? Yeah, that was a rhetorical question. A bunch of gay guys who just had to hire criminal-defense lawyers probably have a clear idea on how to answer it, though).
The Waco PD has its own issues, as it seems to be emerging that most if not all the firing at the Twin Peaks restaurant massacre came from police, although Waco insists its own officers fired only 12 shots. But the department's Sergeant Patrick Swanton posted a moving tribute to fallen officers, and commitment to bear the weight of duty, to the department's Facebook page. Here are a couple of lines excerpted from it:
These are terrible times in law enforcement. Worse I've seen in thirty-five years, but we know there is more good than evil. We know the majority stand beside us and will not accept what is happening in a strange and twisted time.

We are not perfect, we are not infallible, and sometimes we flat out fail, but 99.9% of us are good of heart and believe in our duties and commitments we have to you.
Do Read the Whole Thing™. That seems like a good place to close the cop shop this evening.
Unconventional (and current) Warfare
What goes on in the battlezones of the world — and preparation of the future battlefields.
It is Peace in Our Time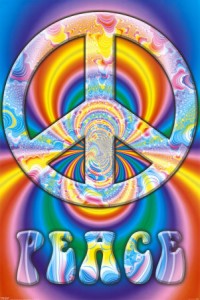 And the commander of one of the regions of the Iranian Revolutionary Guard Corps, Iran's modeled-on-the-SS terror corps, quoting the Supreme Leader, explains that for Israelis it's the peace of the grave that Iran (and its enablers in the Administration and the Senate) have in mind.
"The Islamic Revolution will continue enhancing its preparedness until it overthrows Israel and liberates Palestine," IRGC's top commander in Tehran province, Brigadier General Mohsen Kazzemeini, told operating units….

Supreme Leader of the Islamic Revolution Ayatollah Seyed Ali Khamenei noted that criminal acts of the wolfish and child-killer Zionist regime in Gaza had revealed its true nature, and said, "Only way to solve this problem is full annihilation and destruction of the Zionist regime.
And another one of these fine Iranian counterparties to our gutless white-flag "negotiators," emboldened by the "agreement" that accelerates Iranian nuclearization, was ready with nuclear threats against Israel the US:
Lieutenant Commander of the Islamic Revolution Guards Corps (IRGC) Brigadier General Hossein Salami [said] "We …will take every opportunity to set fire to all their economic and political interests… we will cut off enemies' hands and fingers will then send its dust to the air."
You can see why someone like John Kerry, who hates Jews so much he wrote them out of his own bloodline, enjoyed negotiating with these guys. They all share the same objective.
Meanwhile, After Cutting Missile Defense and Unleashing Iranian Nukes, We Pull The Plug on BioDefense, too.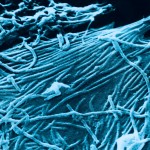 Because we can't just enable wealthy nations to be militarily superior to the USA, we also have to drop our guard before every nation and group that can recruit a grad student in bacteriology or virology.
Anthrax can be weaponized by two guys in a hotel room (it's been done). Other pathogens under the control of the now-frozen Critical Reagents Program, like ebola (right), take more resources, but nothing like the Manhattan Freaking Project.
Lord Love a Duck!
The weird and wonderful (or creepy) that we didn't otherwise get to.
Oklahoma Bombing Convict Terry Nichols' Guns In Court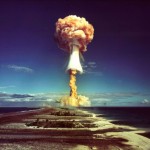 Terry Nichols, Timothy McVeigh's Army buddy and bombing co-conspirator, is in prison, but when he was arrested the FBI seized 16 firearms. Under recent court decisions, Nichols still can't get his hands on the guns again (in the unlikely event he ever got out of prison), but he does still own them, and he's petitioned the court for them to be returned to family members — not so they can take up arms on his behalf, but so that they can be sold to benefit his kids. (You should probably think of your kids before committing murder, but what's done is done, eh. Not the kids' fault).
This is where it gets interesting. The FBI has 13 of the guns. Two of them were given as trophies to another agency that the FBI does not want to name (ATF? CIA? Bureau of Indian Affairs? They're not telling). And the sixteenth? Well, the FBI has lost it.
Nobody seems to have the actual list of guns, but the court filings say they include pistols, rifles and one shotgun. No word on what the one that probably followed some FBI agent home is.
Thinking of a dead friend got us digressing on some of the more formal ways we, as humans, have celebrated and mourned the lives and deaths of our fellows. One way is by creating a funeral march, which talented people have been doing for at least 300 years. Here are a few of our favorites, followed by a non-funeral-march death-inspired classical piece, in roughly chronological order.
Händel's Saul Oratorio. [composed 1738]
Choir of the Opera Hall and the English Concert players. Conductor Howard Armin. (There is also a Leopold Stokowski re-orchistration of this for full symphony kicking around. We prefer a version old George would recognize (whether we mean Händel or his patron George III, we're not quite sure).
Beethoven's funeral march (supposedly 1806)
This performance by an unknown orchestra is illustrated (during the first 2:30) by the state funeral of German Republic President Friedrich Ebert (1925). It's still used on German state funerals — why wouldn't they keep using a tune if they'd got Ludwig Van his ownself to compose one?
Except, it isn't really a Beethoven march, although it was misclassified as one for approximately a century. It was composed by the relatively unknown Johann Walch, and yet it is still performed in England as "Beethoven's March No. 1." Here it is on the state occasion of the funeral of George VI (1952). It may seem strange that British royalty favor a German march, but they were Germans, ancestrally speaking. In the British funeral the march seems to segue on to another tune at the 3:00 point. Also, we're pretty sure than neither Beethoven nor Walch wrote the bagpipe bits.
The Funeral March — Fréderic Chopin 1837-39
The classic of all funeral marches, of course, is Fréderic Chopin's. (Most people know the melody without knowing it was the work of the Polish composer and patriot). It is actually most of the third movement of a piano sonata (Nº 2. in B-flat minor). The ending in this version is creepy — left hanging. (In the sonata, it goes to a major-key interlude, usually omitted from funerals). Band and pallbearers of the French Foreign Legion; they are burying France's last WWI veteran, Lazare Ponticelli, in 2008. The lumberjack-looking dudes with beards and axes are the Legion's Pioneers. Why they didn't use a French composer's march? Maybe because the Legion can take anything and make it as French as a sunny day on the Seine. Or maybe because France, which provided half his blood and gave him a new home when he was exiled, has a legitimate claim on Chopin, too.
This march has been played at the funeral of a very wide range of people — among world leaders, Winston Churchill, Margaret Thatcher, John F. Kennedy… and Leonid Brezhnev. And it was played in Paris in 1849 over the grave of a tuberculosis victim: Fréderic Chopin.
Funeral March for Abraham Lincoln – J.G. Barnard 1865
This is not the most familiar piece of music here, but its origin gives it a power all its own. It was written by General John Gross Barnard — a real general, not some band nerd — for the occasion of Lincoln's funeral, and performed by the US Marine Band. The original score is lost, although piano music exists; Jari Villaneuva created this modern orchestration and tells the story on the YouTube page. It is a march fit for a great man's services, for which we can thank Barnard (and certainly, Villanueva).
Richard Wagner's Funeral March for Siegfried (from Götterdämmerung, premiered 1876).
This is a somewhat "modern" performance with excellent images, but a very annoying habit of changing image with spastic flashes; still, a funeral fit for a Nibelung.
This is a more staid and traditional performance, from the LSO in 1975, with the usual LSO slow start, and with mercifully zero video motion. It doesn't really get it's Wagner on until a minute and a half or so have passed.
And Now For Something Not Completely Different (1908)
Rachmaninoff, Symphonic Poem OP. 29, "The Isle of the Dead."
This is not a funeral march (and it's much longer!), but it does fit the mood, and it's a beautiful piece of music to close on. Indeed, just listening to it gave us a new appreciation for Rachmaninoff. The piece is The Isle of the Dead, Symphonic poem Op. 29, Royal Stockholm Philaharmonic with Andrew Davis conducting. The painting is of the same title, by the Swiss symbolist Arnold Böcklin; it is said to have inspired this piece. Listen — can you hear the boat nearing its island terminal. It looks like the landing at Bannerman's Island!
We generally dislike 20th Century "classical" music, but Rachmaninoff clearly had a 19th Century sensibility to him, even though he lived to 1943, performing — in his life he was more renowned as pianist than composer — until a few weeks before his death.  He played his last performance at the University of Tennessee's Alumni Gymnasium on 17 February 1943.
Among the pieces he played that night? Chopin's Piano Sonata Nº 2, which includes The Funeral March in its third movement. Doctors had kept from him (but not his family) the terminal nature of the melanoma stalking him, but perhaps, somehow, he knew.
NYPD: Half-assed Firearms Training + Unsafe NY Trigger + burst fire = Another Shot Bystander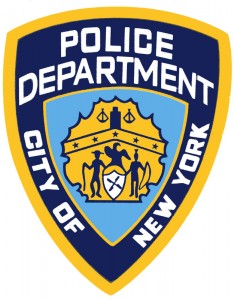 This time, they killed the guy. No, not the guy they were shooting at — he's in stable condition, and going to recover fully. That's the guy they should have killed, the guy who held a gun to a cop's head and later turned and pointed it at him. (The gun turned out to be an Airsoft fake, but was convincing enough you have to agree with the decision to engage the suspect. We have an NYPD official photo of the suspect "gun" below).
But despite firing 11 or 12 rounds from his real gun, the cop only hit armed robber and wannabe cop-killer Alvin Smothers, 36, three times, none in an incapacitating or even solid hit. Two negligently fired rounds struck bystander Felix Kumi, 61, killing him. The other six or seven rounds went Christ-knows-where.
You can't blame the officer for firing. While the police thought they were carrying out a sting against a black market gun dealer, the "gun dealer," Jeff Aristy, 28, and his accomplice, Smothers, thought they were going to rob a couple of non-street-smart gun buyers. Since they were supposedly selling these guys guns, they were not expecting an armed response. The Daily Mail:
According to the NYPD, the killer officer was trying to set up a suspected gun dealer in a months-long undercover operation.
First, did they have to say, "killer officer"? The guy didn't pick up his gun and badge that morning and say, "Patience, my ass, today I'm going out and kill something!" He was badly let down by departmental policies and training. And if he'd only shot the worthless Smothers, and stopped there, he'd be a hero.
Suspect Jeff Aristy, 28, contacted the officer with an offer of guns for sale, then drove him from the Bronx to Mount Vernon to carry out the deal, police said.
Criminals do stuff like this because jailhouse lawyers tell them a New York City cop can't bust them outside of the five boroughs. Jailhouse lawyers are, in this and many other things, wrong.
After Aristy parked his car, Smothers, the second suspect who was shot, allegedly got into the back seat and pointed the fake gun at the officer's head, demanding money.

The officer handed over a wad of cash, waited for Smothers to flee, then chased after him, police said.

During the chase, Smothers is said to have turned round and aimed the replica weapon at the officer, prompting him to open fire – hitting both the suspect and Kumi, a local man who happened to be in the area.
It is hard to fault the decision-making of the officer here. He functioned pretty well for a guy who had just had a gun to his head. Here's the gun: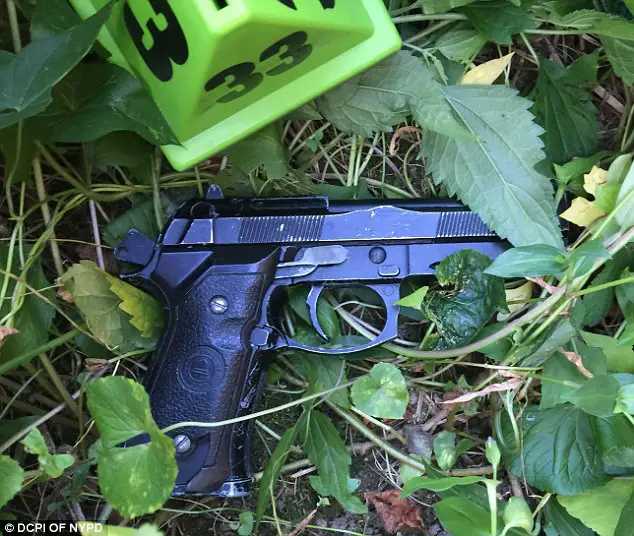 Would you recognize it as a fake in mere seconds? We wouldn't, and we carried a real one as a personal weapon for 2-3 years and then as a service weapon for another 25 or so.
This Airsoft toy is a close-enough replica of a Beretta M9A1 that you have to look very, very close to see indicators that it's not real — and that's with it just sitting there in the photo.
What they don't need to do is make an example of the copper here. The guy was hanging it out, doing one of the riskiest jobs in law enforcement, and while he handled the attempted robbery with notable sang-froid, most people in any large group of trained shooters will revert to their training in combat. That's what he did, and that's why a citizen is dead and a nogoodnik is not. Because his training was self-evidently unsatisfactory to his requirements.
The real problem is the department's mixed-up, tossed-up, never-come-down firearms training and policies that generate these disasters over and over again.
New York Police Department needs to inject some realism in its training, and to lose the unsafe Glock New York Trigger (or NY2 or whatever ultra-heavy trigger they're specifying now). With a gun like a Glock that has no manual safety and requires a trigger pull for routine maintenance, nothing you do to the trigger is going to prevent a department with 30,000 or 40,000 cops from having the occasional ND. (Hanging those who have NDs from a construction crane in front of One Police Plaza might help, but it will never get you to zero. Remember, they had NDs when they were carrying .38 Specials).
Someone will suggest banning realistic toy guns.
New York already does. How's that working out for them?
Tom Spooner's "Old Soldier" — Sung in a Special Operations team room
Tom Spooner put the following online a year ago; we missed it at the time. OTR flagged us to it last night. As we understand it, Tom wrote this song, but it is another D guy performing it, in a team room. A bit long and sad for our taste in music, but it deserves a wider audience, and that's you guys. Tom is former SF and retired Delta, with most of his time spent in Delta. When there's a pic of a bunch of guys and one face isn't fuzzed out, that's Tom.
Not all the images used here are Delta shots or even Army or SOF guys. You'll recognize Marine First Sergeant Brad Kasal, for instance. The pictures all do fit the "Old Soldier" theme.
Now, we never went to Delta. We know little about the JSOC elements, but what we do know can be encapsulated in a sentence: those who talk don't know, and those who know, don't talk, and that's as it should be. 
We've lost a lot of good guys in these long, fruitless, ill-supported wars. But if there's anything that deserves to be known to the public, it's that we have a lot of good guys who still show up every day, take the mission they get handed, and do it with brio.
The mission in the GWOT was different from the mission in the 90s, which was different from the mission in the 80s, or 70s, and back in the sixties there were guys running recon in denied areas, because that was the mission then.
The mission next year, decade, next war, is going to be different. The only thing in common is that "young enthusiasts in camouflage uniforms, to whom a kinds of tricks would be taught" will turn out and take that mission and make history with it. Sometimes the history takes 10, or 30, or 100 years to be released to the public, but remember what we said about the ones that know and don't talk?
For them, it's quite enough that they know. 
Friday Tour d'Horizon Week 35
We'll cover the usual subjects: Guns, Usage and Employment, Cops 'n' Crims, Unconventional (and current) Warfare, and Lord Love a Duck! And maybe some other stuff, because whatever the hobgoblin of our little mind is, we can pretty much rule out consistency.
Guns
We really wanted to write more about these gun stories. So many guns, so few fingers….
Good Stuff at Forgotten Weapons
Ian has been mining the upcoming RIA premier auction for interesting stuff. Here's a Russian FN 1903 shoulder-stocked pistol, for example, or a 1960s retro-futuristic GyroJet Rocket Carbine.
Like Ian, we've always found stocked pistols cool, and fun to shoot.
The Continuing Adventures of Bubba the Gunsmith
No comment.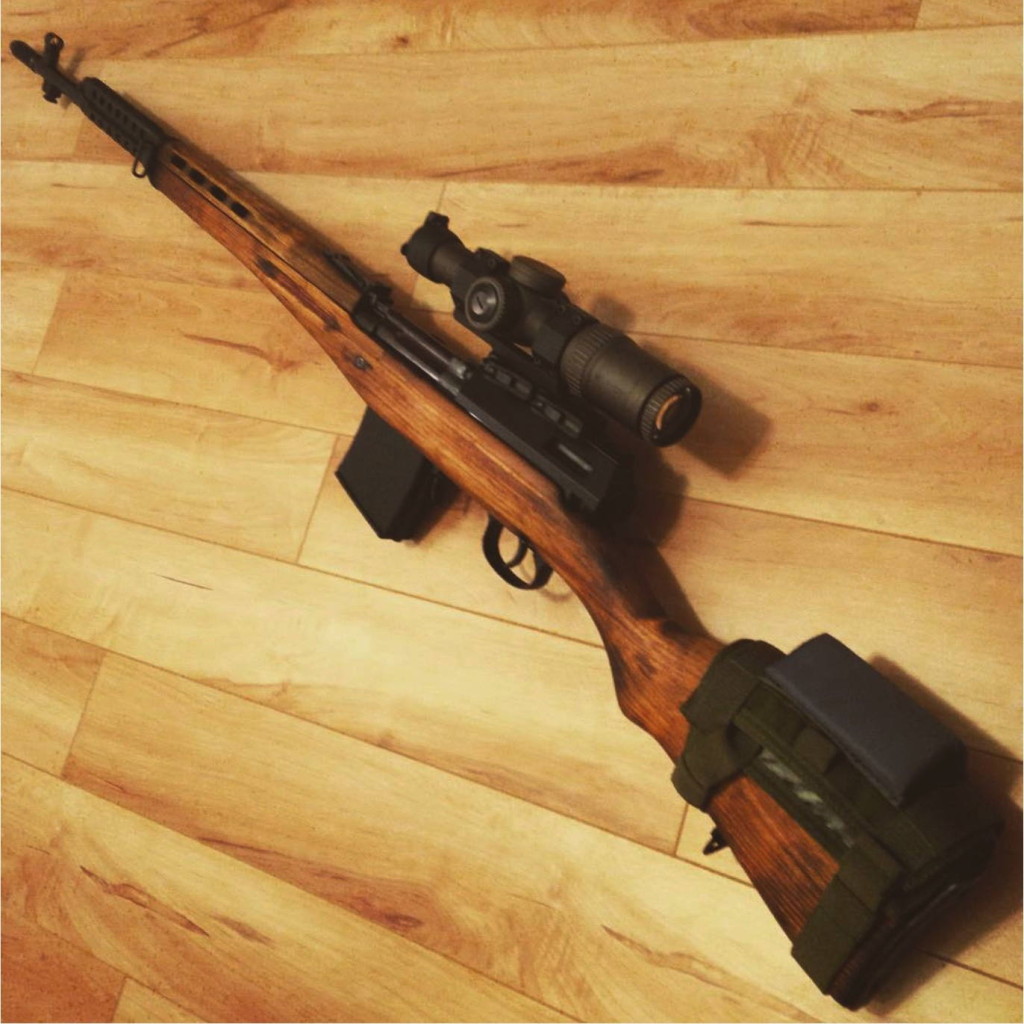 Really, no comment.
State Department's 1st Amendment Revocation Headed to Court of Appeals
The State Department's attempt to put firearms technical information under a complete lockdown won the preliminary injunction stage at Federal district court, so the next step is a trip to the 5th Circuit. A report on the case by Scott J. Gruenwald, who appears to be suffering a degree of cognitive dissonance between his pro-liberty and anti-gun preferences, ran in 3DPrint.com. Nothing is filed yet and the DD v. US page has not been updated as of press time, but the filing will likely go there when it is delivered to the Court.
Bubba Again? There's Gotta Be an Easier Way to Make a Bicycle
Found on Teh Interwebz: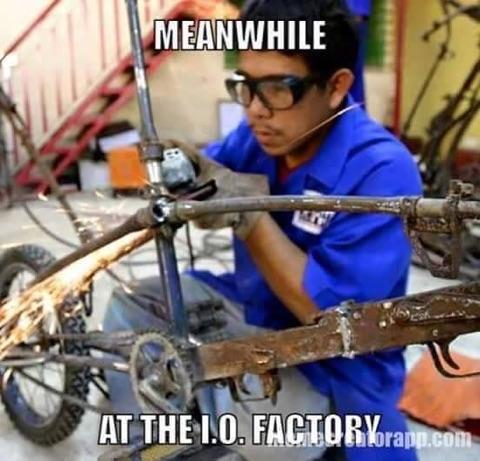 Actually, this is the level of handcraftsmanship that the Bubbas at Century aspire to.
Is that mag catch going to snag a rider's shoelaces, or what?
Apparently no one ever told this cat that you can buy a bicycle for $50 at Walmart, $10 on Craigslist, %0 on Freecycle, or just do like a Black Lives Matter poster child and steal one.
Printed? Casted? Just celebrate diversity!
That's probably not what the President means when he's talking about "Diversity." But printed? Casted? Red, green, yellow, black or white? (That's +1 on the races of the world right there).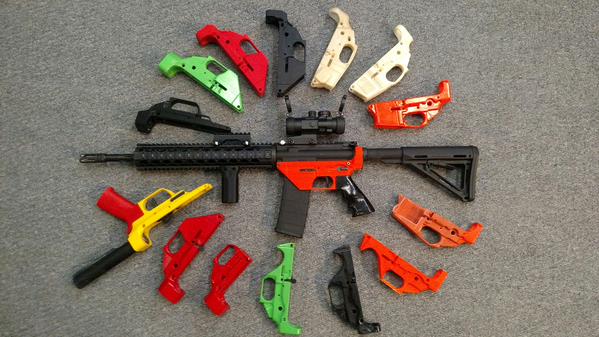 Not the President's diversity? Just goes to show, with all due respect for the man and the office, he's wrong.
Colt is Hiring, Sort Of
Colt has a few positions open, while it still negotiates the bankruptcy produced by a rapacious management. Meanwhile, the managers who seek to hang onto the company while expropriating bondholders of $350M have demanded millions of dollars in bonuses from the courts. The open positions are all management/exempt positions. Given the politics of Connecticut courts, they don't dare address any part of their cost issues that relates to staying in high-cost Connecticut, or maintaining a high-cost, low-quality UAW labor force.
If the Court approves the bankruptcy as proposed, Colt's failure is not solved, but the day of reckoning is kicked further along the road, and more to the point from the managers' viewpoint,  they get to keep pocketing other people's millions, which is why they became hedge fund managers in the first place.
New Flamethrower Threatened With New Ban
We recently covered the new Ion Productions flamethrower, which is made in Warren, Michigan, a decaying industrial suburb of Detroit. The Mayor of Warren, one Jim Fouts, is so alarmed that people may be buying something inflammable from his town, other than Pintos, and so determined to keep the people on welfare where he can be their Supreme Personality of Godhead, that he's trying to bull a ban through the City Council.
"I support Second Amendment rights," the mayor, a national socialist, says…. do any of you care to get the next word after his comma?
Yes, that would be the "abnegatory 'but'", the conjunction that cancels out the first clause of the sentence. Fouts doesn't support the Second Amendment. He probably looks really spiffy in a black Hugo Boss uniform. After all, you can't spell "Boss" without the last two letters!
Usage and Employment
The hardware takes you only half way.
Exercise with Guns?
We don't wear form-fitting stuff (at this age, the form is rotund anyway) and simply carry a pocket pistol in a pocket, if the event doesn't work with a holster. But NRA has a simple one-pager of suggestions for staying gunned-up when you're working out. It's mostly common sense, but you'd be surprised how uncommon that is.
Defoor's on De Toor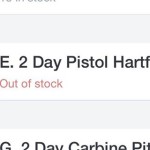 OK, we'll cop to the terrible pun, but Our Traveling Reporter tells us that Kyle Defoor has his 2016 schedule up (albeit incomplete, as he's still placing dates on the calendar)…

….and they're already filling up. (Not surprising as he's very reasonably priced for that level of instructional skill). We confirmed this with a visit to his page, during which a Connecticut pistol class closed out (and Connecticut is a lousy place to take a class, as it's a ban state with a 10-round mag limit, and the state's staggering taxes make food and lodging in CT a poor value).
We mentioned that our handgun skills were somewhat atrophied and we were back in the Crawl stage of the famous military Crawl, Walk, Run cycle. This brought a sharp response from OTR: "Do not go to Defoor unless you're at Run!" What he means by that is that you'll get the most out of it if you're already at a decent level. Here's how Kyle explains typical prerequisites:
The 2-Day Pistol course is recommended for those that have attended shooting courses before or who have a thorough understanding of pistol and carbine basics and already have safe gun handling skills.
If your pistol, precision rifle or carbine skills meet basic professional standards and you want to take them up a level in a single weekend, he's a great instructor. (Mike Pannone is another, and Mike's an SF guy. Defoor is one of those frogman creatures. NTTAWWT).
Cops 'n' Crims
Cops bein' cops, crims bein' crims. The endless Tom and Jerry show of crime and (sometimes instantaneous) punishment.
New Jersey Cops bag another Concealed Carrier
Cops in New Jersey don't pursue criminals. You could get hurt doing that! Instead, they make a regular practice out of rolling up unwary residents from other states who don't realize that Christiestan is a rights-free zone. They just bagged another, Brian Fletcher, who had come in from North Carolina because New Jersey's native population of hedge fund clerks and welfare recipients need to call out of state to fix their cell towers.
How Crims Get Guns in CA: From Cops
The theft of the semi-automatic pistol and other items belonging to the officer was reported about 9:59 a.m. Wednesday [26 Aug.] in the 3000 block of East Ninth Street near a Starbuck's coffee shop in the Fruitvale Station shopping center.
Dateline, Richmond Point, August
Last Friday [21 Aug.] a loaded gun, badge, and other items were stolen from an unmarked SUV belonging to UC Berkeley Police Chief Margo Bennett, who had parked the vehicle at Richmond's Point Isabel Regional Shoreline while she jogged before work.
Dateline, San Francisco, July.
In another incident in July, a gun stolen in San Francisco from the car of a federal Bureau of Land Management agent was reportedly used to kill Kathryn Steinle on Pier 14 in the city.
Neither of the August thefts has turned up. The July stolen gun was recovered after a criminal alien used it in the murder. While California laws about gun storage are strict, being a cop means never having to say you're sorry. In California, none of the reckless cops who left weapons unattended have been charged or disciplined at all — and none of them has said they're sorry, the heartless, soulless BLM agent particularly maintaining a position of contemptuous, haughty and lawyered-up silence to his victim, Kate Steinle.
The CA Attorney General says this about firearms storage and responsibility:
You may be guilty of a misdemeanor or a felony if you keep a loaded firearm within any premises that are under your custody or control and a child under 18 years of age obtains and uses it, resulting in injury or death, or carries it to a public place, unless you stored the firearm in a locked container or locked the firearm with a locking device to temporarily keep it from functioning.
Unless you're a cop. Then you have the Thin Blue Patent of Nobility.
Australian Cops Step Up Confiscation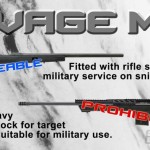 In Western Australia (one of the States into which OZ is organized) the police have been confiscating rifles. Not semi-autos, and not pumps — they already got all those, and they've been making noises about lever-actions. But the Target for Today is bolt-action rifles that look, in the inexperienced eye of any one Bronze at any given time, like they might be military.
The actual stocks used in our M24s? They're OK. Some of the chassis stocks made for the civilian market, and heavy-as-the-Great-Barrier-Reef stocks made for benchrest competitors? Nope, some guy says they're military, so to the smelter they go.
Elmer Fudd thinks the tiger isn't going to eat him if he throws the collectors and self-defense shooters in its path. It's just going to eat him later. 
Unconventional (and current) Warfare
What goes on in the battlezones of the world — and preparation of the future battlefields
Irish Democracy meets Red-light Revenue Cameras
Here are three stories of a guy who got jammed up for knocking red-light cameras out of line and crimping crooked cop/bureaucrats' free flow of lucre: The Federalist, Sachem Patch, and Stephen Ruth's own Facebook Page. Most of the money from these schemes go to the politically connected, crony crapitalist companies that fun this for-profit venture.
The Train Attack — It Can't Happen Here
Because Amtrak is a gun-free zone… just like the Thalys express train in Europe. How did that work out. Katie Pavlich writes in The Hill:
Since moving to Washington, D.C., years ago, I've become what is known as a Northeast Corridor Acela passenger. I often travel to New York City for work, and the train goes straight to Penn Station in the heart of Manhattan. It's convenient, but the majority of the time I don't feel safe. I can't imagine I'm the only one.

Three years ago I was on the Acela headed north, on Sept. 11, when the train stopped between D.C. and Baltimore. The Amtrak engineer came over the loudspeaker to explain that there were wires down in front of the train on the tracks and wires down behind us, and that we wouldn't be going anywhere for a while. "A while" turned into 10 hours of sitting on the tracks, with no option of getting off.

While we were waiting — and as I often do when there's a delay — I thought about how we were helpless, defenseless, sitting ducks. We couldn't get off the train, the train couldn't move and it would be easy for someone on the train to carry out an attack or for someone outside of the train to make their way aboard.
Fortunately, if terrorists wiped out the habitués of the Acela Express, the country would survive. Yes, even the loss of the flower of Wall Street, congressional staffs, and big-J Journalism. Survive, hell, it'd probably benefit.
Veterans' Issues
They can get 'em to join, in a major initiative to bring vets into the Federal government, but they can't get 'em to hang around.
The bad news is that once veterans get into government, they don't stay long. They're more likely to leave their jobs within two years than non-veterans, the Office of Personnel Management reported.

The Small Business Administration had the most trouble keeping veterans in fiscal 2014, with just 62 percent staying two years or more, compared to 88 percent of non-veterans. Former service members left the Commerce Department at similar rates, with 68 percent staying two years or more compared to 82 percent for non-veterans.

Even the Department of Veterans Affairs, traditionally a draw for former troops, lost a little more than a quarter of its veterans within two years, compared to 20 percent of its non-veterans.

The initiative has fueled tensions in federal offices, though, as longtime civil servants and former troops on the other side of the cubicle question each other's competence and qualifications.
So why don't the vets stay? Maybe cause working for the .fed has all the embuggerments of serving in the military, without any of the rewards?
Lord Love a Duck!
The weird and wonderful (or creepy) that we didn't otherwise get to.
Here's a Congressman with a Clue: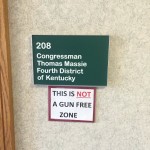 Is yours like this, or is he the other kind?
Hat tip, Aaron Spuler at Weapon-Blog.com. (This guy is Aaron's Congressman).
You can't keep a good technology down
Goodyear's blimps are being retired, and will be replaced by a new generation of semi-rigid airships. After the US (Akron and Macon), UK (R100-R101) and Germany (who can forget the Hindenburg) had some bad experiences, the only airships left for decades were nonrigid, frameless blimps. But in recent years Zeppelin NT and others have shown that modern materials and other technologies make a framed or partially-framed airship a machine of great potential.
A more serious threat to the airships is the US blowing out Government helium stocks, which are mostly being wasted because of the subsidized low price, and the price shock coming when the ancient US reserve bottoms out.
Buy My Degree for 1/4 Of What I Wasted On it!
That's the pitch from a woman who got a degree in the jobstopper field of Theatre from Florida State University. Hot tip kid: schools that are known for their football program are not where Broadway is looking for its next generation of talent
Stephanie Ritter, a 26-year-old Florida State University alum, has listed her diploma on eBay for the staggering sum to cover the 'actual cost' of attending the school.

Now $40,000 in debt and living in Southern California, Stephanie is fed up with being unable to find a job in her field, despite having a Bachelor's degree – so she's come up with a drastic solution to pay off her loans and 'validate my use of time between 2007-2011'.
It's only a solution if someone thinks an FSU Theatre degree is worth $50k, which seems unlikely. She has a Plan B and Plan C though:
Though Stephanie seems to recognize the unlikelihood that someone will actually purchase her very expensive piece of paper, she hasn't given up all hope of achieving financial stability, and told BuzzFeed that she dreams that 'a very rich family would adult Daddy Warbucks me.'

And if that doesn't work out either, she has a back-up plan.

'If that falls through, honestly, [I will] just do that thing where I pay the minimum for 25 years and then the government feels so bad for you that they wipe it clean,' she said.
Anybody wonder why our generation thinks a large slice of her generation comprises a bunch of sniveling, spoilt, entitled wastes of skin?
A Theatre degree signals to employers: drama queen. It's not the worst degrees, those are any kind of Grievance Studies.
Off Topic but Fascinating: Mormon and Orthodox Jewish Dating Demographics
This article at the usually worthless Time magazine is an excerpt from a book that examines, among other things, the sex imbalance in dating in certain closed communities (meaning they don't seek a match outside their group), like Orthodox Jews and Mormons.
In both cases, a surplus of young women is facing too few men, and the reasons are demographic but different: among Mormons, young men are more likely to drop out of LDS than young women, leaving a lot of potential perfect wives unclaimed. Orthodox Jews have a very low religious drop-out rate, so the cause there is different. The demographic growth of Orthodox Jewry (thanks to their preference for large families) means that each year the cohort is larger, so a 2-3 year age difference (male over female) means there will always be more younger women for the men who are a couple years older to choose from. And unusually, among the flavors of Orthodox Jews, Hasidic Jews do not have a marriage imbalance, because their marriage practice is for husband and wife to be of equal age.
Funny, the difference between two couples, one 21 year olds and the other a 19 and 23 year old  might carry within it the demographic seed of many "extra" women who can't find husbands. (Meanwhile, in China and other Asian patriarchal societies, the advent of ultrasound and abortion has ensured that the "extras" will be men, which has different societal problems). You can't really match the Chinese men with the "extra" Mormon and Jewish women, not when this is all driven by culture, religion, and identity.
How Criminals Gun Up in Shreveport: With Cop Guns
Officer Thomas LaValley of the Shreveport, LA police was ambushed and killed two weeks ago. His murderer took his Glock, a fact the police department initially covered up.
At least ten more department pistols are missing, including one stolen in February along with the officer's badge, radio and protective vest.
Shreveport police revealed Wednesday officer Thomas LaValley's service weapon is missing. It's been two weeks since the officer was killed answering a suspicious person call.

That's all police are saying.

"We're not ever going to do or say anything that would potentially compromise the operational integrity of an investigation," SPD chief administrative assistant Bill Goodin said.

Shreveport police in February said there are at least 10 pistols missing from their inventory. Now LaValley's Glock gone.

Police think Grover Cannon, the suspect in the slaying, stole the weapon. Cannon is in custody and is not cooperating with the search for the gun, police said.
via Few details available on LaValley's missing firearm.
A lot of people seem to think that if we did X, Y or Z we could end "gun violence," as if the Grover Cannons were getting their cannons from Cabela's. Unfortunately, as records show, Grover and his ilk can get guns from family and friends, from criminal associates, from theft from legitimate users, and even by murdering police officers.
Guns do make suicide very easy, and that's why purveyors of instant "gun violence" solutions like to use "gun violence" numbers that include self-destruction along with accidents and homicides (lawful and unlawful). These people are sincere, but their thinking doesn't reach the necessary depth. For instance, on suicides, it doesn't occur to them that suicidal intent will seek a weapon of opportunity, and given the fragility of Homo sapiens, such a thing is always at hand. Nobody really knows how much locking up weapons (or, for example, fitting bridges with jumper nets) deters suicide, versus how much it merely displaces it to a less inconvenient method. For instance, on homicides, it doesn't occur to them that the thing differentiating a spree shooter from a gun collector — murderous intent — is the same thing differentiating a serial slasher from a gourmet chef. The gun, the knife, are mere implements in a hand guided by a mind — the chef's knife and the murderer's may be the exact same tool, but one is guided by a creative mind and one by homicidal impulse.
Grover Cannon would still be a threat if he never owned anything that is not your kitchen. It is not late Officer Lavalley's gun, or the gun he allegedly killed Lavalley with, that made him a threat. It was his heart and his mind that made, and makes, him a threat.
You could make every gun in the world disappear with a magical incantation, and Grover Cannon would still be a threat, a toxin, a pathogen. You could give the Dalai Lama a nuclear bomb and he would be no more a threat than he is now.
When a man's heart and mind is a threat, he is never disarmed.
Friday Tour d'Horizon Week 34
We'll cover the usual subjects: Guns, Usage and Employment, Cops 'n' Crims, Unconventional (and current) Warfare, and Lord Love a Duck! And maybe some other stuff, because whatever the hobgoblin of our little mind is, we can pretty much rule out consistency.
Guns
We really wanted to write more about these gun stories. So many guns, so few fingers….
Slo-mo shot of a shot
This video appeared at Time.com, which says it's from the TV show Mythbusters, and the shot is, "never-before-seen slow-mo".
It isn't, of course, but it's still cool to watch the gas dynamics of muzzle blast.
Usage and Employment
The hardware takes you only half way.
There's safety, and there's safety.
The Associated Press via Fox News:
An operator of the store's Facebook page directed reporters to a statement posted late Tuesday that called the shooting "an unfortunate accident." The statement claimed the man who shot himself came over to the shop to help fix a door in the office "and, as he bent over, his weapon fell from a malfunctioning chest holster and went off when it hit the floor."
Um, not safety.
"The way they were holding their weapons, with the fingers on the triggers, you can tell a couple of these gentlemen have no idea about weapons safety. It's like the Clampetts have come to town," Muskogee County Sheriff Charles Pearson told the online news outlet muskogeenow.com, comparing the armed men to the family in the TV series "The Beverly Hillbillies."
Funny how the Sheriff assumed everyone would know who the Clampetts were, and the AP reporter assumed everyone wouldn't.
If you're making that nest of terrorists, CAIR, look responsible and sensible? Whatever you're doing, you're doing it wrong.
Hat tip, Jonn Lilyea at This Ain't Hell. "[P]aying for a gun is only part of the responsibility of gun ownership." Amen, brother.
He Didn't Take Andrew Branca's Seminar
The guy described here by Dean Weingarten chose not to be a victim. But he didn't stop when the home invaders fled, leading to the peculiar case in which the defender and the surviving home invader are both charged with homicide. Once the guys were fleeing they were no longer an imminent threat. That they'd come back and kill him in his sleep? Cops don't care. They're gonna spend all day investigating murders anyway, yours makes no difference to them.
This guy may beat the rap, but if he'd attended a Law of Self Defense seminar and/or read the book, he'd never have fired those shots and his life wouldn't be on one side of the scales of process (does anybody really think courts do "justice" any more?), with the evidence piling up on the other, principal piece of evidence being the carcass of some worthless skell with his brains blown out back-to-front.
In a closely related subject, Guns'n'Freedom tries to make a preemptive strike on the idea of Shooting to Wound, Warning Shots, and Brandishing — all three are bad ideas, or to be more specific failures of judgment and of understanding the legal terrain.
The Bullet from Nowhere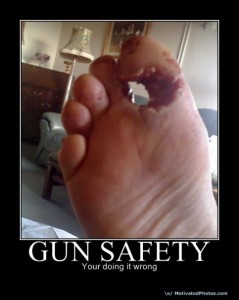 The New York Times and its writers would clearly like to ban all guns — at least, the ones not in the hands of the governmental and private hirelings that keep the paper's only stakeholders, wealthy Manhattanites and people who wish they were, safe from the roiling proles. And that bias sets one's teeth on edge whilst trying to read this story by one Jack Healy, which is all about how evil hunters, target shooters and plinkers are inflicting their unclean redneck ways with the Right People who are just hiking in the Great Outdoors, with nothing between them and Ursus spp. but their fashionable hiking shirt. As Healy tells it, the urban daytrippers were here first:
America's cultural divide over guns has gone into the woods. As growing numbers of hikers and backpackers flood national forests and backcountry trails searching for solitude, they are increasingly clashing with recreational target shooters, out for the weekend to plug rounds into trees, targets and mountainsides.
"Growing numbers… flood… searching for solitude." Hmm, Still, Healy has a point about the death of this man:
Glenn Martin said "ow," his daughter said, and when his family ran to help him, there was a hole in his shirt and blood pouring from his mouth.
Martin, 60, camping with his family, was killed by a stray shot, possibly fired a mile away. What Healy only mentions very, very late in the article, is that five shooters questioned by Bureau of Land Management police voluntarily allowed their weapons to be tested. None of them fired the fatal shot. The investigation continues.
This is less a problem here in New England where we're acutely conscious of the borders of our small parcels of land, and there aren't that many large swaths of land owned by the Federal Government and managed nihilistically by BLM's Luddite urban environmentalists. But what happened to this poor fellow Glenn Martin was no less than the predictable consequence of a shot fired over a backstop, and we shooters as a community earn the opprobrium Healy and his readers heap upon us, any time we let one go like that.
Know your target and what's behind it. Sure you've heard that before. So did whoever it was that launched the sky ball that dropped in a ruined the Martins' outing. You don't get any free errors with a firearm. Any mistake can end somebody's world.
Training Makes a Shooting Less Likely
John Johnston has an interesting post on what training does and doesn't do for you. He notes that many people self-defend successfully without training. But argues that training does something almost paradoxical: by raising your Situational Awareness, training makes it less likely you'll be in a shooting — which is the best possible outcome of a shooting. A rich essay, worth reading and Rereading The Whole Thing™.
Cops 'n' Crims
Cops bein' cops, crims bein' crims. The endless Tom and Jerry show of crime and (sometimes instantaneous) punishment.
Professor Moriarty is a Fictional Character.
Real criminals are more often rockwits like these two humanoids who decided to gun up, despite being Prohibited Persons, by employing the well known Stealing $#!+ Loophole.
In documents filed in U.S. District Court, prosecutors alleged Johnson and Moore broke into the store through a back window and used a pry bar to smash a display case before filling a bag with the guns. They then ran to a waiting getaway car, according to the documents.

Investigators found the pry bar inside the store and the two cell phones in a back storeroom. On the phones, police found photos that identified Johnson and Moore as the suspects, according to the documents.
Give that man a Wile E. Coyote card, give both of them one. Cops recovered at least 4 of the 19 stolen guns, one of them buried in a place where it was probably a "community gun," meant to be dug up and used by any local gangbanger. The others will turn up in future robberies and homicides, but remember, the crimes committed by these career criminals in South Bend, Indiana were caused by, say, non-criminal Hoosiers having a gun or a license. Bloomberg said so.
Gun – Situational Awareness + Robber = Robber with Gun
The video at this link has what appears to be praise by the newsreaders for the licensed carrier(!) but he's lucky to be alive. If you watch the surveillance video, you see that the robber, a lanky black dude in a baseball cap and plaid shirt over pink t-shirt comes up behind a customer at the counter (looks like a lighter-skinned black guy, green shirt and black and white shoes). Plaid shirt went right for green shirt's gun, and they fight for it. Plaid shirt gets it and fires a round. Green shirt attacks (!) and gun or no gun, plaid shirt bugs out. His face is so clear on the video that he's hosed; his momma's gonna want a print to remember him by. But then, criminals never think things through or they wouldn't be criminals.
With any luck the cops will have some excuse to plug him when they roll him up (if they haven't already by the time you read this). Some black lives don't matter, and some people the world's better off without. This oxygen thief will never amount to anything, so why bother incarcerating him?
As for the legal carrier, whose black (or whatever) life does matter, +2 for an aggressive counterattack and not giving up, and -2 for losing control of his firearm. As we said, he's lucky to be alive. Good time to check in with a good defensive tactics instructor and get a better holster for your pistol (if you get it back after the cops bust or whack plaid shirt) or the one you replace it with. And keep your situational awareness. Urban convenience stores are favorite robbery targets.
PS. Another link at that site: Gunman holds up Post Office. We dunno, every time we go to do this there are 10 robbers in line in front of us. In all seriousness, though, armed robbery is a violent crime, a crime carried out by threat of murder; why should an armed robber ever see the light of day again?
PPS. Tam discusses this incident (the guy jacking the carrier's gun, not the PO holdup) among other things, and, as usual, she displays less inchoate rage and more cold logic than we do. She actually discussed it on an earlier post before that. The analyses she links are good, too.
Unconventional (and current) Warfare
What goes on in the battlezones of the world — and preparation of the future battlefields
Didn't Jack Ryan's Career Start Like This?
A Sudden Jihad Syndrome outbreak on the Amsterdam-Paris train ended prematurely because three Marines, traveling off-duty and unarmed, heard the distinctive sound of AK-mag loading in the toilet. When the 26-year-old Arab nerved himself and burst out of the restroom shooting, he barely got a burst and an "Allah!" out before the Marines showed him who's really akbar, giving him a good old-fashioned beatdown. He's the guy on the floor of the train in this picture.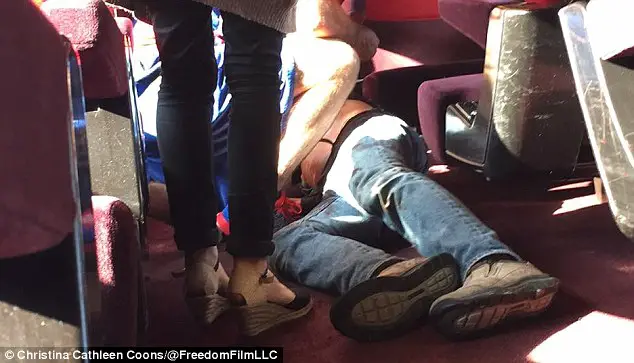 No idea whether the chick in the platform shoes is one of the Marines. Probably.
The French cops in Arras happily took the jihad failure and his AK (and Jungle Jim killer knife) into custody. Turns out he was an individual already You can see the attacker's AK mags on the train platform in this image.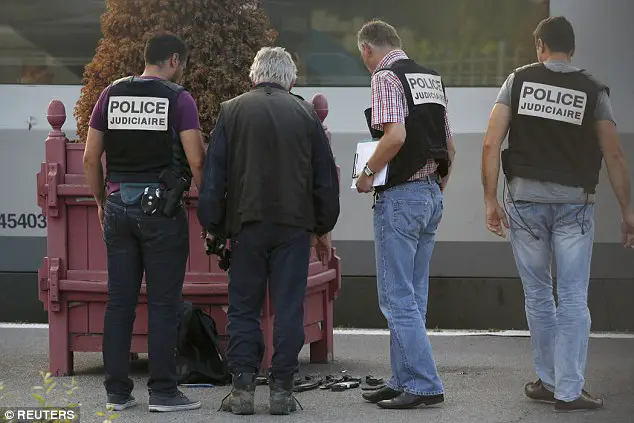 Unfortunately the still-unnamed wannabe shaheed did succeed in wounding two passengers seriously (they're in critical condition) and one lightly. The lightly wounded man has been identified as French actor Jean-Hughes Anglade, who plays TV tough guys. Now he's seen some real ones in action, and he can take that back to work.
French politicians are trying to suggest that it's premature to suggest a terrorist motive.
Got Law if you Want It
Lots of people are writing about the DOD's new Law of War Manual without reading it. Don't be that guy: read it here (.pdf). Or just do like us, assume it's all bullshit from lawyers who will do whatever it takes to stab the GI in the back when the time comes, and don't read or write about it. But it's there for you.
Be Very Afraid
Hillary Clinton, whose reaction to the death of diplomats she abandoned to an attack in Benghazi, Libya, was "What difference does it make?", and who ran an email server stashed in a closet someplace that had dozens of classified emails including TS/SCI codeword material, still has an active security clearance.
If that was you who'd done all that, you'd be so far back in Leavenworth they'd have to feed you with a Wrist Rocket.
Government is just a name for the things we decide to all do badly together.
Veterans' Issues
You kind of have to read this and see the pictures to believe it.
A man in the Ozarks who built a patio out of what he said were discarded military headstones found in a landfill told a TV station on Tuesday that he will remove it.

KSPR TV posted a report with an interview with the homeowner on Tuesday evening.

Navy veteran Ed Harkreader of Mountain Home, Ark., had posted photographs of the arrangement on Facebook last week. The post triggered scores of outraged comments and was shared thousands of times, but the post has apparently since been removed.

The homeowner, whom the station did not name, said: "I was just making something out of nothing. Ninety percent of them are broken. They were never in a cemetery. They went from the monument to the landfill. There were mistakes. I didn't know."
So this is a little different from the other sphincter muscle we had lately who was using stolen grave markers as a foundation for his tool shed in Rhode Island.
Lord Love a Duck!
The weird and wonderful (or creepy) that we didn't otherwise get to.
"Common Sense" Looks Like This
No one is coming for your guns, or magazines. You're just being paranoid. Oh, those formerly "grandfathered" standard-capacity magazines? Nevermind. You didn't need those for duck hunting. Yep, registration led to confiscation, again, like usual, which is why there is registration. Don't wanna turn 'em in? That makes you insane, you gotta turn 'em in. Don't like it? What are you, some kind of Johnny Reb?
Scott Adams of Dilbert Fame
We haven't gotten around to the Scott Adams (cartoonist of Dilbert fame and patron saint of engineers everywhere) blog in a long time, but this week he's had a series of posts admiring Donald Trump — with respect to his techniques for shaping an argument, deflecting a "gotcha" question from some mediot like Chris Cuomo, or getting what he wants (by proposing a negotiating position that will leave falling back to his real position looking like a humble compromise). Some of those negotiating points are of value to anyone. Adams is not political and he looks at this, like everything else, with a slightly jaundiced engineer's eye. His blog is here; nothing to do with guns, so he can't be a W3, but an entertaining read.
 What Swears Are Sworn Where?
It's interesting to see what swears are current in what part of the country, and naturally, there's an idle professor somewhere who's mapped it out. Turns out here in New England we're not too into some pejoratives, but we'll call anybody a baahstid. 
Los Angeles VA Solves the Backlog Problem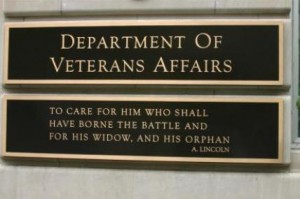 They did it just about the way you'd expect the VA to. They just shredded the vets' records. Including letters which "would have had an impact on the veterans' claims" but that were sent right to the shredderizer without even being opened. Frankly, you couldn't build an organization that screwed vets more than the VA if you gave the task to ISIL.
The Washington Examiner reports that the Veterans' Affairs Department's Office of the Inspector General conducted a no-notice inspection of a Los Angeles office and discovered letters from veterans which were scheduled for the shredder, but they hadn't been opened or read. Eight of the nine would have had an impact on those veterans' claims;

"Of the nine claims-related documents, five did not have required initials of both the employee and supervisor and the remaining four had only the employee's initials," the report said. "If … staff and their supervisors followed VBA policy, these nine claims-related documents would not have been placed in personal shred bins that are designated for non-claims related documents."

The report said if the OIG had not stepped in, "it is likely that. … staff would have inappropriately destroyed the nine claims-related documents we found."

The office couldn't provide to the OIG a record of the documents that they had shredded over the past few years. Well, at least the VA has found a way to do away with the backlog of claims like they promised.
via LA VA caught shredding vets' letters : This ain't Hell, but you can see it from here.
Those responsible have been fired, or at least drawn and quartered, or, please a merciful God, at least given a stern talking-to, right?
Wrong.
This is the VA we're talking about here.
The OIG didn't pull a random inspection of the LA office. They got a tip that the office there (and how many more of them?) was shredding correspondence and medical records.
How did they get in this jam? Well, in the VA, everyone gets promoted no matter how bad you are, and the one responsible for record reviews was promoted clean out of responsibility. (That must be every VA payroll patriot's dream promotion). According to the Washington Examiner (warning, mountains of pop-up spam):
[A] records management officer was supposed to be on staff in Los Angeles to prevent this from happening, but said there was no one in that position from August 2014 until February 2015. The original records officer was promoted, and the office's assistant director "determined that it was not necessary to fill the … position."

Officials who tried to take over that role "lacked training regarding maintaining, reviewing, protecting and appropriately destroying veterans' and other governmental paper records," the report said.

The OIG said the Los Angeles office couldn't provide any documentation at all on what documents it had shredded over the past two years.
Why did the position of the Records Management Officer get created in the first place? You know, the promoted drone who didn't manage the records, so we don't know what he or she shredded over the years? Well, if we go to the original VA report:
We can see that the do-nothing, no-accountability, no-show-job was created because of a past history of shredding documents and ruining vets' claims. 
In response to an OIG report on inappropriate shredding of veterans' claims in November 2008, VBA created the permanent position of a Records Management Officer (RMO) to ensure the appropriate management and safeguarding of veterans' records, to include providing oversight of the shredding of documents. The RMO serves as the VARO's final control to prevent shredding of claims-related documents.
OK, so this person's only reason for having a job was to prevent the document shredding that he or she apparently carried on with a drunkard's abandon. But oh, it gets better:
The RMO was promoted to another position in August 2014, and the Assistant Director determined that it was not necessary to fill the RMO position.
OK, we saw how the Examiner reported that already. What happened after that?
We found that Support Services Division (SSD) staff that took over the duties of the RMO lacked training regarding maintaining, reviewing, protecting, and appropriately destroying veterans' and other Governmental paper records. The Assistant Director assumed that the RMO had provided SSD staff with training but did not ensure this had occurred.
OK, so… with the person hired to prevent document shredding, who apparently never did anything to prevent document shredding, having moved on and left the task in the hands of the same people who were shredding the documents before 2008, but were never held accountable, what do you suppose happened next?
SSD staff stated they would only complete a "cursory review" as they dumped all collected documents and material in shred bins for contractor shredding.
That kind of hinges on what a "cursory review" is, doesn't it? It's not a term that breeds confidence, but wait till you see what it meant to these VA payroll patriots.
When asked to define "cursory review", SSD staff stated they would observe documents as they dumped the documents into the bin destined for contractor shredding.
Is a casual glance a cursory review? It is at VA. You know that none of these bums gives such a "cursory review" to the only document they care about at the office — their gorram pay stub.
So, what were the inspectors' conclusions?
[I]t is likely that VARO staff would have inappropriately destroyed the nine claims-related documents we found. The shredding of these documents would have prevented the documents from becoming part of the veterans' permanent record and potentially affect veterans' benefits. We could not determine whether the VARO staff improperly shredded documents prior to our review. This is because the VARO destroyed documents prior to our arrival, as part of the VARO's normal records disposition process. Finally, we did not substantiate that Los Angeles VARO supervisors instructed their staff to shred claims-related mail.
We got it. Their fellow-feeling for their fellow payroll patriots means that they cover for them. In court, a jury is instruction that they can infer criminal intent from criminal actions. In the VA, being a government employee means never having to say you're sorry. Literally.
But they probably published some hard hitting recommendations?
We recommend the VARO Director implement a plan and assess the effectiveness of training to ensure VARO staff comply with VBA's policy… [yadda yadda blah blah DC CYA boilerplate].
Oh yeah, that'll really solve the problem.
Any other recommendations? Yeah, they're going to do ten more "surprise" inspections to see if this is a problem anywhere else — and they announced them in the interim report.
So, the VA did another crap job, covered it up, and is continuing more crap work and coverups. Where's the "surprise" in that?
tl;dr
The VA's Los Angeles office has been shredding vets' letters and claims data more or less continuously for at least seven years — since 2008. After being caught, they used it as an excuse to hire another unaccountable bureaucrat, and continued the shredding with no apparent slowdown. No one has been fired, suspended, reprimanded, or even identified because their entitlement to a do-nothing VA job is more central to the VA's real mission than the VA's ostensible mission to care for vets.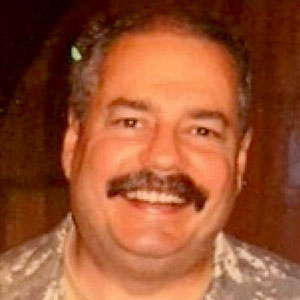 Kevin was a former Special Forces weapons man (MOS 18B, before the 18 series, 11B with Skill Qualification Indicator of S). His focus was on weapons: their history, effects and employment. He started WeaponsMan.com in 2011 and operated it until he passed away in 2017. His work is being preserved here at the request of his family.