Category Archives:
Uncategorized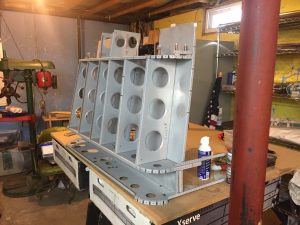 Bear with us as we talk about two disparate things — screwing up and hand tools. They both go tool in hand, er, hand in hand. And it all started in the workshop today.
We have the center section of the airplane starting to come together on a temporary table (horses and MDF) down in the gunsmiting lab. (Yes, before anyone asks: when it's complete, it will fit out at least one of the three exits. We measured).
Ah, "measured." What a fine and noble word that is. And what grief befalls the workman who neglects to do just that. And thereby hangs a tale. (Does a tale hang by its tail? Only its tailor knows for sure).
Over the last few nights we prepared to install the baggage compartment floors, structural parts that are fastened to a built-up section of the main spar carry-through by approximately three dozen solid rivets. After a scan of the plans, most of the rivets were emplaced as AN470AD4-8s, and four outboard rivets that went through an additional .040″ or so were emplaced as AD4-9s. These rivets are identical rivets except for the length.
There is a code to AN rivets, which is inscrutable to the uninitiated but becomes second nature after the 3,712th one you've driven (or maybe it's the 882nd one you've drilled out because you drove it wrong). These two sizes break out as follows:
Item
AN
470
AD
4
8
Meaning
Army-Navy standard
Standard round head rivet
shank dia. 4/32″
shank length 8/16″
Item
AN
470
AD
4
9
Meaning
Army-Navy standard
Standard round head rivet
shank dia. 4/32″
shank length 9/16″
Before our European and Antipodean friends begin grumbling about the superiority of the French Revolution's system of weights and measures (if they were going to keep something of Robespierre's, why not the guillotine? But we digress).
The rivets were difficult to drive because the sheet metal floorboards themselves limited tool access. We drove them using teamwork and great care, worried about putting a "smile" on a rivet head and having to drill a rivet out.
Today, as we contemplated a neatly driven row of AN rivets, the Blogbrother revisited the plans page and came up with an unwelcome insight:
"Hey, I think we put in the wrong rivets."
"Nonsense. Dash-8s, and 9s for the two outboard rivets on each side where they go through the upright, too."
"That's not what the plans say. Dash-9s and 10s."
"Uh. Intercourse."
So now we didn't have to drill out one mashed "smiley." Nope, we had to drill out all 36 or so rivets. Every single one is 1/16″ too short. And the part they're embedded in is a structural part: there's no margin for error.
We set to drilling. Which brings us to hand tools.
Our grandfather often drilled a hole with a traditional hand drill, a bit and brace, or a small thing we called a "hand drill" but have since learned is actually properly named a "pin vise." Today, most workshops don't have any drill but an electric drill, and usually it's an enormous cordless monstrosity with a gigantic battery hanging off it.
Now, it's possible to drill these rivets out with a power drill and a long (12″) bit. But this is where the voice of Gamuck speaks to us and sends us to the hand tools. For $50 you can get a collection of pin vises in various sizes, and they have a bunch of uses. (For instance, that #60 drill that the chuck of Monster Drill won't hold? Chuck it in a small pin vise, and then chuck the pin vise in Monster Drill. If all the chucks are concentric — not always guaranteed if you buy cheap, or even if you don't, we've seen Starrett pin vises that were nonconcentric or out of round — it'll work just fine).
You should have one or two big pin vises and a set of small ones. (If you like to keep a lot of bits handy, you can use double-ended small ones, but label the GD bits). What we've got in the shop is just that: a large heavy pin vise (about the size of a screwdriver handle) made by General Tool, the generic name for Chinese stuff in Ace Hardware or Harbor Fright); one about the same size but very light due to a hollow handle (for storing common bits), from the Israeli firm Shaviv, one small one with a cap with a bearing, made in India, and a set of generic small pin vises with solid handles, also made in India (these are the ones ideal for chucking into the Drill Monster).
Along with these, you'd be surprised with how much metalwork you can do with a set of files and one of stones, and a hacksaw and assortment of blades. With hand tools you can feel the metal directly. Yes, you lose speed compared to power tools. But what you gain is control.
Consider our problem, a row of rivets that had to be drilled out because the shanks were all 1/16″ too short before being squeezed, but where a power drill with normal jobber-length bits would not have access. There were three ways to do this that came immediately to mind:
| | | | |
| --- | --- | --- | --- |
| | Name | Pro | Con |
| 1: Power Tool Solution | Drill Monster with 12″aviation-length bit | Fastest solution | High probability of enlarging or misshaping hole |
| 2: Hand Tool Solution | Drill bit in pin vise | Great control at all times, low probability of overdoing it | Slow as molasses |
| 3: Hybrid solution | Mark, hand drill to start hole, finish with power drill | Best balance of rapid completion and no damage | Slow, fiddly, lots of "paradigm shifts" for guys doing it. |
Needless to say, we went with option #3. AN rivets have a tiny dimple at the center of the head, just to assist if you should have to drill the rivet out. We expanded this dimple with a center punch (another must-have tool, and one you can safely buy cheap). Five or six hits with the spring-loaded center punch made the dimple an even more prominent divot. Then, turning a #35 bit in the large, heavy pin vise, taking great care to make a good, centered cut, we cut enough of a hole in the rivet head that a carefully used aviation-length (12″) #35 drill bit in the Drill Monster would weaken the rivet enough for removal.
It's going exactly according to plan. No parts damage, and so far all the rivets we've addressed are drilled through and removed, and we should finish the removal tomorrow.
And of the fact we once rived two skins on wrong, no more evidence will exist soon, except for this moldering blog post.
But no matter what you're building, check out a variety of pin vises. They're simple, cheap tools that are lifesavers when the hole is important enough that you want to feel it being cut.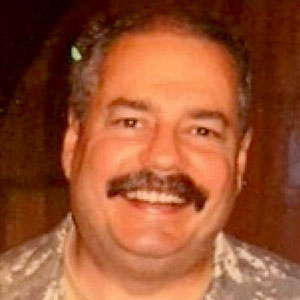 Kevin was a former Special Forces weapons man (MOS 18B, before the 18 series, 11B with Skill Qualification Indicator of S). His focus was on weapons: their history, effects and employment. He started WeaponsMan.com in 2011 and operated it until he passed away in 2017. His work is being preserved here at the request of his family.