For the last week-plus, top instructor Kyle Defoor has been posting his "inventory" on his Instagram account, one a day. Our Traveling Reporter, a Defoor trainee and admirer, if not outright fan, has been linking them to us, one a day, and we've been waiting to assemble them and give you a single overview. Here it is; this is what's in a single top instructor's battery these days.
His training battery comprises eight guns, some used frequently and some for special purposes. There are four ARs (all BCM, which he endorses), two Glocks, one bolt rifle (Remington 700), and one DA/SA pistol (SIG 229 Elite). For each one, he painstakingly records the details down to the scope mount and slings and holsters, and he answers some reader questions, so for any gun that interests you, go to the linked Instagram page.
The AR Rifles
They're all from BCM, with whom Defoor is in a committed relationship, as they say. BCM also provides the iron sights for those rifles that have 'em, and Viking Tactics (VTAC) the slings. There are a selection of calibers and lengths for specific purposes.
The most-used AR is this 11.5″ 5.56 mm Short Barrel Rifle (SBR), which is used 18-20 weeks a year for both military and civilian contracts.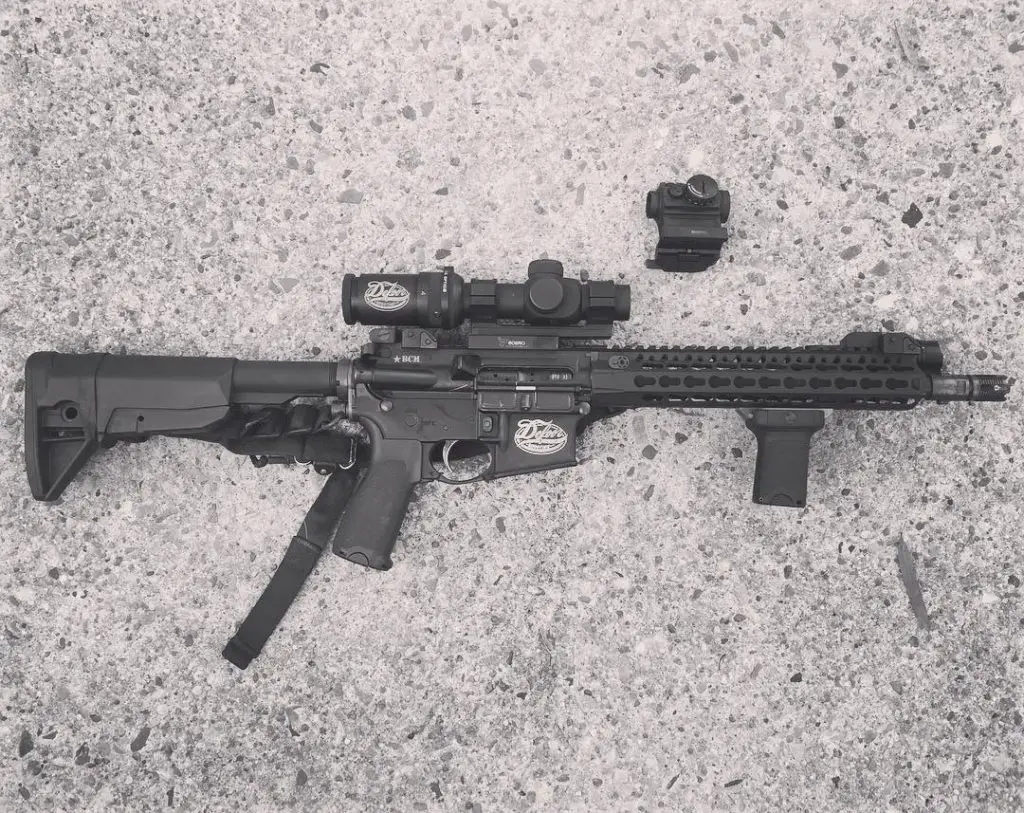 The accessories include interchangeable red-dot and scope optics in Bobro mounts (Aimpoint Micro T1 and US Optics SR4-C respectively), the Streamlight Protac Rail 1 with an Arisaka Defense light mount, and a Gemtech flashhider for use with the G5T. The US Optics scope is their short-range 1-4 variable, which is presently off the market as the company overhauls its short-range line; its nearest military issue equivalent is the Elcan Spectre DR, which is not continuously variable. The SR4-C is an ingenious design, with a mil reticle (several options) on the first focal plane, which keeps the mils accurate with magnification, and a 4-moa red dot on the second focal plane. (There is an excellent five-part review of this scope at the Austin Police Marksmanship Team blog. Begin with Part 2 if you're in a hurry; Part 1 is the justification for using a scope on a patrol carbine. Then click the left arrow to read subsequent parts).
Used 18-20 weeks a year for military contractcs and for some civilian carbine classes. My scope and Aimpoint share the same mounting slot on my top rail for ease of switching depending on what the customer wants.
Note that this is the baseline AR of a pro, and it's run on an XM177-length barrel, probably suppressed more often than not. That's a reflection of what's happening in special operations units, not just in the US military, but worldwide.
Here's a longer-barreled 5.56 AR used about 6 weeks a year for military and civilian scoped rifle classes. The barrel is 16″ stainless steel with 1/8 twist rifling and a mid-length gas system. The scope is a US Optics variable 1.8-10 power in a Bobro mount.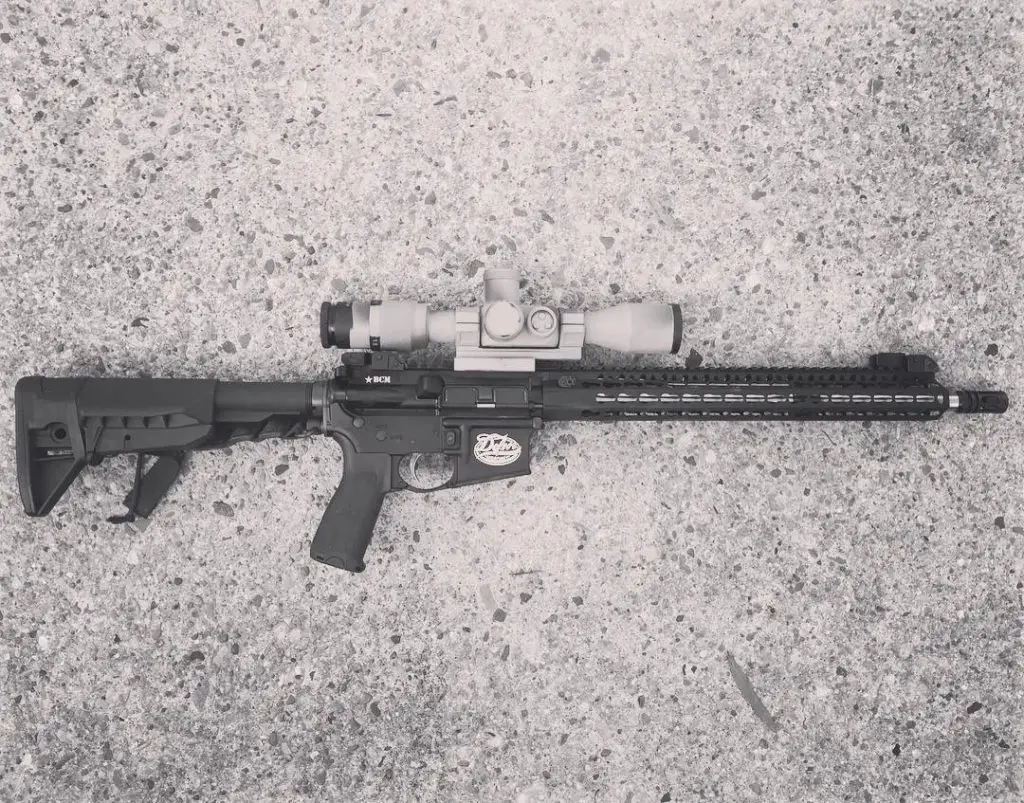 The Gemtech suppressor he uses with this rifle is the G5T; the rest of the accessories are the same as his other ARs.
Here's a baseline .300 Blackout gun.  It's got a 9″ button-rifled barrel. This one is used a few times a year for "specialized military contracts," and is set up with a Gemtech flash hider for The One silencer.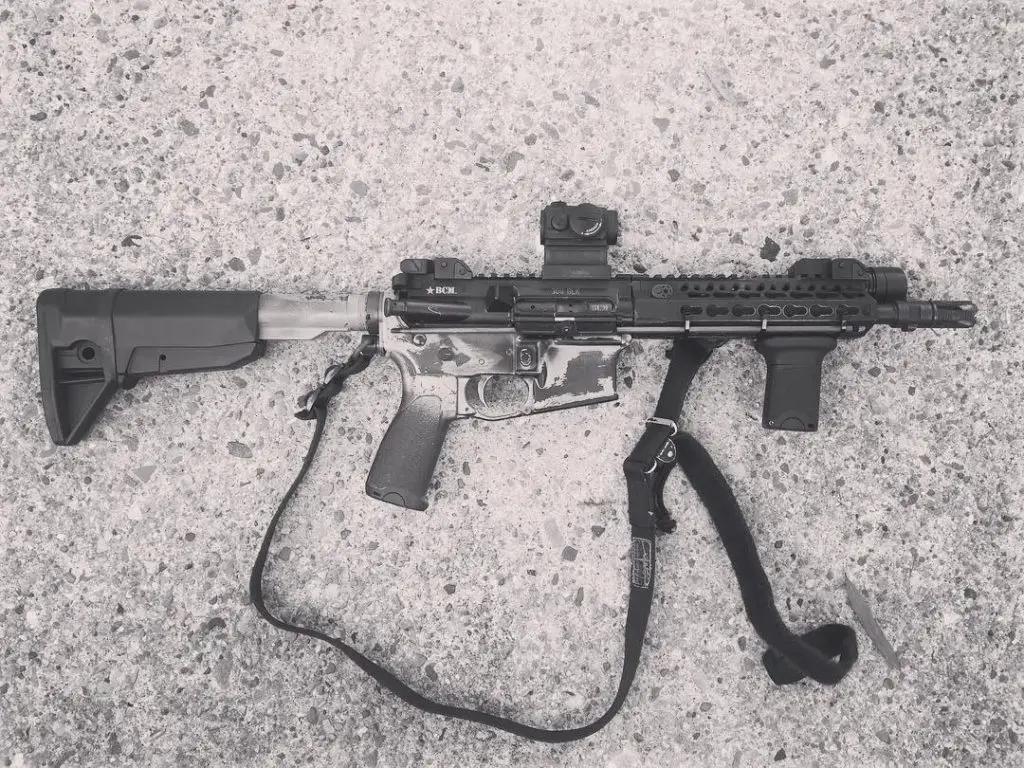 What seems to be "the usual" KD4 accessories: BCM flip-up sights; VTAC Sling;  Aimpoint Micro T1 on a Bobro Mount; Streamlight Protac Rail 1 with an Arisaka Defense light mount. One thing this carbine has got that the others haven't is a cleaning rod secured to the rail with zip ties.
And finally, this one's just for hunting. It's a 16″ .300 Blackout rifle with a 1/8 button-rifled stainless barrel, and has similar accessories to the other ARs.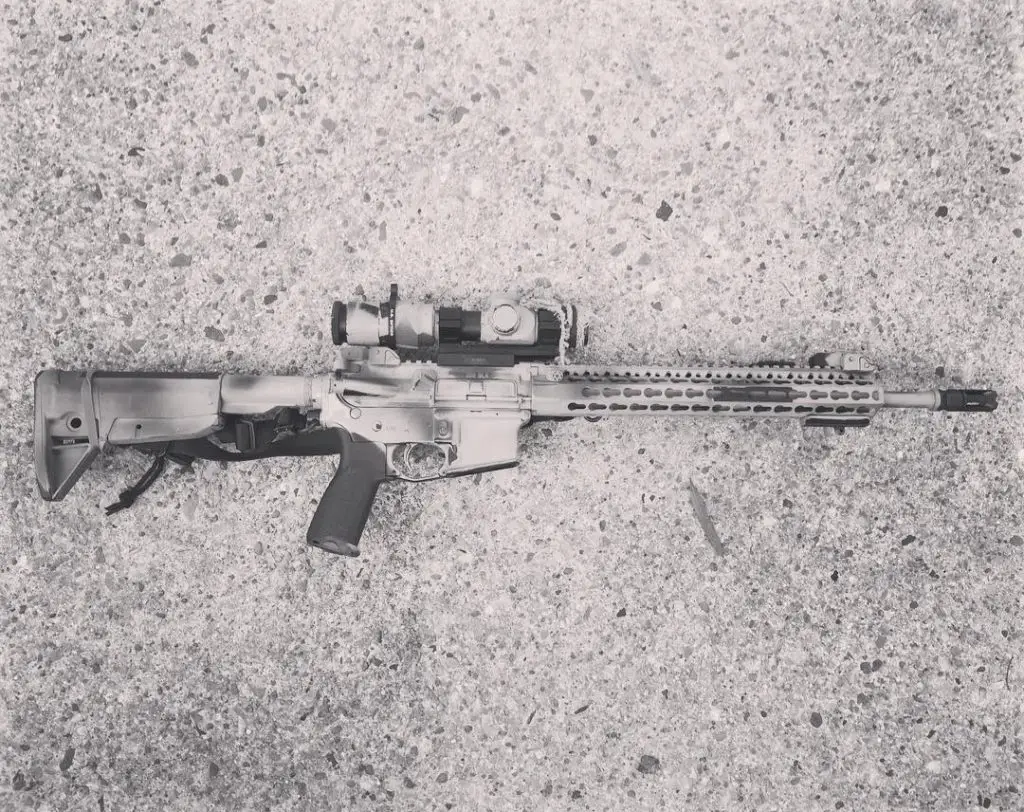 The scope is the US Optics variable 1-4 power Dual Focal Plane on (what else?) Bobro. Kyle says he uses it to take deer, coyote and wild boar.
The Precision Rifle
This rifle is a modified Remington 700 with a 7.62mm NATO 20″ 1/10 heavy barrel, threaded for use with the Gemtech Sandstorm suppressor.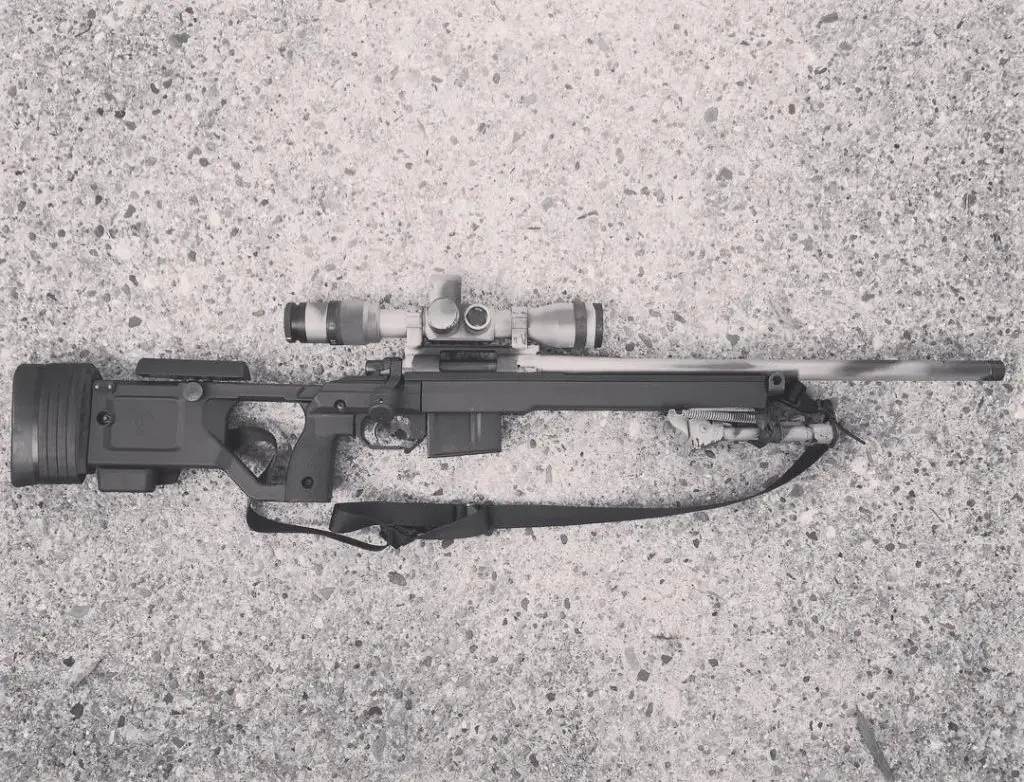 The mods/accessories include: a KRG stock and bolt lift; VTAC Sling; US Optics 1.8-10 variable power scope, with the Horus H25 reticle, mounted in Badger rings; and the ubiquitous bipod from Harris Engineering. Defoor uses it for military contracts 4 weeks a year.
I can't express how happy I am with the KRG stock. It makes a stock 700 about .5 MOA tighter throughout the spectrum of the caliber compared to an OEM buttstock and is LIGHT! The weight thing matters when I'm humping long distances for FTX's and evals. Additionally, KRG has accessories that are smart, lightweight, easy to install, don't cost an arm and a leg and work WELL! This is expected from KRG since their owner is a mil snipe with experience like myself. I have no affiliation with KRG but if you're in the market for anything bolt gun you should give them a look before they take off and get super busy,
Listen up to that recommendation, precision shooters: Defoor has a pretty good track record at flagging the Next Cool Thing before it gets cool.
The Pistols
The fundamental pistol of Defoor's battery is the G4 Glock 19.
His regular carry gun is used for almost all classes, and apart from his own sights and his (Raven Eidolon) or Safariland holster, the only thing not stock Glock is the barrel, a KKM.
I've been using match barrels in Glock pistols for over 10 years now. I started using KKM's somewhere around 2010 or 11 — long before it become the popular barrel of choice it is now. I also used Wilson combat match barrels for Glocks back when you had to fit them. I prefer hand fitting a barrel because I can make it even more accurate.
But he recommends you be in no rush to replace the barrel:
I tell everyone my opinion is to shoot the Glock pistol stock and wait to get a match barrel when you notice groups starting to open up a bit. In my experience this happen somewhere between 80 and 100,000 rounds.
In case you were wondering why Tier 1 units that shoot obsessively day in and day out went to the Glock, a lot of the answer is packed into that paragraph above. He also points out that the match barrel is match, not magic:
A match barrel will not help you magically shoot better all of the sudden. All it does is hone good fundamentals a little more. The average difference that I have measured over tens of thousands of shooters between a stock barrel and a match barrel at 25 yards on an NRA B-8 bull is somewhere between 3-4 points or around an inch tighter- both of these metrics are with a 10 round group from the standing unsupported position.
For about four weeks a year, for certain military contracts, he uses this older G2 G19, set up with a very unusual sight: an Aimpoint Micro on a Raven Concealment Balor mount. This one has had fewer rounds through it and still has a Glock barrel.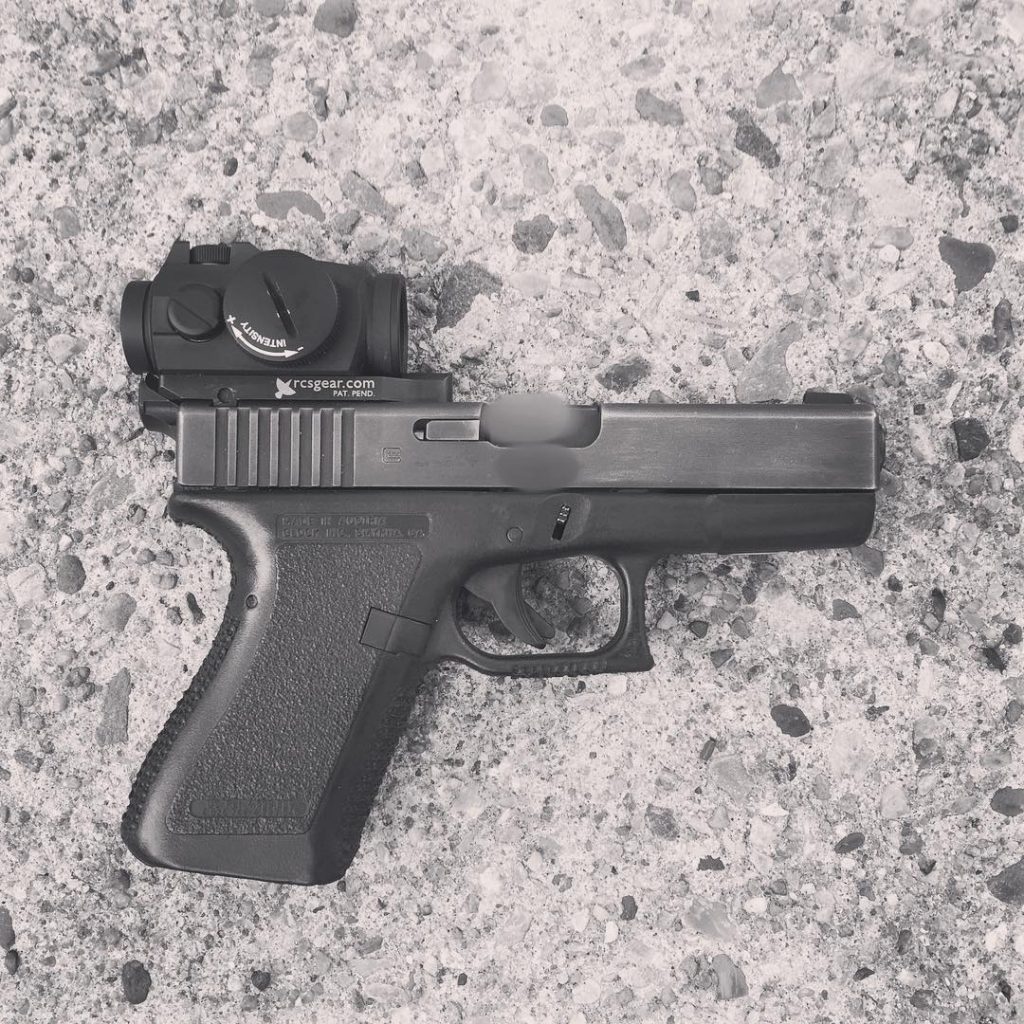 Sometimes he'll just mount this slide on a G19 frame that allows a weaponlight or weapon laser. Same holsters; but he has some interesting observations on the Aimpoint vs. the more common pistol red dot, the Trijicon RMR.
If you want to go the route of a red dot on a pistol using an Aimpoint Micro will give you faster results in performance than an RMR. This is due to the Aimpoint being a tube and an RMR being a flat plane red dot. I've had great success and starting people off with a set up like this and then transitioning them to an RMR later.

I've assembled dozens of guns like this one for people who are older and whose eyesight just does not allow them to shoot irons affectively anymore — it's amazing to see the reaction of people when they can shoot and perform the way they did 40 or 50 years ago. The Micro is definitely harder to conceal and will require some adjustments of clothing and belt type, along with a quality holster like mine. Safari land 6000 series holsters can be easily modified with a Dremel to hold this set up and still maintain retention. There are multiple reasons for MIL/LE to use this setup, although I recommend to all of our clients to issue two slides; one setup like this and one with traditional sights.
Sounds like we need one of these, or a trip back to the eye surgeon. (May not be an option. Our guy, the brilliant Dr Jack Daubert of West Palm Beach, has unfortunately had to retire).
Finally, there's the SIG 229 Elite, which is used with organizations that use SIGs, or other DA/SA guns rather than striker-fired, and that don't have a loaner gun for Defoor to use himself while conducting training.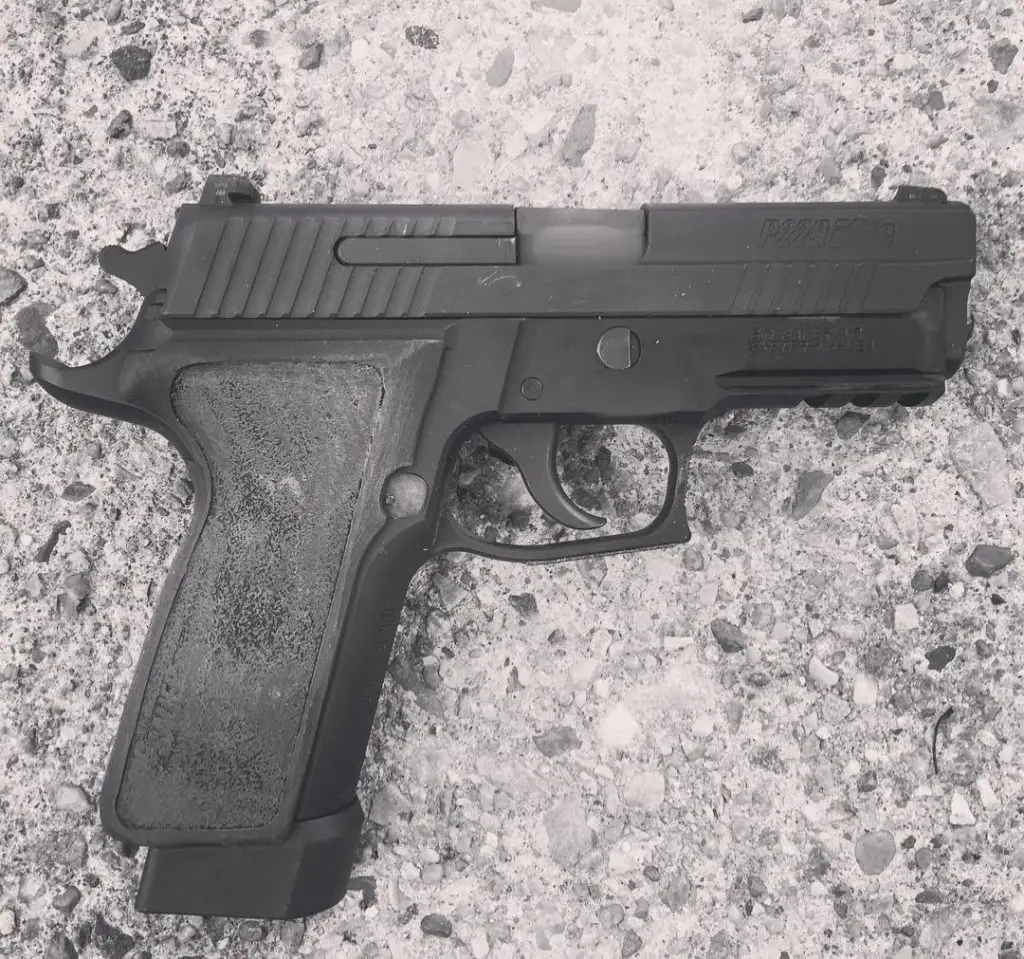 Nothing magical here, just a pistol. About the only unusual thing here is that he got Raven to make him a one-off holster for the gun.
I also will sometimes use this when I'm training units that shoot a Berretta 92 when they can't supply me with one (I don't own a 92).
And that wraps up one instructor's training and defensive battery. Instead of having many guns (either in quantity or in battery) he has stuck to basic platforms, and plowed his efforts into training instead. There's a lesson in that if we want to pick up on it.
Update
This post has been corrected. Kyle's main go-to Glock 19 is a G4, not a G3 as we erroneously reported. We regret the error. -Ed.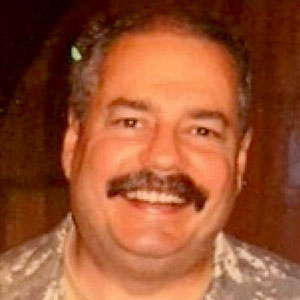 Kevin was a former Special Forces weapons man (MOS 18B, before the 18 series, 11B with Skill Qualification Indicator of S). His focus was on weapons: their history, effects and employment. He started WeaponsMan.com in 2011 and operated it until he passed away in 2017. His work is being preserved here at the request of his family.