How do the rebels and the governments in Libya, Syria, and Iraq (not to mention Iran's pawns in Lebanon) manage to continue arming themselves with modern weapons, mostly of Russian or older Soviet design, when most of them are under embargo?
Would you believe, systematic cheating on UN embargos and laughably gauzy international "control" regimes? We knew you could! Just like Iraq kept arming up during a decade of sanctions, thanks in part to the corruption of UN Secretary General Kofi Annan and every other UN official or soi-disant "diplomat," nowadays anyone who says he's Sunni Moslem can get the Saudis to stand him an End User Certificate or three for the mayhem-makers of his choice; the UN is anybody's for a few bribes; and the national intelligence services who might know enough about this traffic to disrupt it, would rather not do so. They'd rather exploit it.
The Soros-funded (-controlled?) Balkan Investigative Reporting Network is claiming that the arms in these post-"Arab Spring" conflicts are being provided by the USA and its allies. And they do have some evidence for it: Saudi EUCs, contracts let by American commands for "weapons to be employed outside the USA" (those contracts are probably for arms for Iraqi or Afghan military, actually).
Amnesty International, another NGO that seems to find error only in Western Democracies, is always good for some high dudgeon:
"The evidence points towards systematic diversion of weapons to armed groups accused of committing serious human rights violations. If this is the case, the transfers are illegal under the ATT (United Nations' Arms Trade Treaty) and other international law and should cease immediately," said Patrick Wilcken, an arms-control researcher at Amnesty International who reviewed the evidence collected by reporters.
And how many divisions has Amnesty?
But with hundreds of millions of euros at stake and weapons factories working overtime, countries have a strong incentive to let the business flourish. Arms export licences, which are supposed to guarantee the final destination of the goods, have been granted despite ample evidence that weapons are being diverted to Syrian and other armed groups accused of widespread human rights abuses and atrocities.
Naturally, they can find a political-appointee AMEMB who fingers the USA as the bad guy. Nobody's as post-American as the zeroes in charge of American diplomacy.
Robert Stephen Ford, US ambassador to Syria between 2011 and 2014, told BIRN and the OCCRP that the trade is coordinated by the US Central Intelligence Agency, CIA, Turkey and Gulf states through centres in Jordan and Turkey, although in practice weapon supplies often bypass this process.
Why, if someone were to send arms to the Middle East, those peace-lovers there might just be corrupted by them!
BIRN and the OCCRP examined arms export data, UN reports, flight records, and weapons contracts during a year-long investigation that reveals how thousands of assault rifles, mortar shells, rocket launchers, anti-tank weapons, and heavy machine guns are pouring into the troubled region, originating from Bosnia and Herzegovina, Bulgaria, Croatia, the Czech Republic, Montenegro, Romania,  Serbia and Slovakia.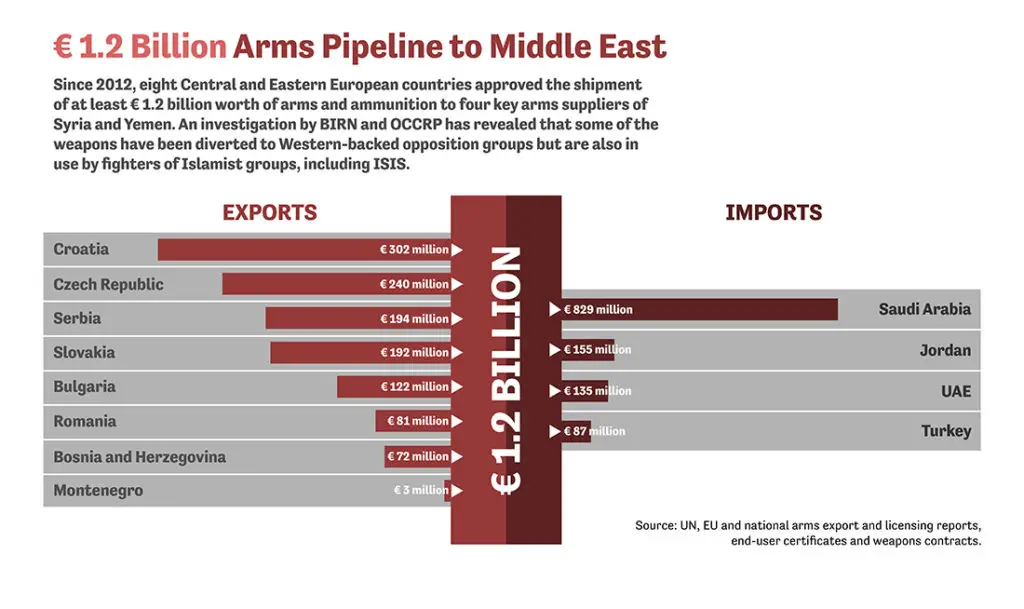 Since the escalation of the Syrian conflict in 2012, these eight countries have approved the shipment of weapons and ammunition worth at least 1.2 billion euros to Saudi Arabia, Jordan, United Arab Emirates, and Turkey.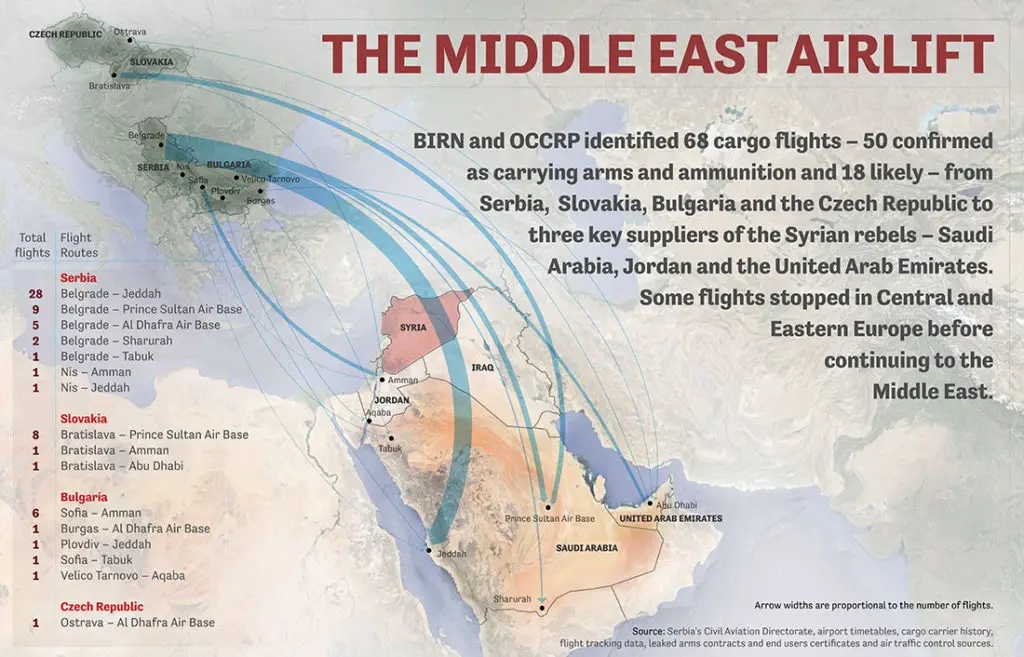 While the number is scary-sounding, you don't know what it means. A billion euros could be trillions of rounds of small arms ammunition… or it could be a few ships and aircraft.
According to a New York Times report from February 2013, a senior Croatian official offered the country's stockpiles of old weapons for Syria during a visit to Washington in the summer of 2012. Zagreb was later put in touch with the Saudis, who bankrolled the purchases, while the CIA helped with logistics for an airlift that began late that year.
With the Saudis in it, you see why the islamist parties are the ones getting the arms. The same thing happened in Afghanistan in the 1980s, when we channeled aid through ISI and the guys who wound up with arms were ISI's preferences — mostly, the hardcore islamists.
While Croatia's government has consistently denied any role in shipping weapons to Syria, former US ambassador to Syria Ford confirmed to BIRN and the OCCRP the New York Times account from an anonymous source of how the deal was hatched. He said he was not at liberty to discuss it further.
Well, we guess that tells us who the confidential source of the Times article was.
And naturally, to the Amnesty drone for example, the weapons are the cause of the conflict:
"Proliferation of arms to the region has caused untold human suffering; huge numbers of people have been displaced and parties to the conflict have committed serious human rights violations including abductions, executions, enforced disappearances, torture and rape," said Amnesty's Wilcken.
Lord love a duck.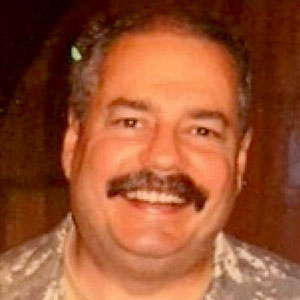 Kevin was a former Special Forces weapons man (MOS 18B, before the 18 series, 11B with Skill Qualification Indicator of S). His focus was on weapons: their history, effects and employment. He started WeaponsMan.com in 2011 and operated it until he passed away in 2017. His work is being preserved here at the request of his family.