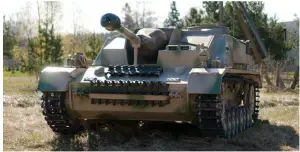 We mean, really advanced.
Not many collectors have a 75mm AT/multipurpose gun. Much less, mounted in an iconic and exotically rare armored vehicle with combat provenance.
German Stug IV ( Sturmgeschütz IV ), WW2. in Military Vehicles | eBay Motors.
There are a few problems with this wonder weapon. For one, they want a hell of a lot of money for it. For another, it appears to be missing its drivetrain (that's our takeaway from the posting, presumably made by a Latvian in unfamiliar English).
Finally, it's in Riga, Latvia, so you can't just fly in and drive it home (well, the no motor thing militates against that, anyway).
Here's the listing's description of the assault gun's history, prior to its 2006 rediscovery and (partial?) restoration:
Manufactured in Germany in September – October 1944.

Manufacturer: KRUPP – GRUSON WERK AG, Magdeburg – Buckau

This tank took part in operations in 2.WW, in the 912-th Sturmgeschutz

Abteilung, 2 Batarie,on the territory of Latvia, Courland Pocket.

In March, 1945, was hit by anti-tank artillery at the edge of the swamp

in the western part of Courland Pocket.

Crew evacuated.

Engine and transmission dismantled repaired by squadron.

No motor and gearbox on the tank.

During the retreat of the German units had been undermined.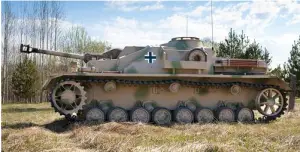 This model, the
Sturmgeschutz
IV, was a result of production delays with the obsolete Panzer III hulls needed for the standard StG III. (The production delays came about when the 8th Air Force and/or RAF Bomber Command blew up the plant).  So StG III superstructures were fitted to Pz IV chassis, yielding the StG IV at the end of 1943. This particular example was one of 1,139 produced, is one of three known survivors (the other two are in Poland), and was probably made in 1944.
Sturmgeschütze were a uniquely German weapon, meant to provide tracked, armored artillery that could match tanks for speed,  mobility, and survivability, by being built on the same chassis. The Russians liked the idea enough to copy it in their SU series weapons. The western allies did make SP artillery on tank chassis, but for a very different reason: they had a ton of tank chassis on hand. The western SPs, of which the M7 "Priest" was typical, didn't have the heavy frontal armor, low profile, and overhead armor of the German Sturmgeschütze or their Soviet descendants.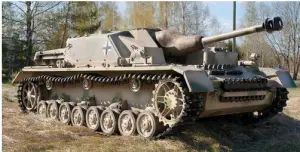 After the war, the concept died a fairly natural death. Armies could build enough tanks for reduced peacetime requirements, so they didn't need assault guns as tank substitutes or supplements. And they could design purpose-built artillery pieces and build as many as reduced peacetime tables of organization and equipment demanded.
With only three examples extant, and two of them held by museums, this is a truly unique military vehicle. This is not its first rodeo with eBay — it was offered in 2011, at an even higher price, and did not sell then.
For more information:
http://www.wwiivehicles.com/germany/self-propelled/stug-iv.asp
ttp://www.achtungpanzer.com/sturmgeschutz-iii-sturmgeschutz-iv.htm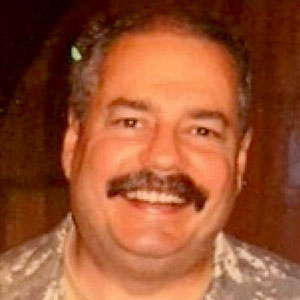 Kevin was a former Special Forces weapons man (MOS 18B, before the 18 series, 11B with Skill Qualification Indicator of S). His focus was on weapons: their history, effects and employment. He started WeaponsMan.com in 2011 and operated it until he passed away in 2017. His work is being preserved here at the request of his family.