The thoroughly dead fired-cop cop-killer is still making news. Three items came to our attention, and we happened to read them in a paper from way the hell across the country from the scenes of his crimes, to wit: the New York Daily News:
Item: a gun he pawned in Las Vegas for $50, pre-notoriety, has been auctioned for $4,000. ($4,025, to be pedantic). The gun was a cheesy Astra .38 revolver, and the pawnbroker was optimistic to give him $50 for such a second-string-brand, out-of-fashion-caliber gun. But his optimism is rewarded on Gunbroker. Was the buyer one of those guys who bids on, say, Bonnie and Clyde guns? Or one of Dorner's ate-up fans? Yeah, that possibility is sick, but not as sick as Dornermania gets.
Anyway, the seller offered to give the money to the family members of two cops killed by the angry ex-cop, but the families angrily refused, and one of the police departments excoriated the seller as "ghoulish." Jeez, no good deed goes unpunished in this world. What was a pawnbroker  — last time I checked, not someone bound by a particularly rigid code of ethics — supposed to do with a gun that turned out to be owned by a celebrity, even an evil one? Exercise for the reader: someone finds out his grandfather left him a GI bringback that turns out to be documented personal property of a top Nazi, say Göring. What's he supposed to do with it? Exercise II: the dealer learns the gun was Göring's after buying it. Should he melt it down because Göring was a monster only suicide saved from the gallows, a committed Nazi, one-time chief of the Gestapo? 


Does the gun have more than mere ownership history with an evil man? Is it tainted by evil? Does it bear the mark of Cain, and no one should possess it just as all were enjoined to shun, but not harm, Cain himself?
Back to the gun itself — it was in lousy condition. This may have been because it was a Century import, or it may have been Dorner's doing.
Several of his other guns were destroyed in the fire that killed him, or seized by police and will be destroyed. This Astra is likely to be the only gun associated with this outlaw ever to see the private market.
LOS ANGELES — The city of Los Angeles reached a $4.2 million settlement on injury claims by two women who were injured when police mistakenly opened fire on them during the manhunt for disgruntled ex-cop Christopher Dorner, an official said Tuesday.

Margie Carranza and her 71-year-old mother, Emma Hernandez, were delivering papers around 5 a.m. on Feb. 7 when LAPD officers blasted at least 100 rounds at their pickup.
 There's a couple of ways to calculate this. Since the LAPD spray-an'-pray'd 100-plus rounds at the two small Filipinas they mistook for the single large shaven-headed black dude, you could say it's about $40,000 per negligent discharge. But since only about a quarter of them struck the wrong-make-size-color-and-plate truck, you could say it's $10,000 per reasonably close hit (no one knows where the 80 or 90 other rounds went, but it says something about LAPD marksmanship). But since only one round struck one of the wrong-number-color-sex-and-size "suspects," you could say it's a full $4-million-plus per round on target.
We guess LAPD still considers it cheaper than training their cops.
Of course, the customers on Carranza's and Hernandez's paper route who didn't get their LA Times that day haven't filed their suits yet, and the other victim of mistaken identity will also run up the score. Of course, nobody's blaming the real ultimate cause of this, Dorner. You can't sue a penniless dead crook; well, you can, but you can't collect, and that's how the plaintiff's bar rolls.
This, too, is pretty sick, but we still haven't hit the Dornermania apogee yet.
Item: a kind of Dorner Fan Club met for a rally in LA. After he was cold, dead, and in the ground. Cause it's all LAPD's fault, you know.
That's the rock bottom of Dornermania. Lord love a duck. The image caption (right) expresses what we think of this cretin, and the even worse people who celebrate him. We don't want to hear that "he had a point" because "this, that and the other thing is wrong with LAPD/PDs in general/life, the universe, and everything." That's bullshit. Any point you ever had is erased forever when you whack some innocent person to send your message. 
If you want to send a message, go to an internet café. If you want to kill people, Chris Dorner fans, start with yourselves. This has been a public service message.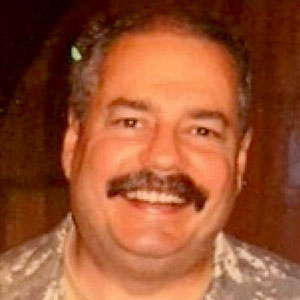 Kevin was a former Special Forces weapons man (MOS 18B, before the 18 series, 11B with Skill Qualification Indicator of S). His focus was on weapons: their history, effects and employment. He started WeaponsMan.com in 2011 and operated it until he passed away in 2017. His work is being preserved here at the request of his family.