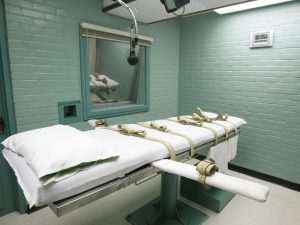 The State of Arkansas is in a jam, and only state legal residents willing to volunteer can get it out. What kind of jam? And volunteer for what?
A traffic jam. Specifically, on Death Row; and volunteer, to witness the executions.
First, two answers before you ask the questions that are already on your mind:
Yes, you really have to be domiciled in Arkansas; and,
No, you can only witness, you can't throw the switch.
(We asked). Heh.
The State has eight murderers queued up to pay their debt to society this month, and is plumb out of death penalty witnesses.
The state of Arkansas is struggling to find enough volunteers to witness eight death row inmate executions scheduled in April. Witnesses are required to ensure that the execution is carried out according to law, but so far volunteers are scarce.

"It's a very sobering thought," says Bill Booker acting as substitute president of the Little Rock Rotary Club.
Why? How is this different from swatting a mosquito?
At Tuesday's meeting Booker says after a presentation by Wendy Kelley, Director of the Department of Correction, she casually asked the audience to volunteer as citizen witnesses for the state's upcoming executions. "Temporarily there was a little laugh from the audience because they thought she might be kidding," says Booker.  "It quickly became obvious that she was not kidding."
Hey, if Ms. Kelley is still having trouble, just put an ad on Craigslist. That's how Soros does it when he needs warm bodies. In Arkansas, you'll probably have plenty of warm bodies turning out to watch other warm bodies become cold bodies.
Volunteer witnesses, hell's bells: you could probably sell tickets and plug any gaps in the corrections officers' retirement fund.
Eight inmates are scheduled to receive the death penalty between April 17th and 27th.

State law says six to twelve citizen volunteers must be present at the executions in order for them to take place, but right now the state is short volunteers.
You have to wonder, Arkansas and all, if an idiot and a banjo were involved in the writing of this lunkheaded law. "Sorry, Jethro, your execution doesn't count, on account of we was a witness short. So we're gon' hafta execute you again."
"I could understand not even wanting to read about these occurrences let alone have to be in the room or watching," says Michelle Frost, a Little Rock resident.  Frost is not sure how she feels about the death penalty, but is sure she would not want to witness an execution.
Say it with us, kids: "Mercy to murderers is violence to victims."
Solomon Graves, spokesperson for the Department of Correction, says they are taking an informal approach to find those witnesses and are confident they will be able to do so by the set dates.
Solomon Graves! What a great name, one worthy of Dickens (or at least, Rowling), and bedamned if it isn't the guy's real name.
Marianne McKinney supports the death penalty.  She says "they made their decisions and have to suffer the consequences."  McKinney believes the inmates on death row have been rightly convicted and would not mind witnessing an execution. "I know it may seem cold, but we need justice on our streets to protect us," says McKinney.  "I don't think it'd bother me at all."
Your head's in the right place, Marianne.
The Department of Correction says nothing prohibits a volunteer from witnessing more than one execution.
Collect 'em all! Some day it will be a category in the Guinness Book of World Records.
The Attorney General's office released a statement saying: "She's fully committed to working with the Governor and the Department of Correction to ensure that the law is followed as executions are carried out."
We still like the tickets idea. If that's not in the law now, somebody light a fire under the legislature.
Finally, for any Razorback readers:
If you want to sign up to volunteer as a witness you can write to the DOC Director.

Arkansas Department of Correction

Attn: Director Wendy Kelley

PO Box 8701

Pine Bluff, AR 71611
via State Needs Volunteers to Watch Inmate Executions – Story.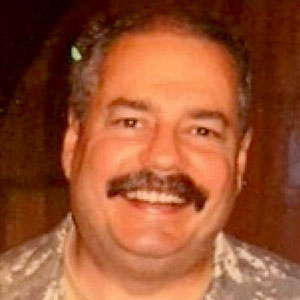 Kevin was a former Special Forces weapons man (MOS 18B, before the 18 series, 11B with Skill Qualification Indicator of S). His focus was on weapons: their history, effects and employment. He started WeaponsMan.com in 2011 and operated it until he passed away in 2017. His work is being preserved here at the request of his family.