We considered something less blunt than "getting dumber" for the title, but we wanted to be sure that officers could read it. Matthew Cancian in Joint Forces Quarterly starts off with the Marines, simply because he has their data handy. We've deleted the footnote references (you can always go to the link) for readability, and added some bold emphasis of our own.
According to data obtained from a Freedom of Information Act request, the intelligence of new Marine Corps officers has declined steadily since 1980. Two-thirds of the new officers commissioned in 2014 would be in the bottom one-third of the class of 1980; 41 percent of new officers in 2014 would not have qualified to be officers by the standards held at the time of World War II. Similarly, at the top of the distribution, there are fewer of the very intelligent officers who will eventually become senior leaders.

This trend has not been caused by Marine Corps policies; it is a reflection of the expansion of higher education in America. In 1980, 18.6 percent of 18- to 24-year-olds were in college. Today, that number is close to 30 percent. The dramatic rise in college attendance has increased the pool of people eligible to become officers in the military (possession of a bachelor's degree being one of the chief requirements to be commissioned as an officer in all branches), but it also means that possession of a college degree is a less significant indicator of intelligence now than it once was. Marine Corps officers have reflected this trend, declining in average intelligence along with the population of college graduates (see figure 1).
Well, that's a pretty well fitted curve. What it says to us is that a college degree alone is now nearly worthless as a signal of leadership-level intelligence. However, we also disagree that high intelligence is necessarily the mark of a leader. We've made fun before of beetle-browed officers who majored in football at Flyover State, but intelligence is more of a threshold item for a leader than an item where more is always better. Don't believe us? Consider this thought experiment: the 2nd Ranger Battalion as led by the sociology and cultural anthropology postdocs at Columbia.
Yeah, we probably should have given you a trigger warning on that one.
We think Cancian's theory of the cause of the intelligence decline he documents is highly probable. (To which we'd add the military's absolute refusal to distinguish between highly cognitively loaded undergraduate degrees and entirely unloaded ones: a Berkeley B.S. in Physics ≠ a Berkeley B.A. in Grievance Studies, and the second candidate brings nothing of value to the armed services).
A similar decline in intelligence has likely occurred in the other Services' officer corps, as this is a trend in the pool of all college graduates and not something specific to the Marine Corps. For example, the average Scholastic Aptitude Test (SAT) score of a Navy Reserve Officer Training Corps graduate in 2014 was the same as that of a new Marine officer. In the Army, the test scores of previously enlisted officer candidates have been declining since at least the mid-1990s (although the Army attributes this decline to changes in accession sources, unlike this article, which views the issue as more broadly based).
The Army has long refused to subject officer candidates to the same psychometric testing as enlisted soldiers. The party line is that the Army has effectively outsourced intelligence selection to the colleges (which is why TrigglyPuff might be your next infantry platoon leader, if she cal lose 150 pounds). The cynic's view is that the Army does not want the Joes finding out that Lieutenant Fuzz really is below average in the Brain Housing Group. Either way, the result is the same: lots of hard-of-thinking Lt. Fuzzes and Wink Curtises misleading their men because they're just not bright enough.
This article focuses on the Marine Corps because it has administered the same test, the General Classification Test (GCT), for decades and because of its responsiveness to the Freedom of Information Act process.
Translation: the Marines gave Cancian the data he asked for ("responsiveness to the Freedom of Information Act") and the other services told him to go copulate with a rolling doughnut — not in so many words, but in a bunch of OSS Simple Sabotage Manual-approved acts of obstruction, foot-dragging, feigned (or maybe not) stupidity and dumb insolence.
More study is needed to ascertain the degree to which this phenomenon presents across the Department of Defense. A good first step would be to administer the Armed Services Vocational Aptitude Battery (ASVAB) to all officer candidates in all Services, study what makes an effective officer, and implement long-term reforms to strengthen the officer corps of the 21st century.
via Officers Are Less Intelligent: What Does It Mean? > National Defense University Press > Joint Force Quarterly 81.
Cancian's suggestions are so good that the probability of any uptake on them before Sol goes nova is functionally zero. The personnel system, itself a creaky construct of self-serving officers, the lowest-quality enlisted troops in the services, and layers of obsolete procedures and practices layered atop scriptural Regulations which perch in turn on the leadership-by-jerking-you-around that emanates from Congress, always seeks homeostasis.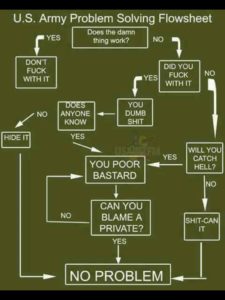 Decentralizing power and giving commanders more hire and fire authority, while eliminating those tens of thousands of clerk positions and introducing them to the joys of life in a mortar platoon, would go a long way. Otherwise, with a centrally managed, bureaucratic promotions system, and commanders' hands tied with respect to their ability to man their units, you get Army Troubleshooting (left).
We can't speak for the Marines or other services here, but the only-a-college-degree-but-any-college-degree requirement is just one instance of the Army's obsession with easily-gamed and empty credentialism. While the Army has internalized credentialism in its processes, the original requirement comes from, where else? Congress, in DOPMA and ROPMA. Acceptance of low-content degrees is also driven by bean-counting Affirmative Action, and other Diversity is Our Vibrancy® programs that reduce all soldiers and officers to their skin color and ancestry. The Armed Forces would be better off never even noting or recording the race, religion and other personal characteristics of their volunteers.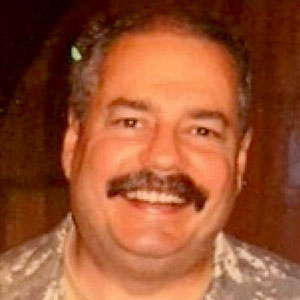 Kevin was a former Special Forces weapons man (MOS 18B, before the 18 series, 11B with Skill Qualification Indicator of S). His focus was on weapons: their history, effects and employment. He started WeaponsMan.com in 2011 and operated it until he passed away in 2017. His work is being preserved here at the request of his family.