People always are attracted to guns associated with history. Enough so, that when the historic gun is not available, people will replicate it. This gun, now available on GunBroker, is one of those replicas.
We could say a lot more about it, but the description from the auction is actually pretty comprehensive:
An exact copy of the Winchester Model 1907 .351 WSL as built by San Antonio gunsmith Hyman Lebman in the 1920's and 1930's and used by the likes of John Dillinger, Homer Van Meter, Pretty Boy Floyd, and other gangsters and law enforcement people. No one knows for sure, but Mr Lebman probably built no more than 5-6 of these unique "assault" rifles.

The story goes that Dillinger and his cronies hung out in the San Antonio area posing as oil men and commissioned Lebman to build these special rifles as well as other armament. Lebman always denied knowing that he was creating these guns for a bunch of gangsters.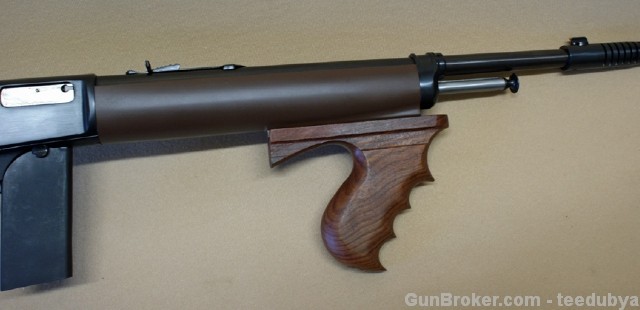 The hardest part of this project for Lebman to overcome was mounting the Thompson SMG foregrip on the thin fragile forearm on these rifles. There was no way to attach a TSMG fore grip to the existing wooden forearm with any degree of durability. Lebman's answer was to build metal forearms which would be strong enough to support the TSMG grip and be essentially impervious to damage. These metal forearms were most likely zinc or aluminum and were hand painted upon completion.

Barrels were cut to 16 inches, and Lebman created a special compensator to finish off the project.
The 1907 Winchester was a state of the art firearm in its day. When combined with a high capacity magazine it provided a lot of firepower with much better penetration capability than the .45 ACP when fired from a TSMG.

This Winchester 1907 / Lebman copy started life as an original standard Winchester Model 1907 rifle serial number 7XXX. It has been disassembled, cleaned thoroughly, barrel cut to 16.5" , threaded, custom muzzle break built and installed, aluminum forearm machined and Duracoated, blued, TSMG grip installed, and test fired. The Duracoated aluminum forearm is built to duplicate the original Lebman guns. The original wooden butt stock is in good shape. This particular rifle is being supplied with an original Winchester 10 round magazine.
via Winchester 1907 Hyman Lebman Dillinger rifle .351 : Curios & Relics at GunBroker.com.
We covered the Remington Model 8 before, a John Browning designed early semi-auto rifle to which this Winchester was a direct competitor. The Winchester differed from the Remington in one major respect, which had several consequences. It was blowback-operated rather than having a locked breech. This meant that it could only fire much lower-powered cartridges than the Remington did. It also meant that the gun was much less expensive.
Both of these semi auto guns were widely used by law enforcement in the early years of the 20th century, as a backup to their six-shot .32 or .38 revolvers, especially when facing dangerous armed criminals. In the violent years of Prohibition, only the most lavishly-funded police departments could afford Tommy guns or Colt Monitors (civilian BARs). The rest of them made do with Remingtons and Winchesters, just like everybody else. Police supply firms and gunsmiths like Lebman altered the guns to increase their magazine capacity, handiness and controllability. They wound up building something, in its Remington Model 8 Special Police or Winchester Lebman special model, that prefigured the semi-auto modern sporting and defensive carbine.
There are very many more Winchester Model 1907s than Remington Model 8s out there. As a result, an ordinary 1907 is quite reasonably priced. This one, with its custom compensator and trick aluminum-and-Thompson foregrip, is quite a bit higher. The ammunition is a bit hard to come by (a surprise to us… 30 years ago .351 Winchester was still fairly common among deer hunters).
But this one lets a collector of 2013 have a little bit of vicarious Dillinger in his life. Hmmm… would you believe, in his gun rack?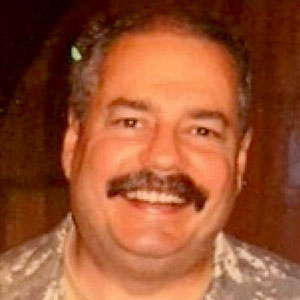 Kevin was a former Special Forces weapons man (MOS 18B, before the 18 series, 11B with Skill Qualification Indicator of S). His focus was on weapons: their history, effects and employment. He started WeaponsMan.com in 2011 and operated it until he passed away in 2017. His work is being preserved here at the request of his family.