PART 1: MOAR GUNZ
Check this Out: 80% 1911 frames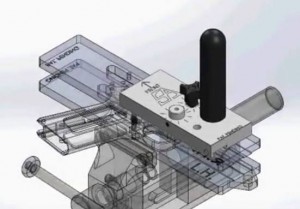 Frames and jigs in aluminum alloy from Stealth Arms. Interesting to us, the Phantom jig uses a sliding cutter that comes with it, rather than require a milling machine. We may write more about this anon.
These are available at a discount from Sportsman's Guide if you're a member of their Buyers' Club racket.
Sub-firearm 1911 frame blanks have been hard to come by in the last couple of years. Stealth Arms represents themselves as having several styles of "80%" receiver. Note that "80%" is a term commonly accepted in the gun world, but not in law or by ATF. ATF rules (sometimes arbitrarily) whether a given product is a firearm or "not a firearm;" they never, ever, validate anybody's percentage claim.
Recommended by a Commenter: Inventables.com
They have a new CNC mill coming, and meanwhile, have an interesting set of Shapeoko (CNC router) kits, and an interesting online application, Easel. Personally, we wouldn't trust a cloud app for firearms parts data. We've played with Easel and it's pretty cool, but we just can't get over the trust hump here.
SIG-based Guns from Chile coming here
TFB is reporting that Chile's FAMAE, which makes the SIG 540 under license, and has derived many of its own guns from that weapon (including blowback 9mms), is planning to bring them into the USA, with the compact carbines coming in as pistols, with separate stocks available for those who want to put them on Form 1. How they plan to work around 922(r) is not really clear to us; do Read The Whole Thing™ from the good guys over at TFB.
Humongous BAR Training Aid
A BAR training aid at 2:1 scale. Ian references some of the other versions in the video (link only, we haven't figured out how to embed from Full30.com).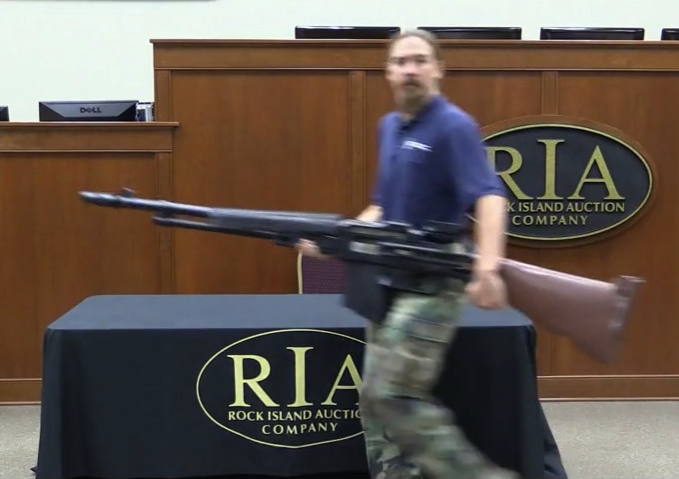 We've seen the M1 he mentions and an M1 carbine, and they used M16A1s along these lines in our basic training in the 1970s.
This one appears to have been modified… the metal "handguard" wasn't always there.  It's available at the RIA online auction on 28 March 15.
Shooting an AR to Death
We seem to recall citing or posting this video before, but in it, Iraq Veteran 8888 fires 830 rounds on full-auto, until his barrel bursts (he says it's the gas tube but it isn't. Seems to gibe with what we alredy lerned about ARs and long-term results of cyclic firing.
Yeah, the video's longish. But several things are interesting. A full magazine before the ultimate failure at 830 rounds, you can see the muzzle brake unscrewing itself (on the next mag you can see it depart, but not where it goes — probably 6-10 feet downrange. This is a good reason to have a magnet like the ones roofing contractors use for cleanup in your range truck). The burst is in an interesting place, further forward than it comes on a GI barrel. (Lack of chrome plating may account for that). Note that long before the failure, the barrel is no good in terms of accuracy, and he observes that it's completely shot out when he looks at the damaged barrel afterward. (Pity he didn't borescope it).
Note also that he pauses between mags, sizes things up, looks around. In a fight you might not do that. And if he were not pausing (sometimes a minute or more) before locking a new mag in, the weapon would have failed sooner. Our guess is that it would be in the 400-500 range where Colt and US Army tests have shown the M4 vulnerable.
Note that, just as it took more rounds for this cyclic-rate experiment to fail tge barrel than the Colt and Army experiments, it would probably take more rounds for near-cyclic semi-auto fire to produce this kind of failure.
Still sure you want a Shrike or other beltfed AR?
Click "More" to continue to Part 2: Unconventional Warfare, Part 3: Cops and Robbers; and Part 4: Poly-Ticks. (Because this is looooong).