The Daily Beast is not an organization you can trust for sympathetic coverae of veterans, and when it does appear, like this, there's obviously an agenda behind it (in this case, the Administration's war on inefficient, overpriced for-profit schools, on behalf of its constituents, the administrators and faculty of inefficient, overpriced non-propfit schools).
But they do have a point: lots of vets are blowing their "free" GI Bill money on education programs that have a low or negative return on investment.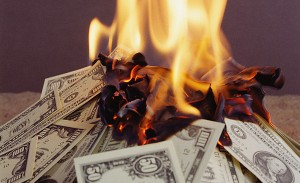 The point they don't have is that the non-profit, traditional schools are grubbing for this money just as hard as the likes of the University of Phoenix, and posting similar dreadful graduation and financial numbers. But that's not the subject, the subject is the greedy, money-grubbing for-profit schools, not the greedy-money-grubbing non-profits.
For the University of Phoenix, which is the largest for-profit higher education institution in the U.S. with an emphasis on online programs, a federal investigation is the latest in a long series of disasters that could topple a once-thriving enterprise.

With this latest investigation, University of Phoenix is under particular scrutiny for recruiting veterans. AP reports that the school's online program has collected over $488 million in tuition and fees from veterans, not including the hundreds of millions in GI Bill money that individual campuses have collected. Over the last several years, the school has come under fire for allegedly soaking up this GI money while leaving veterans strapped with debt.
Half a billion in GI bill money for the online programs alone. Did you know that some employers do not accept the online degrees as equal to traditional butts-in-seats degrees. (Apparently, it's not really college unless in includes binge drinking and other forms of undergrad mischief).
New federal rules require schools with career-training programs to produce graduates who can repay their student loans in order to receive federal student aid. For a school that already has notoriously low graduation rates, this bar may be out of reach.

According to Department of Education data, the University of Phoenix online campus has a graduation rate of 7.3 percent and a loan default rate of 19 percent—5 percent higher than the national average. A report from the Center for Investigative Reporting (CIR) claims that 24,000 Iraq and Afghanistan war veterans were enrolled in the online program last year.
An online education can be a quick way to grab a ticket, for a  motivated, self-starting student, a phrase which describes many vets. You're a high risk of dropping out of any school if you're not (1) a motivated self-starter, and (2) focused on a goal complex that includes your long-term target (a degree or an education — not always equivalents) as well as short-term goals ("six to nine credits this term while holding my regular job.") In the Army, we use the metaphor of a Trainfire range and call those short term goals "50 meter targets" and long term goals your "300 meter targets." Just like on the range, you have more time to hit the distant target in your education planning.
Earlier [in July], that CIR report prompted Senator Richard Durbin to ask the Department of Defense to investigate allegations pertaining to the school's recruiting on military bases.

In response to Wednesday's news of the FTC investigation, Durbin released a statement saying, "I wish I could say I am surprised by the news that the FTC is investigating the University of Phoenix for unfair and deceptive practices, but these allegations are all too familiar when it comes to the for-profit college industry."
via Death of a Diploma Mill: University of Phoenix Going Down in Flames? – The Daily Beast.
Look, you know things are topsy-turvy when Dick "Turban" Durbin, the guy whose contempt for our forces is best illustrated by several instances of calling us Nazis, is promoting himself without visible irony as a veterans' protector. Uh, thanks, Dick, but why don't you go assist some clowns from your own state?
We hate Illinois Nazis… and Illinois national-socialists who call us Nazis, too.
The biggest thing that leads to educational failure these days is lack of focus and plan. The old rich vein of money your granddad told you about, "Go to college and get a job," where it doesn't matter a whit where you went to college or what you learned there, is just about played out. You need to understand what it's going to cost you (including opportunity costs) to pursue that heart's desire of yours, and what it's going to help you make it back. Ignore data that talk about averages, because there's only one you, and you're probably not average.
The average wages reported by college grads are skewed high by three things:
They're based on self reporting, and people who earn crap salaries either lie or don't answer the surveys, eliminating their low wages from the averages;
They include all the Ivy League trustafarians who would be guaranteed a job in Pater's hedge fund anyway;
The colleges have a strong incentive to put a thumb on the scales, and they do.
So you also have to sanity check the numbers they're telling you. For example, many low-end and online (even non-AACSB-accredited) MBA programs tell you how much an MBA can make, quoting you the starting salaries of Harvard and Wharton MBA grads — who are either egg-headed quants, or the above-mentioned trustafarians who will never actually work a day no matter what they're paid. I guarantee you no one from a second-tier MBA program makes that kind of money, and a no-name MBA is likelt to leave you with debt and no benefit.
Online degrees are a great deal for one class of worker: government workers. Most of them will automatically get more money, as long as the degree is accredited. For people working in the productive economy, there's no automatic raise.