We've seen some blatant fakes, but this one retires the trophy.
The auction title: "Nazi Scorpion VZ 61 Holster and Magazine Pouch." Do you see the problem yet? Here's the reverse of the holster and pouch:
And here's the proof of its Nazi bona fides, a gen-you-wine Waffenamt marking!
And here's another Waffenamt. That Hitler SWAT sticker is way, way clearer on this one.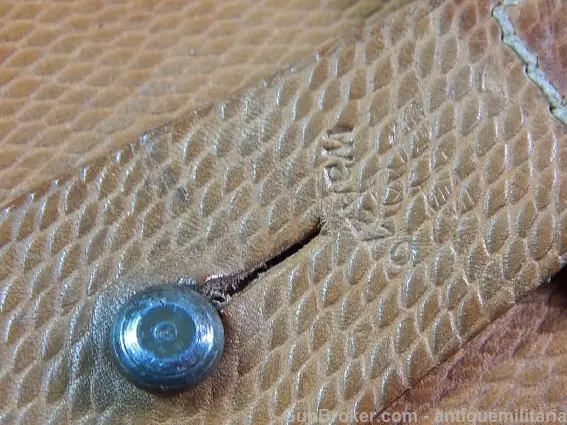 Have you figured out the problem yet?
The holster and pouch are not for any weapon the Nazis would, or could, have used. They are for the Czech Vz61 Škorpion submachine gun / personal defense weapon, a .32 ACP hybrid pistol/SMG used by some military elements but mostly by internal security elements of the Ministry of the Interior.
While some Czech guns were made and used by Nazis during the Nazi occupation of Czechoslovakia 1938-45, the Nazis left after that (as did, at bayonet point, those ethnic Germans who had invited them in); with the exception of a few war criminals in pokey and a quantity of Nazis-made-good in the graveyards. So you will not find authentic Waffenamt markings on anything made after 1945.
(But you can, and these images suggest someone did, find not-so-authentic Waffenamt stamps on eBay).
The abbreviation Vz stands for the Czech (and Slovak, and a couple other Slavic languages) word Vzor, meaning, "model," as in, "Model of –", and of course, the Vz refers to a year.
Anyone daring enough to make a guess as to when a firearm called Vz 61 was adopted?
Next question, is 61 > 45? We may be dealing with someone who is not only a faker, but also suffering from bitchy resting face pre-terminal innumeracy.
Let's look inside the holster and pouch and see what we can learn there. Hey, there's a stamp inside the holster flap!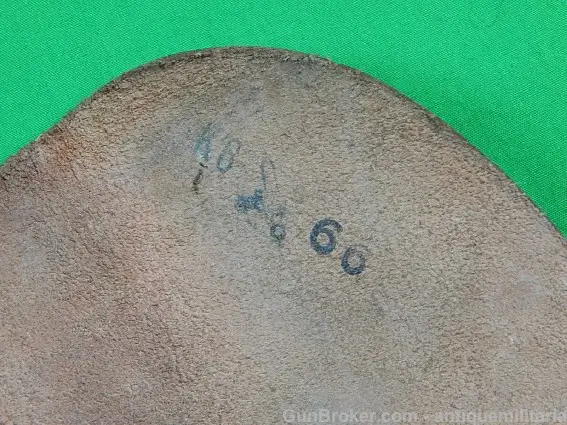 In this stamp, K6 is a manufacturer code, the crossed swords are a Czechoslovak Army marking, and 66 is the year of manufacture.
See, there was this one Nazi who refused to believe the war was over, and hid in the mountains… making holsters.
Next up, the marking inside the pouch for the Škorpion's spare mags.
So to recap: the gun belonging in this holster was designed in 1961, the mag pouch was made in 1965, and the holster itself in 1966.
But the leatherwares somehow acquired marks from the Waffenamt, an inspectorate defunct for 16, 20, and 21 years respectively at the time. While simultaneously bearing the marks of the postwar Czechoslovak People's Army.
Last interesting facts: He has this priced a lot higher than a generic Škorpion holster; and, a lot of the seller's other sales are claimed Nazi stuff, mixed in with admitted replicas.
Don't take any wooden nickels — or time-traveling Nazi holsters for future guns.