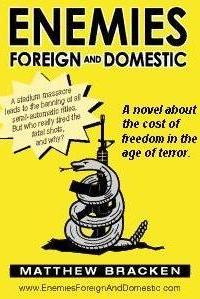 This is an extra post, because you don't get a deal like this every day, and it only lasts as long as it lasts. Matt Bracken (former SEAL officer) wrote a dystopian novel of a very plausible future about 15-20 years ago, Enemies Foreign and Domestic, and then extended it to a trilogy:
Enemies Foreign & Domestic;
Domestic Enemies: The Reconquista; and,
Foreign Enemies (and Traitors). 
We were privileged to read some of each work while it was in progress, and have enjoyed watching Matt's success since then. His novels are always a good buy at prices from $2.99 to $6.99, but his current promotion offers each volume in the Enemies trilogy, in Kindle format, for the irresistible price of … $0.
His current series is set in a world that's a step closer to ours today than the grim totalitarian nightmare of Enemies, but continues to make the best of Matt's knowledge of special operations, insurgency, and he usually works in several aspects of diving and small craft handling that are the mark of Naval special operators.
Matt's books are aimed at adults, but they're also a good choice for young adults who can handle mature themes, including violence and betrayal. Matt doesn't believe he has to write foul language into his characters' discourse or insert a jarring sex scene into every male-female encounter, so the books have a certain old-fashioned appeal despite their trendy subject matter.
This page will lead you to his books, including the trilogy on free "sale" through Thursday. You can add audio narration on checkout for another $2.