Wait, didn't we just have one of these? Ah, we did, but this one's a BASE jumping fatality. Well, actually, it's three fatalities in two incidents… including one guy with 2,500 BASE jumps.
Item: 14 Jan 16, Flagstaff, AZ. Wingsuit fatality.
29 year old Matthew Kenney told a Phoenix TV station last year, according to another station, KSBW:We get a bad rap from everybody because there's a lot of misunderstanding as to what we do. They just think we are crazy adrenaline junkies that are jumping off cliffs with primitive parachute technology, when really what we do, if practiced properly, is pretty safe and pretty cool and pretty fun.
Fast forward to this year:
Coconino County Sheriff's Office said Wednesday that it is devising a plan to recover the body of 29-year-old Mathew Kenney.

His body is trapped in a crevice about 600 feet below where he jumped Tuesday in the Paria Canyon-Vermilion Cliffs Wilderness – a rugged, desolate landscape that is hard to navigate, sheriff's Lt. Bret Axlund said.

Kenney hit a rock wall. Once crews reach his body, they will examine his equipment, Axlund said.
Hitting a rock wall at maybe 150 mph wearing nothing but a jump suit, a lightweight brain bucket with a GoPro on it, and an optimistic smile. The deputies who climb or chopper in better bring a basket.
And of course, it wouldn't be a BASE death without someone praising his skill and experience:
Kenney's friend, Matt Frohlich, said he was an experienced, talented jumper who had traveled around the world. …

"It's a pretty big hit to the community," he said. "It is sad."
You'd think they'd be used to it by now.
And if this is what happens to the "experienced, talented" jumpers, how does anybody ever survive his time as a green newbie?
ITEM: 23 Jan 16, Big Sur, CA double fatal.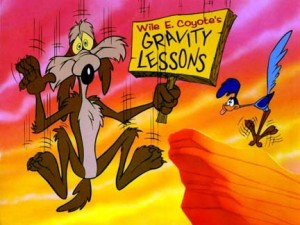 Actually, this couple survived their jumps from the Bixby Bridge in Big Sur. It wasn't the jumps that killed them at all, despite the bridge's mere 280-foot height. It was unpreparedness for what they'd encounter on landing. KSBW again:
[Victim Mary "Katie"] Connell completed a BASE jump on Wednesday, landed near the ocean, and got into trouble when a large set of waves came.

"She lands right about the area where the Bixby Creek feeds into the ocean," [Monterey County Sheriff Steve] Bernal said.

Connell was engulfed by waves and vanished from the surface. Her partner realized she was in trouble and jumped after her.

He ripped off his parachute and helmet after jumping from the bridge and before diving into the water, Bernal said.
Some other media said her partner jumped off the bridge without his parachute, which is just silly; he jumped, landed, and then took off his parachute and gear, like a sane man.
And then he dived into the waves slamming the rocks, like an insane man.
Other media have identified her partner as Finnish national Rami Kajala, a veteran of 2,500 BASE jumps and owner of a wingsuit company, RavenBase.com.
A friend of theirs said that they were:
…experienced jumpers and were operating well within their limits.
Ah, but were they? The site has a very small LZ, right next to the raging Pacific. The same natural majesty that makes it beautiful makes it very dangerous.