Monthly Archives:
June 2014
Why SOG RTs Ran Without Medics
In our review of Gentle Propositions by JS Economos, we mentioned in passing that one of the myriad details Economos got right was, "why not many medics ran recon." This stirred a little discussion in the comments, with Medic 09 (a former IDF medic) asking:
[Y]ou piqued my curiosity to ask for a spoiler (as a once-recon-medic from elsewhere): why don't (didn't) many medics do recon? I suspect today things are different?
Vietnam SF vet Tom Schultz replied:
In response to Medico 09 can only remark on my unit at my time. (VN68) Medics in too short supply and bluntly had skills and training too valuable to be risked on a recon team. Nothing to complete a successful recon requires any medical training. We had no shortage of a medics volunteering to do so but they ere always turned down. When the shit hit the fan, though they were the first on the 'go get 'em' chopper.
That was more or less what Economos had said, and we elaborated (some typos corrected):
As Tom has already noted, medics were in short supply in SF in Vietnam, including in SOG. Medics were needed in several critical missions, including in the dispensary at the FOB (generating healthy teams to launch on recon was the main mission of the FOBs), as "chase medic" on helicopters (having an SF medic on the bird saved many a life), or sometimes standing "bright light" alert (although this last was often done by Recon Teams without medics).

SF Medics were not only in short supply in SOG, but in every time period in SF history. The reason is the medic course (once 91BxS, now 18Dx) is the longest and hardest MOS course in Group, not excepting the officer course (actually one of the easier MOS phases) or the operations and intelligence course (now the 18F intel course) which has usually been reserved for soldiers who already have a base SF MOS. The medic course is ~18 months long (and always was) and is demanding in terms of intellect required, effort required, and ability to master specific skills. SF guys are all special (it says so right on their uniform shoulders now!) but the docs are really special.

Now under the Joint SOF Medic Training schema all SOF medics get trauma medicine equivalent to the SF medic's. But the SF guy also gets communicable disease, epidemiology, and many other specialties that are required in the UW environment and not in direct ground combat. Most every medic will treat a combat wound, but the SF guy also has to diagnose and treat cholera!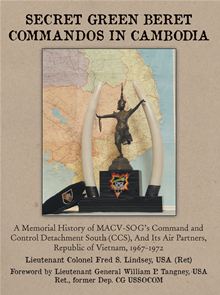 Again, that's based not so much on what Economos wrote but on what we've heard from scores of guys who were there running recon, and that's why it impressed us that Economos, who as far as we know is not an SF, let alone SOG, vet, knew that.
But we happened to get even more corroboration, from someone who should know: LTC (Ret). Fred S. Lindsey. Lindset has written a remarkably thorough book, one of the life's work variety, about CCS, called Secret Green Beret Commandos in Cambodia. Here's what Lindsey (whom we don't know personally) says about medics and RTs, after introducing the CCS Medical Section and its duties to care for the roughly 1,000 men of the FOB and the indigenous men's family members:
We are fortunate to have SGT. Don McIver's fine memory to describe the details of the medical staff and the facilities. He notes the following upon his arrival in late July 69. "Changes in the mission and responsibilities of the medics had changed in recent months. Two medics were KIA on recon missions, at least one of which involved the medic serving on a recon team. It was SFC Jerry Shriver's team that was wiped out in Cambodia on 24 April and medic SGT Ernest C. Jamison was KIA on that mission. Only three weeks later on 23 May, another medic, SGT Howard S. Hill, was KIA on another mission. Word came down from the Tactical Operations Center (TOC): no more medics on Recon; they are too valuable and too few. In a sense this was correct. Medical Specialist training lasted 42 weeks with tactics and techniques phase 1 and phase 2 adding another four weeks onto each end of the training cycle. Weapons, Communications, Operations and Intelligence, Engineers: each of these MOS-specific courses lasted 16 to 18 weeks plus the T&T's tacked on. Less than a third of medics who started the course finished including those who may have been "recycled" to begin a particular course of study again and to graduate with the next class. It was estimated in 1968 that it cost $130,000 to training SF medic! In my experience, I was in the Army for 18 months before finally completing my training – Basic through the Q Course – before being assigned to the 7th Group." ….

"With only nine medics and the prohibition against medics going on Recon missions, medical supervisor SFC [Jerry L.]Prentner begin reorganizing the medical clinic, commonly called the dispensary, and medic duties…. Schedules were made to allow medics to serve in three equal capacities: (1) Dispensary duty including sick call, emergencies, and patient treatment and ward supervision; (2) ground operations with the two company-sized Hatchet Forces (one with Montagnard troops, the other with Cambodians); (three) flying Chase Medic for either the MLSN or MLSS [Mission Launch Site North/South -Ed.]. The Chase Medic rode in the first evacuation helicopter or Slick, because that helicopter usually picked up the wounded. Those assigned North typically flew out of BMT [Ban Me Thuot -Ed.]. Those assigned South would stay at the MLSS at Quan Loi for periods of the week to a month or more. That's where we earned our "air miles" for Air Medals (if we were counting!), inserted and pulled out Recon teams on "hot" and "cold" extractions, and got our "emergency medical treatment" experience treating the wounded. No lack of excitement for the medics!"
Lindsey notes that the Chase Medics on the helicopters often deserved, but seldom received, valor awards. Here's his explanation:
Our medics were unbelievably heroic and professionally qualified. I would not have hesitated to have them remove my appendix, if the case warranted. Their heroics in the field, especially in the Chase Medic role, were very impressive. Unfortunately and shamefully, our medics did not get nearly the valor award recognition that they deserve. CCS was very poor in this regard, including when I was the CO. We were just so damn busy fighting the war over a 200+ mile border frontage. Always a fire to put out or crash to recover. Part of that problem was that the aviators seldom knew who the SF guy was riding along with them. They wrote up all the crewmembers for tons of awards that were well deserved, but very seldom a recommendation for the Chase Medic. That was most often done by the Launch Officer who was on the forward support site (FSS) duty that day, who rode along in the C&C ship. Likewise, the medic seldom knew who the pilots and gunners were in their chopper. Everyone rotated. Though belated and insufficient, we hope that our book will help give them proper recognition.
As you might surmise, we find Lindsey's book a treasure trove of valuable information. There is a great deal of errata to the book posted at http://www.ccs-sog.org/, also.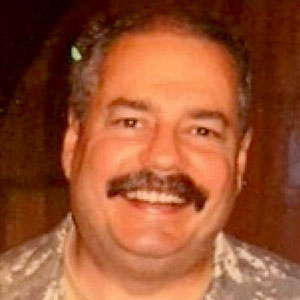 Kevin was a former Special Forces weapons man (MOS 18B, before the 18 series, 11B with Skill Qualification Indicator of S). His focus was on weapons: their history, effects and employment. He started WeaponsMan.com in 2011 and operated it until he passed away in 2017. His work is being preserved here at the request of his family.