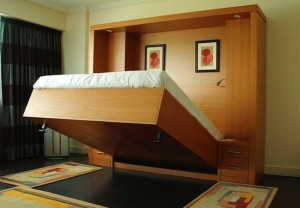 Sure, Murphy Beds (c. 1900) predate Murphy's Law (c. 1948), but have you ever seen a better juxtaposition of the two?
A Staten Island man trying to install a Murphy bed in his apartment was immediately killed when the contraption suddenly broke, his family claims in a lawsuit.

Joseph Annunziato, 32, had purchased the queen-sized bed, which connects to the wall and can be folded up and hidden away, from Murphy Bed Express in Manhattan, according to court papers.

The bed was down when the December 2012 tragedy occurred. But it popped back up and struck Annunziato. "It was a defective bed, and it snapped with such force that it crushed his skull and severed his spine," family attorney Elias Fillas said. "It was instant. It was just like a gunshot."

The family claims the Chelsea store was negligent by selling the bed "without instructions, warnings and all pieces necessary to properly and safely assemble the bed," ­according to the Manhattan Supreme Court papers.

Annunziato had bought the bed in 2011, and it came with "parts and pieces" not intended to go with the product, which was "unsafe, unmerchantable and unfit for use," the family alleges.
This whole story becomes clearer — what we're seeing is the allegations from the family's ambulance chaser.
The Annunziatos are seeking ­unspecified damages.

A manager for the store denied any knowledge of the lawsuit and claimed the company had delivered a bed to an Annunziato family in Midtown but not one on Staten Island.
Naturally, no story about a bizarre death is complete without a recap of the five other Murphy Bed deaths in the last century or so:
It's not the first death reported in connection with the space-saving device, invented in San Francisco in 1900.

In 2005, two British sisters suffocated to death while on vacation in Spain, after an improperly installed Murphy bed with a wall-storage unit sprung on them, leaving them trapped for days, according to a report.

In 1982, a man in Los Angeles who had been drinking with a buddy died after he passed out inside a folded-up Murphy bed.
Where would When Guns Are Outlawed be without Judgment Juice?
According to reports, a missing grandmother in Liverpool, England, was found mummified inside her Murphy bed, which had folded up while she was asleep.
via Murphy bed snaps up and killed man: suit | New York Post.
Grandmaman wanted to die in her sleep, in England where guns are outlawed, but not like that, we're thinking.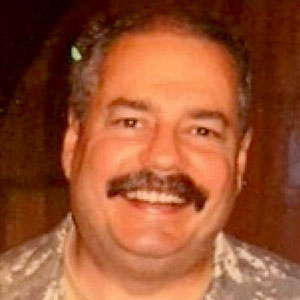 Kevin was a former Special Forces weapons man (MOS 18B, before the 18 series, 11B with Skill Qualification Indicator of S). His focus was on weapons: their history, effects and employment. He started WeaponsMan.com in 2011 and operated it until he passed away in 2017. His work is being preserved here at the request of his family.