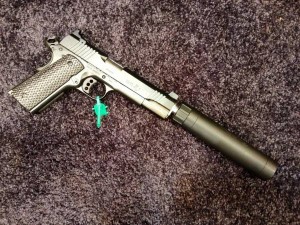 Remington is always in the news these days, whether because it's teetering on the brink of leaving its Ilion, New York home where well over a century's gun history has been made, or shipping new and highly-coveted products.
At the NRA annual show this year, Remington showed a silencer-ready version of the R1 .45 Auto, , itself an updated 1911 design, mated to an AAC titanium-cased silencer.
AAC announced this week that the hush-ready Rem is shipping:
TUESDAY, AUGUST 28, 2012

NEW REMINGTON R1 ENHANCED THREADED IS HERE

You may remember the R1 Enhanced Threaded 1911 I gave you a preview of from the NRA show earlier this year:

via Advanced Armament Corp. » New Remington R1 Enhanced Threaded is here.
The 1911 makes a great suppressor host for a number of reasons. The round's naturally subsonic, so you don't have a transonic crack to deal with. The weapon is reliable enough, and its design flexible enough, to function with several weights of suppressor. Gunsmithing the 1911 does not require arcane knowledge or risky experiments; what makes one run is well known and widely practiced. And plenty of good suppressors are available in the caliber.
Some aspects of the Remington R1 don't particularly please us. The deep engraving, which we know is required by ATF regulation, looks crude and cheap to us, but that's obviously a matter of taste, and de gustibus non disputandum est. While we're bagging on the gun, we also dislike the rough-ish slide serrations, compared to the high-style narrow serrations of 100-years-ago's model.  But the Enhanced Threaded Barrel model comes suppressor ready, including tall sights and a number of currently trendy tacticool enhancements.
MSRP is $1140, and the complete press release is here.
You know, if Secret Service agents had these, they'd probably make an effort to hang on to them, unlike their dreadful DAO SIGs.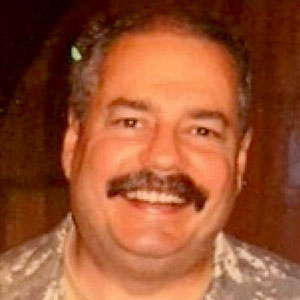 Kevin was a former Special Forces weapons man (MOS 18B, before the 18 series, 11B with Skill Qualification Indicator of S). His focus was on weapons: their history, effects and employment. He started WeaponsMan.com in 2011 and operated it until he passed away in 2017. His work is being preserved here at the request of his family.