We've written before about the shambling zombie calamity of a memorial that the talentless po-mo society architect Frank Gehry designed for the Eisenhower Memorial.  Which is how we get to Right by Ike, our Wednesday Weapons Website of the Week. (A bit light on "weapons," even if Ike wasn't, commanding arguably the most powerful combined joint force ever to bestride the planet).
The premise of Right by Ike is that any memorial should do right by the 20th Century military and political leader — which the Gehry selection and his deliberately insulting, demeaning design does not.
The selection of Gehry was done by a sham "competition" set up by Gehry pal Rocco Siciliano with the eventual "winner" — Gehry — preselected. The design itself is an eyesore, with steel chain-link-fence-like "tapestries" stretching high into the sky, signifying nothing. Gehry's design contract has already experienced a 65% overrun, with one of the few things actually constructed to date — mockups of the "tapestries" — came in at 2,300% of budget. Still, Gehry insists that the overall project budget — initially $50 million — is finally stable at $150 million.
Gehry does not have a track record of successfully estimating costs:
---
A Poor Track Record for the Architect


Project Name
Estimated Completion
Actual Completion
Estimated Cost
Actual Cost
Walt Disney Concert Hall, Los Angeles
1997
2003
$100 Million

(rev. from $50m)
$274 Million

---

Jay Pritzker Pavilion at Millennium Park, Chicago
2000
2004
$10.8 Million
$60 Million

---

Ray and Maria Stata Center, MIT, Boston
January 2004
May 2004
$165 Million
$315 Million

---

Corcoran Gallery of Art, Washington, DC
2005

orig. 2003
Cancelled for lack of funding
$40 Million
$200 Million

at cancellation

---

Dwight D. Eisenhower Memorial
2017

orig. 2015
$55-75 Million
Currently $150 million
More than that, the buildings he has built have often had leaks, corrosion, and other structural problems. He's very, very fashionable… he's just not very good. And here's what Gehry thinks of the guy he's supposed to be memorializing, President and General of the Army Dwight David Eisenhower: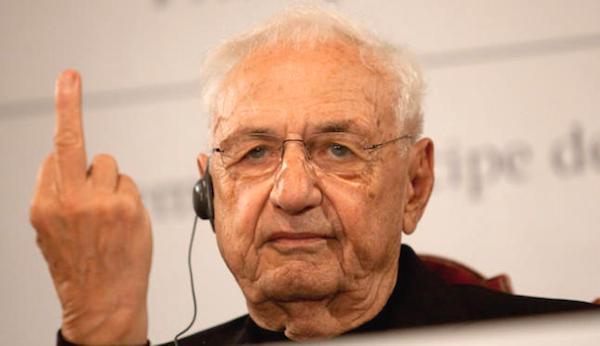 Kind of like what the thinks of you. 
Then, there are the aesthetics of the memorial. The Eisenhower family was opposed until recently, but has been bought off by some added statues of Ike. Bruce Cole in The New Criterion described the architect's jarring style as "gehrish," in a review of a biography of the "starchitect" featuring this insight into Gehry's love for chain-link:
Gehry… had a complicated psychological relation with chain-link fencing, which he discussed with the long-time Los Angeles celebrity therapist Milton Wexler.

…Wexler didn't share Gehry's admiration and deep feelings for chain-link fencing. He, Goldberger says, thought of the material "more in terms of prison yards . . . and he was troubled by Frank's fondness for it." Gehry was offended when Wexler told him he "was expressing anger with chain link" and that he needed to do "angry things with this corrugated metal and things to piss people off, to get attention."
But wait. Why are we raving about a bad architectural design, from a poseur of an architect, in a Website of the Week? Because the Eisenhower Memorial is at a crossroads — rumor is that a few of the weasel Republican Congressmen who dream of circulating in Society are willing to suck up to Gehry to do it. For example, critic Sen. Thad Cochran (R-MS) has been bought off with a seat on the commission board — cha-chingg! Right By Ike, which wants to do right by Ike (naturally), is a website that consolidates everything you need to know about this fiasco.
Here's one more graphic from the site: comparing the three most revered Presidential memorials with the Ikesore, what would it cost to build them in current dollars?
An Expensive Proposal
Washington Memorial

Cost: $45.3 million*
Lincoln Memorial

Cost: $48.6 million
Jefferson Memorial

Cost: $42.4 million
Eisenhower Memorial

Currently $150 million
Right by Ike's Sam Roche points out (at Breitbart) that it's not too late: there's a guy in Washington who's built a few buildings without 2,300% budget overruns before. What's his name?
If there's anything helpful to be done, it'll be noted at Right by Ike.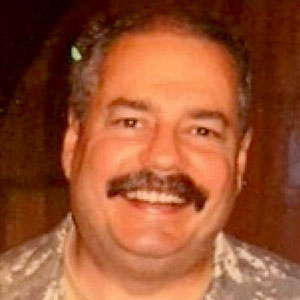 Kevin was a former Special Forces weapons man (MOS 18B, before the 18 series, 11B with Skill Qualification Indicator of S). His focus was on weapons: their history, effects and employment. He started WeaponsMan.com in 2011 and operated it until he passed away in 2017. His work is being preserved here at the request of his family.