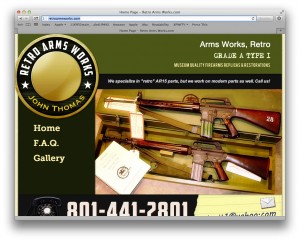 This is a late, and retro post (meaning we're posting it Thursday, and backdating it to Wednesday. But a retro post is appropriate here because the Wednesday Weapons Website of the Week is John Thomas's Retro Arms Works. We've never met John in person, but we "know" him through the Retro Forum at AR15.com.  And we're proud to display his workmanship on several of our guns, including an AR15 prototype clone.
The website is lean: it exists primarily to show off his workmanship and provide contact information. The guy is good, reasonable, and prompt. And he has a passion for retro ARs and other historic weapons. His services include machining and several kinds of finishing. Here's a few words of wisdom yanked from his FAQ:
We specialize in "retro" AR15 parts, but we work on modern parts as well.

When you anodize or parkerize, can you perfectly color match another part? No, anodizing and parkerizing are not like painting. Different metals take the colors differently. Temperature, time, voltage & amperage (for anodizing), all have an effect on the final product.  I will finish your part in a color consistent with what would commonly be found on a GI part.

Can I send you my complete firearm, AR15 lower receiver, or serial numbered part? No, gun parts are my specialty, not firearms.  Consequently, I do not have a Federal Firearms Licence and can only accept parts, not firearms.  I do accept 80% receivers for work, as long as you have done no work to them.

Can you make a special/unusual part for me? I do custom lathe and mill work on request.  If what you need done is beyond my capabilities, I won't hesitate to let you know.

What is your normal turn-around time on parts? Under ordinary circumstances, I have parts done in 10 business days or less.  Obviously, if you have a particularly large order, or are having some special work done, it will take some extra time.

Do you work on anything besides retro AR15s? Yes, I can help you out with most firearms related projects.
via About – Retro Arms Works.com.
The best time to call is Monday through Friday, 8:00 am central time to 5:00 pm. He accepts cash, checks, money orders, and sufficiently enticing trades if he's in the mood.
We're a little bit queasy about sharing our "retro connection" with the internet at large, but John's skill deserves to be celebrated, even if it means we have a longer wait next time….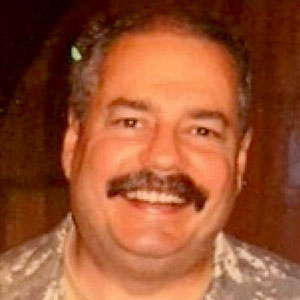 Kevin was a former Special Forces weapons man (MOS 18B, before the 18 series, 11B with Skill Qualification Indicator of S). His focus was on weapons: their history, effects and employment. He started WeaponsMan.com in 2011 and operated it until he passed away in 2017. His work is being preserved here at the request of his family.