Monthly Archives:
February 2013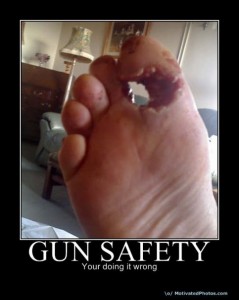 Y'all haven't been listening to Clint Smith, out there. (Or Jeff Cooper. Or… never mind. You get the idea). So we have a fresh roundup of new blockheads having the same old accidents: breaking rounds in the wrong places, at the wrong times, towards the wrong targets, and just committing mayhem and general wrongness with firearms.
As Clint said, this reflects on all of us, when these bozos do these things, because this is what makes the news and helps people who are outside the gun culture form an opinion of we who are in it.
For the time being, we're leaving Oscar Pistorius out of it. The South African courts will tell us later whether it was the most egregious negligent discharge to ever take place south of the Zambezi, or murder, in which case it's not really an accident? (So far, we're impressed with the SA judge and court. Place hasn't turned into Zimbabwe yet. Heck, it hasn't even turned into LA — remember that assclown Lance Ito?).
Without further ado we'll meet this cast of characters (and in some cases bid them further adieu, not quite the same thing).
2/20: There was the Florida woman whose boyfriend or roommate or whatever he is put his Glock in one place and its magazine, containing four .45 ACP rounds, in another… the oven. He didn't tell her, and the rounds literally cooked off. (Real literally, not room-temp-IQ Joe Biden "literally"). She was wounded with brass fragments — not seriously, as she was able to catch a bus to the hospital, picking fragments out of her skin the whole way. The polymer mag was a melted mess and the oven was trashed. (If you wonder why Piers Morgan thinks Americans are stupid, well this girl and her numbnuts pal are the kind of Americans that make the news in the UK, where he was a newspaper editor specializing in bugging celebrities' phones for scoops. The news is something different over there).
2/19: There's the young Utah couple who were changing a tire by the side of the road, or trying to, when the guy touched off a .30-06. (This is not the ASE Certified Mechanic blog, but we're pretty sure that if you're trying to change a tire with a deer rifle, you're doing it wrong). The gal walked off… until she fell over from loss of blood. The slug came through the side of the pickup and nailed her in the chest, but she was unaware she was shot at first. It was a near-run thing involving all kinds of drama and a life flight helicopter,  but looks like she's going to live.
2/22: A former government minister in the Rose Revolution government of the nation of Georgia is in crowbar motel in Tblisi after a gun accident during a party at his house.
In a statement released by the Ministry of Interior on its website www.police.ge, Vardzelashvili recounts the incident. He says that while examining the weapons collection, he handed the TT pistol, an old-fashioned pistol for Red Army officers now out of service, to his friend Zviad Kavtaradze who accidentally fired a shot that hit their friend Devi Siradze, 45, in the chest. Siradze died after a few minutes, and before he arrived at the hospital. Some account say before the the ambulance arrived.
What went nonlinear for Mr Vardzelashvili is that the old TT (called TT-33 in the USA) was not registered to him. Now both he and the relative to whom it actually was registered, a former cop who apparently have it to him, are jammed up with the Georgian law, which is still based on Soviet gun prohibitions. His political history won't help him — the party in power are opponents of his. (NB that a TT-33, like a Glock, has no mechanical safety. The safety is quite literally your trigger finger. Or not. Which is why a lot of Glocks wind up in NDs, and so would TTs if they were still in general use).  
2/22: A lady famous for trying to rip off Wendy's (the fast-food chain) with a human finger planted in a chili bowl and an unethical lawyer (but we repeat ourselves), apparently never noticed that she's a really crappy liar. Her deficiency in that skill came up again when she lied to police about how her son got the bullet wound in his foot. Junior actually plugged himself, but she was trying to cover the other part of the anatomy bozos usually target, because he's a felon and not supposed to have a gun (apple didn't fall far from the tree, did it). Now mom and son are both jammed up, more deservedly that Mr Vardzelashvili.
2/22: An Ohio man holstering his gun in a new holster he'd just bought at a gun show, shot himself in a finger of his left hand. Here's a hot tip for you unless you, too, want to be nicknamed Nine Fingers: try a new holster for the first time with the holster off your person and the gun dry. And tip number two: if you want to keep your ten other tips, the finger ones, get in the habit of keeping your digits out of the trigger guard whilst drawing and holstering. No matter what threat presents itself, you can't shoot it until you are aimed at it in the first place, so absolutely nothing but risk is gained by having your finger on the trigger except when the gun is actually presented to the target. QED.
2/22: There is the kid in Pennsylvania who shot himself in the face. He's in critical condition. He's two years old. Not much you can really say about that; the toddler found the gun in his mother's purse. No charges are contemplated… but what a tragedy.
2/23: We've heard of murder-suicide, but accident-suicide? Apparently, it happens. Kyle Thacker of Slate Branch, Kentucky, was handling a shotgun and shot his sleeping brother, Kody. He then shot himself. The police are convinced the first shooting was accidental.
2/18: the grossly negligent discharge that left a Maryland campus police cadet seriously brain-damaged has claimed another casualty: Major Eric Russell, the suspended director of the Baltimore Police's education and training department, under whose authority this accident took place, won't be getting his job back, whatever the investigation determines. Major Joseph Smith has been appointed to Russell's former position, while Russell continues to hang on the waiver wire. The Baltimore cop who fired the fatal shot is also on paid vacation, while they decide whether to charge him, or more accurately, how to cover their heinies if they don't.
2/24: An Iowa kid went to the hospital after playing with a gun with his friend. Police said that the kid "didn't think the .22-caliber revolver was loaded when he pulled the trigger." Do tell. Is there any weapon in human history that has racked up the body count of "the unloaded gun"? We're inclined to think not. Kid will live. The adult who owned the gun, and apparently let the 13-year-old kids play with it, has been threatened with charges, and his guns all confiscated.
For crying out loud, people. I'm on the target, I'm on the trigger. I'm off the target, I'm off the trigger. Is it that hard? Evidently.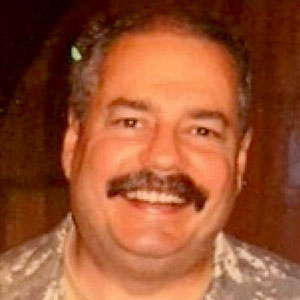 Kevin was a former Special Forces weapons man (MOS 18B, before the 18 series, 11B with Skill Qualification Indicator of S). His focus was on weapons: their history, effects and employment. He started WeaponsMan.com in 2011 and operated it until he passed away in 2017. His work is being preserved here at the request of his family.