Bubba's Glock is Baaaaack! And, A Safe Alternative
Something about the way a Glock's nylon parts interact with a Dremel, a woodburning tool, or a soldering iron, seems to bring out the best beast in Bubba. For example, we had the infamous "stricken with Gleprosy" Glock we described as "a marital aid for a Komodo lizard" back in May, 2014: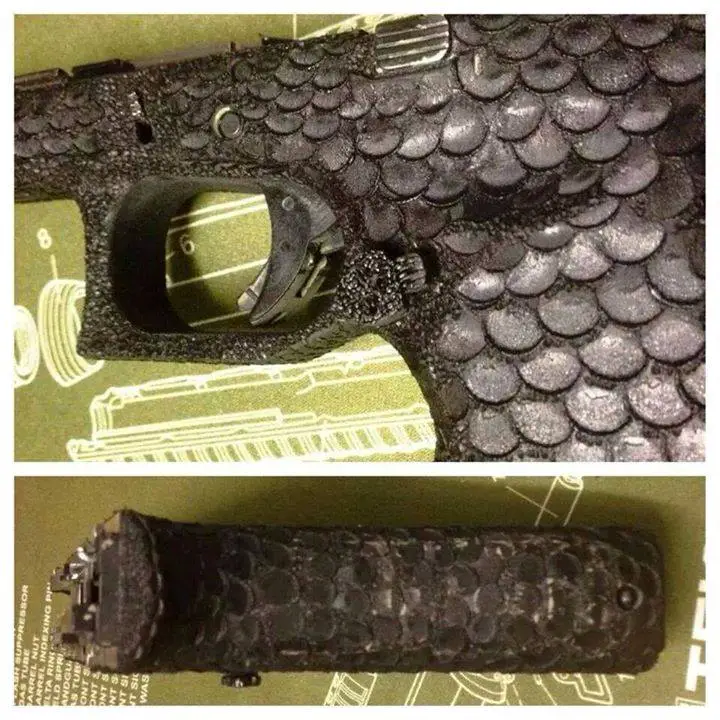 Can't unsee that, can you? That was ugly, but the one that probably inspired the most shock and horror was this one, from 4 July 2013, which we billed as: The Continuing Adventures of Bubba the Gunsmith — Glock edition.


Indeed, most sentient Bubbas would disclaim any involvement in the horror above.
The Gunbroker auction (which has now aged off GB) ended, if we recall, without the gun meeting what struck us as a stratospheric reserve.
Well, guess what? It's baaaack!
Hat tip Miguel, who says "The Fitz Special is NOT a fashionable or safe thing." We'd actually disagree with that, because a Fitz Special was a double action revolver, so it had a stiff enough trigger pull that it would not, essentially, shoot you itself. In 2013, Bubba was selling the Frankenglock with a "DeSantis Belly Band," which made us note:
'Cause nothing says "Bubba is My Gunsmith" like a testicle with a 9 or 10 millimeter hole in it.
We're not sure the twitter ad is for real because the Glock in the GB ad is described as a G23, and the Glock in the twit pic is described as a G19, even though it's the same picture from 2013. It may be a sales scam or a come-on for a holdup.
On the other hand, the 2013 bravado about a belly band is a pretty good match for the
Anyway, if you feel unreasonably impeded by trigger guards, and don't want to blow your balls off (or, maybe you're a female without any, or Caitlyn Jenner/Bradley Manning looking for some way to get rid of a pair, but you're still diffident about inflicting gunshot wounds upon your nether regions), then consider a real Fitz Special. Here's a nice one from GunBroker; it's on a .455 Colt New Service military pistol, with uncertain origins, but it sold for $1,000.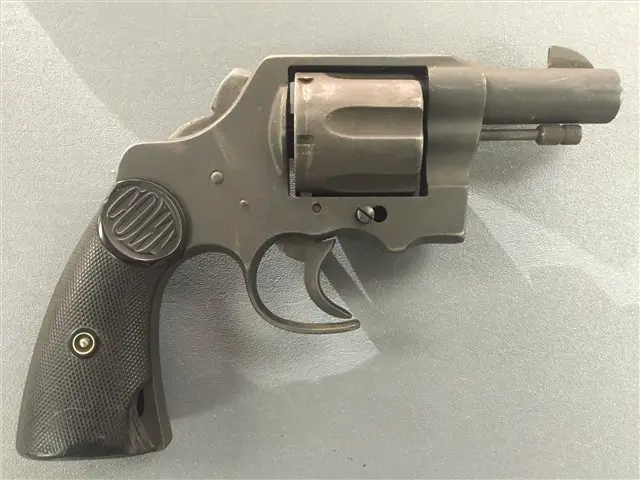 Here's another undocumented Fitz, with a story it's an original Fitz on a Smith and Wesson Model 37, again a completed auction from GunBroker. This one sold for $400 — somebody got a steal, even if it's a clone.
Conversely, the muzzle of this one looks a bit crude. Not Bubba crowning, but not as good as it might be. And the host gun is an economy-priced Charter Arms .44 Bulldog, so it's priced accordingly: starting bid of $250.
Exercise for the reader: compare the old revolver Fitz Specials or clones, to this abortion of a Glock, and count your blessings that the capability to hack metals is not as widely indulged as the capability to butcher plastics.
And if you want a Fitz Special, be patient and set a GunBroker alert. One will come to you in due course. You can stick that safely in your belly band, unlike a similarly hacked Glock.
And leave the sex-change surgery to board-certified surgeons.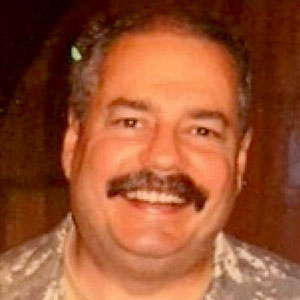 Kevin was a former Special Forces weapons man (MOS 18B, before the 18 series, 11B with Skill Qualification Indicator of S). His focus was on weapons: their history, effects and employment. He started WeaponsMan.com in 2011 and operated it until he passed away in 2017. His work is being preserved here at the request of his family.