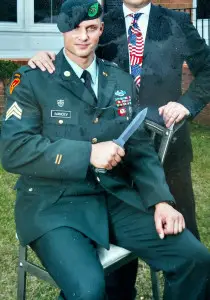 Our position on the current "transgendered" publicity campaign hasn't changed: if you decide you're Jesus, they put you in the room with Neoprene wallpaper, but if you decide you're Janet,  they try to alter the world to comport to your delusion. Both of these reactions can't be right, and it's our opinion that this is just a phase the press and Hollywood are going through on the way to where they really want to be — call it the "full-NAMBLA."
So we've been a bit dismissive and sarcastic towards the retired SEAL who's going around selling himself (we hope, not literally, but there's some weird stuff on backpages.com) as a "Warrior Princess."
Well, we apologize abjectly to all our frogman brethren for ragging on their Warrior Princess, because we now have an outed 18 series Rent Boy. We do always say, "It takes all kinds to make a world" — but who knew it was happening in our own Regiment, and even, in two of the three Groups we served in?
A former Green Beret led a secret life as a gay prostitute named "Swedish Steele'' who married his wife just to get a green card, his jilted ex says in new court papers. Roe Garrido, 48, of Manhattan was sued by her Army ex earlier this year for allegedly stalking him.

Now, she's swinging back, claiming in court papers that her former husband, Iraq War vet Jacob Ivancev, told her he worked construction — when he was really peddling his body on the Web site Rentboy.com and working at city strip clubs such as Splash and Gaiety.
We saw what they did there — "swinging" back. Nyuk nyuk nyuck.
"I was stringing her along lying to her, and I never loved her," Ivancev, a native of Sweden, even admitted in an e-mail, according to the documents. "The truth is I was married to somebody just for the green card."
This is pretty common, and, it's one more facet of immigration law that the immigration cops are under pressure not to enforce or investigate. We live in interesting times. No too long ago, an admission like that might have gotten a guy bounced from the USA. (Our personal opinion is that, whether his initial green card was fraudulent or not, and no matter where he chooses to, uh, dance, the guy's served at least one combat tour for the USA, so he's earned his green card now).
Garrido's $7 million suit against Ivancev comes seven months after her former husband accused her of being a violent stalker in his own $4 million lawsuit.

The couple met in 1999 at Yorkville's Pumping Iron Gym and got married in 2003. They divorced in 2011.
In case you're wondering why chicks like to have gay friends, here's one reason: the gay friend can drop a dime on their husbands if hubby's living a double life:
A mutual friend told Garrido about her husband's bad-boy behavior before the pair split, her suit says.

The pal told The Post that while Ivancev was a hunk who shook his booty in construction boots at the strip clubs and had "the largest endowment I have ever seen,'' he also "had no rhythm and was technically a terrible dancer."
via Former Green Beret hid secret past as gay prostitute: ex | New York Post.
Now, of course, this is where the Equality police will tell us, Ivancev's marital troubles and dancing difficulties aside — he and his ex both sound like a couple of drama queens to us — he's living proof that gay guys make great soldiers.
Except that the former team sergeant who flagged me to this article and remembers Ivancev well doesn't remember a gay guy or a great soldier. Ivancev's personal life didn't interfere with his soldiering, but his personal character did. He left active duty's 10th Special Forces Group under a reputational cloud, having been bounced off of multiple ODAs for multiple reasons. Indeed, at one time they were considering revoking his SF qualification and Tab (a very, very serious and once-rare thing, although more widely used in recent years, especially for CM/FM law violations). His company sergeant major, who had run out of ODAs that would take Ivancev, did stick up for him enough that he was able to ETS (End Term of Service, i.e. leave with an honorable discharge when your time is up) with Tab intact.
That's when he came to the Guard SF. Another company sergeant major picked Ivancev up off the waiver wire, even after hearing his old senior NCOs drop a dime on him. (More like a whole change drawer). He was bounced off his first ODA there, too, although the deck was probably stacked against him because the team sergeant did what team sergeants do when an unknown quantity New Guy shows up: shake the trees and see what his reputation is. So from the first day in the Guard, Ivancev started with a bad reputation.
"Was it because he was gay?"
"Nobody knew he was gay, that wasn't his problem. He was incompetent. That was his problem." The team sergeant was able to get rid of him after he demonstrated that incompetence — even the hard-headed sergeant major accepted it.
Here's a thought for you: most SF teams are a little shorthanded most of the time. There's often room for one or two more guys. And here's a guy that at least four teams who tried him decided they would rather run shorthanded than take along.
Update 16 Oct 15
Jacob Ivancev has commented elsewhere (comments on posts here close after a month) to defend his record, and deny every charge that his ex has laid against him, as well as the criticism a former team sergeant passed on to us. You can read Ivancev's response to this post at this link. We welcome the opportunity to put his statement on the record, and it's certainly plausible that his ex-wife made false accusations against him. That's only happened to, well, everybody, it seems. If time permits we'll probably seek out both Ivancev and the former team sergeant to reevaluate the whole thing. It is certainly possible that we have a false impression of the guy, from a news story and a couple of phone calls.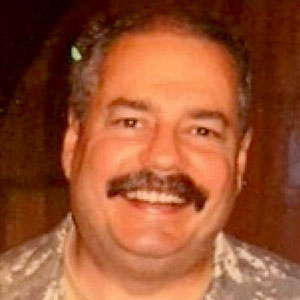 Kevin was a former Special Forces weapons man (MOS 18B, before the 18 series, 11B with Skill Qualification Indicator of S). His focus was on weapons: their history, effects and employment. He started WeaponsMan.com in 2011 and operated it until he passed away in 2017. His work is being preserved here at the request of his family.