This image, which does embiggen, shows a variety of trap guns that are among the many treasures in James D. Julia's October Auction. Trap guns (which are also called "spring guns," and other names) were common means of poacher and burglar control from the fifteenth through the 19th centuries. Basically, it's a firearm arranged to be set up unattended and fired by a tripwire. Such a booby trap could easily be rigged with any firearm and a basic understanding of pulleys, of course, but purpose-made trap guns were cheap and low-maintenance.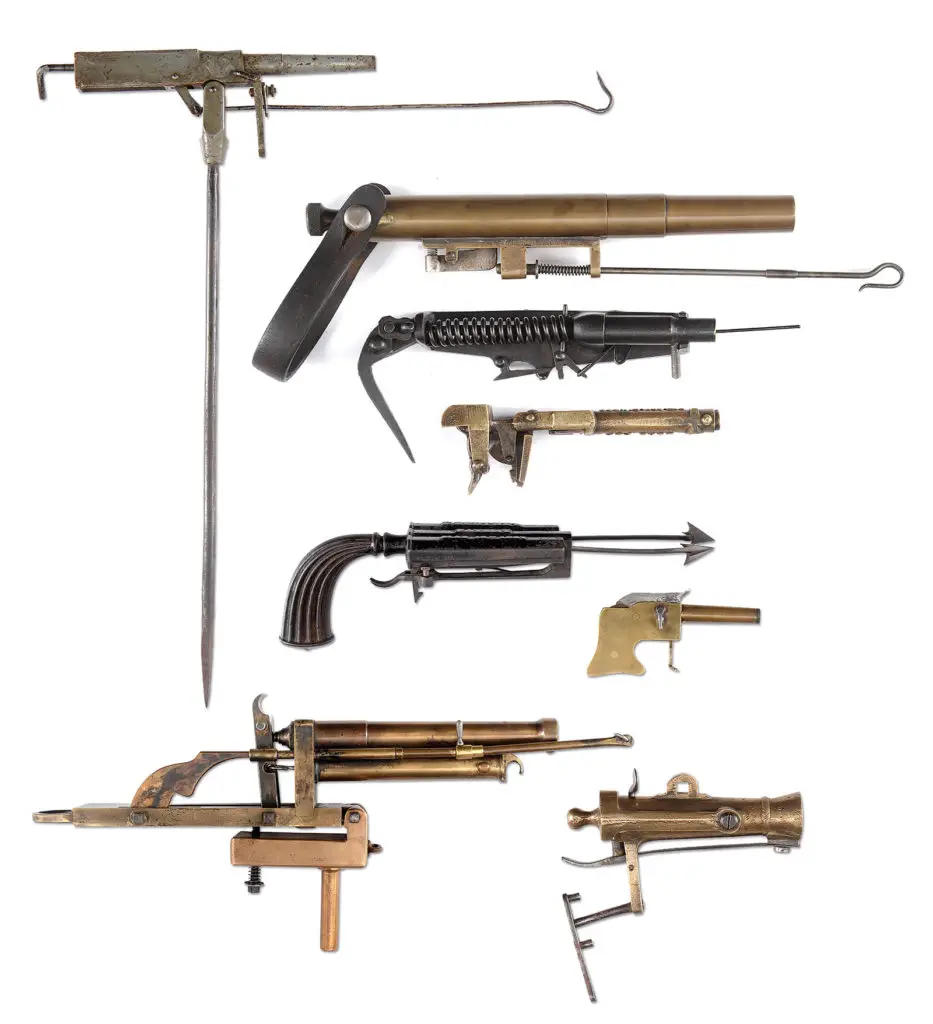 A 1983 American Society of Arms Collectors article[.pdf] by Melvin Flanagan runs through some of the historic trap guns and helps make a tentative identification of some of these… at least, that is, until Julia publishes a final catalog. Numbered from top to bottom:
Sure-Shot trap gun, in which the same tripwire swung the gun on target and then fired it. Designed by Charles D. Lovelace and made in several varieties by several firms from 1913;
Unknown;
W. Cameron trap gun, patented 1891;
Unknown;
Reuthe Trap Gun, fourth model. Frederick Reuthe earned the first US patent for a trap gun in 1857;
Unknown;
A probable 20th-Century fake, probably made in the vicinity of Omaha, Nebraska;
Unknown.
Trap guns were used by the British Army to secure armories during the Colonial gunpowder-raids period in 1773-1775, and, according to Colonial Williamsburg's history of the powder magazine, was instrumental in the initial overthrow of King George III's governor in Virginia, Governor Lord John Murray, the 4th Earl of Dunmore (a Scots title). Dunmore had been a career soldier, and later Governor of New York before being named to the wealthier Southern colony. He was a gun-control believer, and sought to confiscate, disable (for instance, by having the locks of the militia's muskets removed), and to the extent possible, spirit away onto HM's ships, the arms and ammunition that might feed a rebellion. He set stringent security measures on the magazine at Williamsburg. But on the night of 3-4 June, 1775, a spring gun that was one of those security measures set history in motion:
[A] spring-gun trap set at the Magazine wounded two young men who had broken in. A furious mob stormed the building June 5. Rumors that the royal marines were returning brought out the militia. June 8, Dunmore fled to H.M.S. Fowey. British rule in Virginia was at an end.
Trap guns have little military application, except as generic booby traps by unlawful combatants. They were used, along with several types of antipersonnel mines, along the inter-German border by the quisling regime in East Germany. Some East German trap guns were converted cartridge-firing firearms, but from 1970 a special purpose directional mine called the Splittermine Modell 1970 was set up at intervals to booby-trap the expanded-metal fence that was one of the many security layers of the Berlin Wall.
Trap guns gradually fell out of favor, especially after World War II as courts came around to the idea that criminals' rights were more important than victims'. In the USA, the key rulings were Katko v. Briney (1971) and McComb v. Connaghan (1990) in which career criminals (Katko and McComb) were held to be unlawfully killed. At least one other booby-trap dead burglar case was resolved with the acquittal of the booby-trapper, but he used electricity, not a trap gun.
Despite these rulings, trap guns and booby-traps are not banned, per se, in many jurisdictions. But it's hard to imagine a situation in which an attorney would advise a property owner to deploy such devices. They're a use of deadly force that is not being used to protect life and limb; they seem to fail several prongs of the use of deadly force test.
Consequently, the trap gun is an artifact of a lost period in history, and a collector's item… some of which are coming available at auction.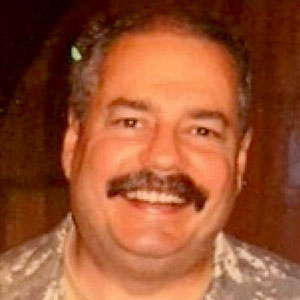 Kevin was a former Special Forces weapons man (MOS 18B, before the 18 series, 11B with Skill Qualification Indicator of S). His focus was on weapons: their history, effects and employment. He started WeaponsMan.com in 2011 and operated it until he passed away in 2017. His work is being preserved here at the request of his family.