There are some ideas that are so retarded you just about need to have a Columbia J-School ticket for your brain housing group to contain them. That includes the idea that the ultima causa of mayhem in Afghanistan is that Afghan kids, unlike, say, LA Times reporters' precious, coddled Unique and Special Snowflakes™, have mamas that let them play with war toys.
Yeah, that's it.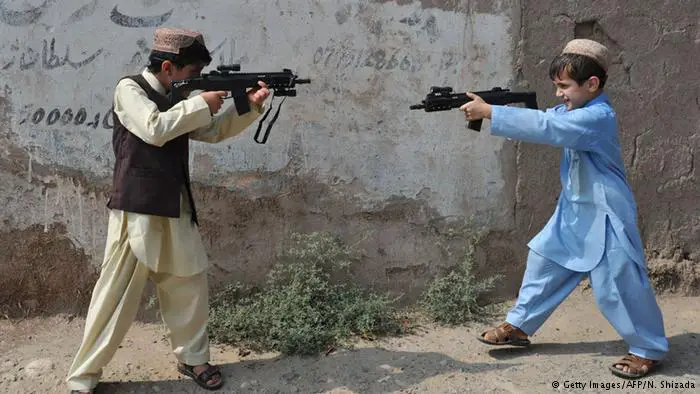 It certainly can't have anything to do with the unrelenting warfare kicked off by a Communist overthrow of King Zahir Shah in 1973, and the unstable state of war that has flowed like a red tide across the landlocked and desperately poor country ever since. It can't have anything to do with a nation that, after successive governments by wooly-headed Commies, actual Soviet puppets, bloodthirsty mujahideen, and the Bat Guano Crazy Taliban dropped clean off the UN Development Index in 1996, and that therefore for about four generations on the Afghan scale has had nothing to offer an Afghan boy but the prospect of growing up to be killed or crippled in intramural combat like his male ancestors all have been.
(Well, he could be a chai bacha, an Afghan euphemism for a professional catamite, at least until he's too old. That's a role that LA Times reporters could probably aspire to).
Anyway, it can't be any of that. 
Nope, gotta be the toy guns. So cue up the latest masterstroke that will fer-sure-this-time-forget-them-fortyleven-other-times erase the bloodshed that's been part of Afghan life since before Afghan was a word, and get your ban on, and in 5-4-3-2-1 Afghans will start behaving just like Swiss.
Or not.
Finally, after years of outcry by politicians, parents and civil society groups, the Interior Ministry announced last month that it was officially enacting a ban on the sale of plastic firearms in Afghanistan.

At a news conference in Kabul, Interior Ministry spokesman Sediq Sediqqi said: "After this, there is a ban on the sale and use of plastic guns…. The interior minister directed police in all provinces to collect these toys and prevent their sale."

Sediqqi said the ministry would work alongside the Ministry of Commerce and the nation's various trade groups to prevent the import of such toys, mainly from nearby Pakistan and China.

The news comes as a welcome relief to a growing number of parents who for years have refused to buy plastic guns for their children.

"Why should I buy them weapons rather than something that would teach them something positive," said Geran Popal, a teacher, who has repeatedly denied requests by her three children to buy them fake weapons for the Muslim holiday.

Zuhra Bahman, who last month had started an online petition calling for a ban on the "the manufacturing, import, advertising and sales of imitation weapons in Afghanistan," also welcomed the news.
Yeah, online petitions. A major factor in Afghan power politics, especially petitions started by women community organizers, the traditional bedrock of Afghan society. Amazing thing is, the guy writing this article has an Afghan name. Did he get a complete cultural brainwashing at UC Irvine or something?
"I am very pleased, this is people power at work," said Bahman, the mother of a 3-year-old girl.

Bahman, who has studied child development, said that further legislation or a presidential decree should be directed at other imitation weapons, such as plastic knives and hand grenades.

Calls for such a ban have met with resistance, mainly from other parents, she said.
via Afghanistan's growing toy gun problem has gotten so bad the government finally acted – LA Times.
At an age when most American kids are still being driven to school by mommy and are completely unable to solve personal problems without helicopter-parental intervention, many Afghans are engaging in the national pastime, mayhem. We're not entirely sure one childhood pathology is superior to the other.
The LA Times, on the other hand, is.
And by the end of the article they've tied it to their real agenda: a ban on real guns.
"I find it pathetic that Afghanistan has banned toy guns but not disarmed 99% who shouldn't own real ones," tweeted Roya Aziz, an Afghan American who spent eight years in Kabul.

A U.S. raid in June on a weapons cache belonging to Jan Ahmad, a strongman in the northern province of Parwan, stirred a debate in the nation.

Those who supported Jan Ahmad, including Abdullah Abdullah, the chief executive of the Afghan government, said the raid, conducted by a foreign army, violated civil rights and the sovereignty of the Kabul government.

Critics of the anti-Soviet, anti-Taliban strongman saw it as the first step in the disarming of militiamen and other powerful figures maintaining illegal arms stashes.
They'll never figure it out: arms are downstream from culture. In Afghanistan, it's logical and even necessary to band together with those of your family, tribe, race or ethnicity is a necessity in the absence of a strong national government (and the absence of a strong national government is guaranteed by the preference of Afghanistan's powerful neighbors, and by the lack of a strong national identity compared to those ties of family, tribe, race an ethnicity).
This isn't the first rodeo with banning toy guns. This link is to a photo with a caption indicating that the Germans, who probably have more national experience with gun confiscation that anybody, having at one time done it from the Pyrenees to the Crimea and everywhere in between, were confiscating toy guns in Kabul in 2003. To "prevent children to get used to playing war games." How's that working out?
The US has wasted, now, 15 years of effort in building cross-family/tribe/racial/ethnic institutions, including mad efforts like trying to build an Afghan National Army organized by American diversicrats to "perfectly represent Afghanistan" by counting ethnic beans. "Oh, that kandak is short Hazaras, transfer some Hazaras in from this one." The third-raters that become American personnel officers can't manage American personnel effectively, so you can imagine how their failure-prone policies do when imposed on a radically different culture and set of motivations.
Telling an Afghan who lives in a village that is his because its previous owners were ethnically cleansed out of there in 1998 or 1987 or 1898 under the Taliban or Soviets or Abdurrahman Khan, that Diversity is Strength, and getting him fired up about the American national pastime of racial beancounting, is about as effective as telling him his sons ought not to have toy guns, when a couple of years from now they will be firing real ones in actual combat — regardless of what overall trends occur in Afghan history.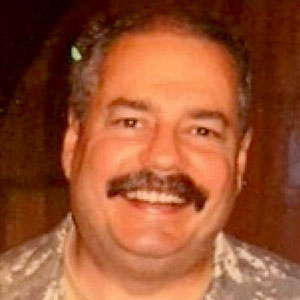 Kevin was a former Special Forces weapons man (MOS 18B, before the 18 series, 11B with Skill Qualification Indicator of S). His focus was on weapons: their history, effects and employment. He started WeaponsMan.com in 2011 and operated it until he passed away in 2017. His work is being preserved here at the request of his family.