It probably seems unreasonable to select the same wannabe again for a second Assclown of the Ides feature, when there have been so many phonies. After all, Mary Schantag has over 3,000 on the list at POWNetwork.org. But John Giduck has outdone himself this time. WeaponsMan presents: comedy gold, amateur video department.
John Giduck Russian Shovel Training – YouTube.
A few things you need to understand about John Giduck. Despite his military pants and bloused boots, despite repeated claims that he was Special Forces, Ranger, officer, you name it; despite insinuating that he had something to do with CAG or SEAL Team Six, Giduck's entire military experience in the USA consists of boloing basic training, in the 1980s. That is a feat which was nearly impossible, but that Giduck achieved, being cut from the team, as it were, 58 days into basic training.
No SF, no Ranger, no nothing. That's our Johnny.
So after a stint as an attorney, including a shack-up with a client who went on to be a convicted (and confessed) cop-killer. Giduck re-invented himself as an expert on counterterrorism, or as he puts it, a terrorologist.
His basis of experience now comprises "eighteen years training with Soviet Spetsnaz forces" — although it's sometimes 12 years or 15 years or eleventy-leven years (that's the problem with lies: remembering what lie you told to whom. As John Giduck's whole life is a lie, this is a problem for him).
Turns out his Spetsnaz experience is also… a tad mite bit inflated. Actually he attended two or three one-week Spetsnaz Adventure camps in Russia… the kind where you pay money and real Russians will be your coin-operated comrades, as long as you keep feeding the meter. But John Giduck did acquire a  bit of skill at throwing Russian entrenching tools (which are, for what it's worth, copies of German entrenching tools. The Germans might have won the war if only they'd thrown them instead of digging the Führerbunker with the jeezly things).
The video has to be seen to be believed. It includes every bad martial arts instructor gimmick ever, including the four assailants who wait their turn to attack, and comically speeded-up video that's more Charlie Chaplin than Chuck Norris.
So be warned: if you see a fat guy coming down the street carrying a basic load of shovels, put down your mug… it could be John Giduck, and he's so involuntarily hilarious that you'd ruin your keyboard with nasally-radiated coffee. And after this video, we think we can add fake instructor and fake martial artist to Giduck's range of self-inflicted fake credentials.
Next month, we promise, someone new. We mean, even John Giduck couldn't do anything retarded enough to top this. He couldn't. Couldn't he?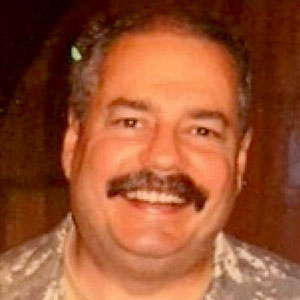 Kevin was a former Special Forces weapons man (MOS 18B, before the 18 series, 11B with Skill Qualification Indicator of S). His focus was on weapons: their history, effects and employment. He started WeaponsMan.com in 2011 and operated it until he passed away in 2017. His work is being preserved here at the request of his family.