With increasing frequency, news sites are hiding their news stories behind an intrusive question. Most of them ask about consumer preferences or personal matters (such as political preferences). This is one of the mildest, which asks about whether you will be making a business decision about purchasing certain technology: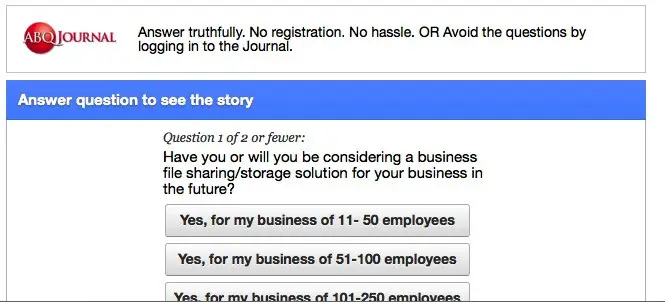 Let's leave apart, a minute, the fact that this is coming from the post-American, Constitution-hostile throne room of a corporation that holds itself above the law and even above the society. Let's just talk about what it is and what it means to you. 
You may notice these questions tracking advertising you have previously clicked on across many sites, or you may see them coming from out of left field. If you have a normal level of healthy paranoia, the kind that recognizes that even paranoids have real enemies, you will soon be asking yourself some questions.
Some of the questions are a bit… intrusive, when you considered that your answers will be shared with everybody at Google, everyone who gives money to Google, and every agency in a government from which Google makes a life of seeking favors: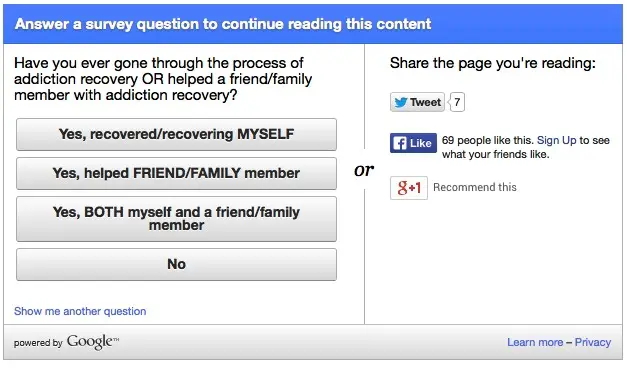 Again, this stuff goes into your personal file, and is used to target both advertisers and warrantless, persistent, pervasive government surveillance.
How to answer them? Who is behind them? Where does your answer go, and why? Who has access to your answers? Is it really a good thing to "answer truthfully," as the shadowy organization behind the questions wants?
Answering truthfully is the worst mistake you can make.
The questions originate either from Google, or from the Mountain View company's de facto managing partner, the National Security Agency. Google's interest is to sell your profile to advertisers for more money. They say they safeguard your personal privacy in this, which they only do to the extent it's needed for them not to lose control of the profile to their customers. Your own interests are no factor in the equation. You are never respected, never represented, never consulted.
But that's only half of it. Your answer is appended to your permanent profile across all the shadow realms of Google, and is available to all with access to Google, including, directly or directly, all United States government agencies, and an increasing number of foreign ones. In the USA, Google is credibly reported to provide direct access to its servers only to NSA. But that claim offers no reassurance, both because NSA does not respect your privacy (or even the laws it ostensibly works under), and because NSA provides unlimited and unsupervised access to other government agencies through so-called task forces and fusion centers, which permit any Federal, state or local agent pull your profile for any or no reason. (The agents are instructed to lie about their information sources on any resulting court documents, which is called by the euphemism "parallel construction").
What's more, the NSA connection to Google is not read-only. They can also alter data in your profile. How cool is that? (From their, and Google's point of view, if not from yours).
Google's real motto: "Don't do evil… or we'll make some money off of it."
Once the source of the questions and destination of the answers is understood, only a madman would "Answer Truthfully!" even one of these questions.
So you have three options at this point:
Do not answer the questions. In time, the data for the number of people who made it to the Google/NSA Privacy Invasion Questionnaire and backed out may encourage Google and advertisers to throw in the towel on this particular intrusion. In time, it may encourage newspaper managers to see that it is not in their best interest to drive away readers. However, that hinges on newspaper managers being alert enough to recognize their own interests, a proposition for which evidence is weak.
Do answer the questions, but untruthfully. There are several approaches to this. Anything that can provide a hint of the right answer (such as, always choosing the most wrong answer) is probably a mistake. Google (and NSA, and Google's other spy agency partners) will analyze your answers with very sophisticated algorithms. Choosing your answer consistently based on the position of the response (always first one, always last one, always middle, alternating first and last, etc.) is a superior choice because (1) it betrays nothing about you but your dislike for Google's, NSA's, and the newspaper's invasion of your privacy and (2) it allows you to get through the pop-up Privacy Invasion Questionnaire without reading the responses. This information will be used against you. You gain nothing by providing it. You are under no obligation to tell these moral lepers the truth. 
If you can figure out the advertisers who sponsor these questions, drop their marketing honchos a note telling them you've seen the company's ad for Sex Tours of Thailand or whatever they sell popping up on every single one of your Google results, and you've never been in the market for a Patpong boom-boom vacation; the purpose of this is to set the two anti-privacy forces (marketing dweebs and Google) at one another's throats.
Note that #3 is not exclusive of doing #1 or #2. The first two are mutually exclusive.
If enough people do this, we can pollute Google's data, and that of the world's spy agencies.
Exit thought: everyone has heard Google's sanctimonious, prolefeed-for-the-public motto, and has come to mentally add the in-group-morality extension Google insiders have long operated by: "Don't be evil… unless there's a ha'penny in it." Remember that Google has given complete access to US intelligence agencies, without any apparent thought or consideration. Now, you may be the person who thinks you are completely boring to NSA, but can you guarantee that no government agency, from the politicized IRS to the Amtrak SWAT team, will ever take an interest in you?
Why make these enemies of liberty more knowledgeable about you and yours? It's not in your best interest. Answer untruthfully.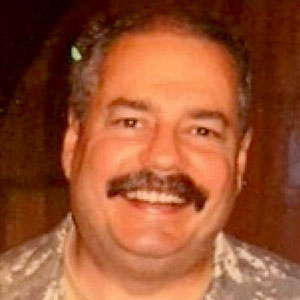 Kevin was a former Special Forces weapons man (MOS 18B, before the 18 series, 11B with Skill Qualification Indicator of S). His focus was on weapons: their history, effects and employment. He started WeaponsMan.com in 2011 and operated it until he passed away in 2017. His work is being preserved here at the request of his family.