TrackingPoint has refreshed its AR lineup in three calibers (5.56, 7.62, and .300 Win Mag) and also offers three things calculated to increase the appeal of their precision-guided firearms: lower prices, financing, and a virtual reality glass device, the Shotglass.
If you ever wanted to break the last taboo and enjoy a shotglass while shooting, now's your chance. This one doesn't hold a precise measure of amber nectar brewed by Scotsmen, though:
The Shotglass can be used to aim and fire the weapon from complete concealment cover. It can record video. It's most likely use in the real world, though, is as a way for the spotter to direct the sniper on target. We expect we will see more of these used with TrackingPoint's long-range bolt action rifles than with its ARs, but time will tell. If you buy a TrackingPoint PGF by 30 November 2014, the Shotglass is free; after that, it's an additional $1k. We'll probably discuss it in greater depth when TP puts up their Shotglass video; for now, we can't imagine anyone who wants or has the gun turning the Shotglass down.
The lower prices are relative — they're still nosebleed-high, just not arterial-nosebleed-high any more. For example, the 5.56 AR is $7,495.
For that, Tracking Point offers:
Perfect impact on targets out to 0.3 miles, moving as fast as 10 miles per hour.
The same Tag-and-Shoot™ technology found in fighter jets
Advanced target tracking technology
Comprehensive, purpose-built shooting system.
We've discussed the TrackingPoint technology before, but the implementation in the ARs differs from that in the bolt guns. First place, you don't need the guided-firearm voodoo to just shoot. The optic comes up with a crosshair reticle with mil-dots and a red dot at center. Different TP releases have called this "Standard" or "Traditional" mode. Note that the interface does give you range in this mode, but not wind speed or direction.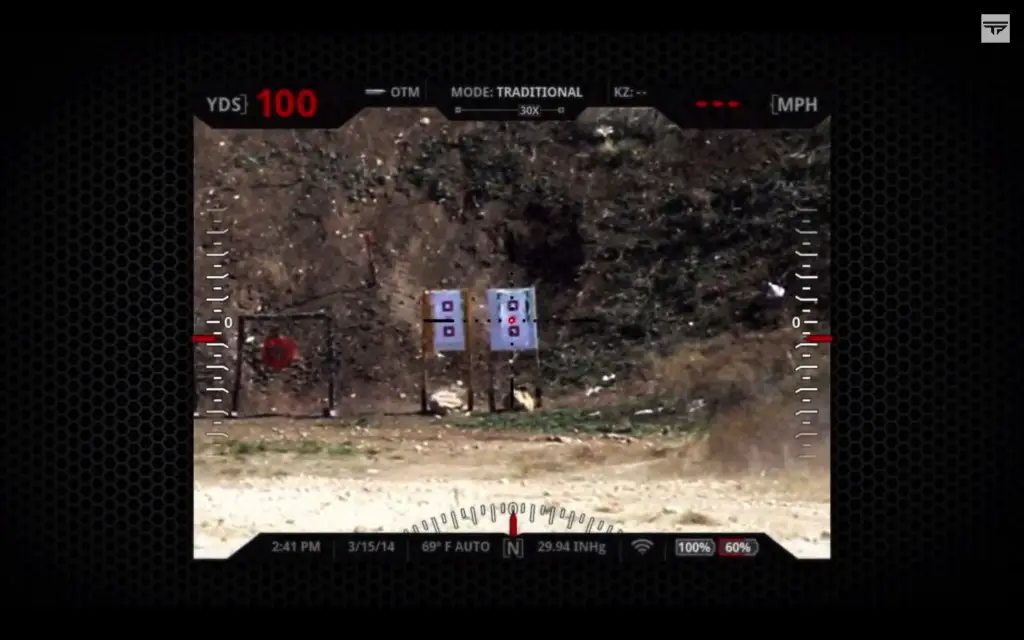 Next up is "Freefire" mode, which is present, so far as we know, only in the gas guns, not the bolt guns. In this mode, you range something near a group of targets, and the scope adapts to that range and to the atmospherics (note that the wind speed is displayed in this mode). The reticle cues you that the Freefire Mode has been selected, and it eliminates the mildots. Those are not necessary in this mode, because your point of aim is computer adjusted to equal your point of impact. In "Freefire" mode, the Guided Trigger is not activated: the trigger works like any AR trigger.
In Advanced mode, the reticle changes yet again. In this case, it takes several shapes depending on whether and where the Tag has been applied. In advanced mode, the tag is applied with the red button, and then the reticle changes color and shape. The illustration below shows a tag applied to the running coyote. The blue reticle indicates that the shooter is not ready to take the shot: he is not holding the trigger back. When he holds the trigger to the rear, the color changes to red, and the weapon will fire when it is in proper alignment. At any point, the shooter can safe the gun by releasing the trigger.
Advanced mode does something that was considered impossible for centuries: it removes most sources of human error from marksmanship. This is the sort of thing that becomes possible, when you embed a complete Linux computer in a rifle optic, and tie it in to the physical rifle several different ways.
You've probably noticed that TrackingPoint expresses distances in decimal tenths of a mile, rather than the yards or meters common in the shooting world, which suggests that they may see their customer base as coming from outside the present limits of the shooting world. (To which we say: welcome! While it's cool to have a gun that can calculate all this, it's incredibly empowering to have a head that can calculate all this, and yet, it is possible and available to you. So may your new TrackingPoint firearm be a gateway drug to a new plane of existence for you).
In any event, 0.3 mile is about 480 meters (which the US Army considers the effective range of the individual rifle platform) and 530 yards.
The guns each have a limited effective range which seems like it was programmed into the weapon as a maximum "lock range" (the system has an integrated rangefinder and environmental sensors). This may be intended to ensure that shooters have a positive experience with the precision-guided firearm, but it may also serve to ensure that the ARs don't cannibalize the higher-end sniper and hunting rifles.

The top of the AR line, the .300 Win Mag monster, offers the same claimed benefits as the 5.56 version, except that it offers "perfect impact on targets out to 0.5 miles, moving as fast as 20 miles per hour," for a more-than-your-pickup-truck $18,995. (Our pickup, anyway: 4-banger, 2 wheel drive). (Half a mile is 800 meters or 880 yards). Unfortunately, now that somebody's actually built an AR that's perfectly sized as a bayonet handle, there's no bayonet lug.
The 7.62 AR offers slightly less performance (0.5 mi, moving targets to 15 mph) for slightly less money: $14,995. If these prices seem high for ARs, well, they are, but no other ARs do these things, this well.
When TrackingPoint first announced the AR line this spring, there was a .300 Blackout version available. A prototype, using a Daniel Defense upper, was clearly visible in their first AR video, but the gun is not on their price list today. The TrackingPoint technology offers the potential to have a firearm that automatically corrects its zero for the Point of Impact shift common with suppressors; it can also, potentially, store several load profiles. (The ballistics-adapting capability of the weapon depends on it being fired consistently with a load whose performance parameters are known to the software).
The bolt-action rifles, which have not been updated, offer similar performance, actually, in similar calibers. Only the mighty .338 LM extends range to 0.75 miles (1200m — 1320 yards). The bolts are priced differently than their semi-auto kin, a little lower in 7.62 but the highest-price version of the .338 is near-as-dammit $28,000. With great power comes great liabilities, Spider-man. In addition to that, you might want to think hard about budgeting for the extended warranty and the software maintenance contract — software maintenance alone is a stiff $2k/year.
The electricity to drive all this juju comes from batteries in compartments in the stock or the AR and in integral battery compartments in the optics of the bolt guns.
TrackingPoint's managers are keenly aware that the prices of these guns are an obstacle to sales, and so they have a financing program with decent terms: 10% down, 36 months, 10% interest. (They don't say how it's compounded or what the APR is). There's also a 30-day, no questions asked, money back guarantee, "You can feel completely confident that TrackingPoint stands behind its products."
We're not sure it's really, in their words, "the most incredible shooting system known to mankind." But we are sure want one of these pretty badly. Just not $18-30k badly. Yet.
For $2k you can spend the day at TrackingPoint in Pflugerville, Texas, meet the staff, see the plant and fire the gun. If nothing else, you'd learn how to pronounce, "Pflugerville," and maybe even who Pfluger was.