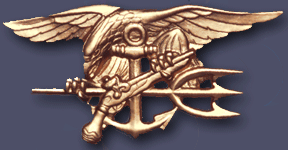 There's an old joke that goes, "Why does an SF A-Team have 12 men, and a SEAL Platoon 14?"
"Cameraman and producer." Ba-dump-bump. Thank you, you're a wonderful crowd, we'll be in the blog all day… but seriously, if our frogman brethren are trying to stay out of the limelight these days, then at least one frog is doin' it all wrong.
Shaun Day, 29, was on a two-week leave when cops harpooned him for running a red light at 12:30 a.m. at Second Avenue and East 26th Street.

When cops searched his pickup truck, they discovered a 9mm semiautomatic and three ammunition clips.

During the arrest, Day was rambling incoherently and harped that he was a SEAL — but had no proof for cops.

He claimed he was an elite commando with "top-secret clearance," cops said.
Eh. When arrested by the locals, the right thing to do is to clam up, not tell them you're John Rambo. "I can drive a tank… I can fly a helicopter…" don't waste your breath. They don't give a rip, and you're going downtown, and it's in your best interests to go quietly.
Sources told The Post the Navy sent staffers to talk to Day in Bellevue Hospital, where he was undergoing a psychiatric evaluation.

"He was released [Friday] in their care, and they were going to treat him for post-traumatic stress," a source said.
Note how the Navy has backed their guy up. Army wouldn't do that, at least, not SF; they'd let the guy twist in the wind. Some specific commanders (you know who you are) would laugh at him.
Note the incredible flexibility of the PTSD diagnosis. Is there anything it can't do? For it does seem like our young sailor was more likely to be suffering the effects of ingesting a bad ice cube in one of the fifteen or so mixed drinks he'd chugged, than struggling with combat trauma.
The charges against Day of weapons possession and a traffic violation have been deferred.
via Arrested guy's the real SEAL | New York Post.
If the SEAL commanders do what the better SF ones do, he has (or can be made to appear to have had) a commander's letter authorizing him to carry, which gets him out of NY jail.
 Update
For some reason, the NY Post is throwing this story up as a new one to readers (which is how someone sent it to us), but it's four years old. No doubt Day (whether he's still in the frogs or not) can laugh about the whole thing now, as it stayed out of the press after that. .