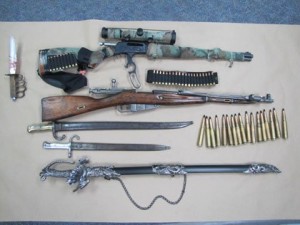 This bad. This picture represents what the police and news media are calling an "arsenal." Some guy, Lawrence Mulqueen, of Manuet, NY, posted on Facebook that "if anybody ever came" to take his guns, "they would suffer the consequences."
So based on that "threat," some other stuff he said about anti-gun politicians, and possession of this "arsenal," he's now sitting in jail.
His allegedly illegal assault weapons?
A scoped Marlin lever-action hunting rifle;
A bolt action Russian M44 (or Chinese M53) carbine, the last version of an 1891 bolt-action gun;
Some antique swords and bayonets;
and a fake US M1918 trench knife.
And, oh yeah, "over a hundred"(!) rounds of ammunition. Arsenal!
Lord love a duck, how many of our readers have more firepower than that in their pockets right now?
Remember, this is a state where murderers walk with short sentences, as long as they're career criminals or bug-nuts insane. Yes, they are coming for your guns.
In Mulqueen's case, he was ratted out by his landlady, who's being treated as the Donosnik 001, the sainted Pavlik Morozov (Russian language link), of the case (or perhaps the Hitler Youth Quex). "I snooped, I was an internet stalker," the landlady boasts, to acclaim from the media. (She even has a Hitler Youth name, "Pillersdorf").
CBS calls it a "cache of weapons." New York mag calls in an "arsenal." NBC goes with "cache" and says he had "100 rounds of ammunition, including armor-piercing bullets."
Landladies like that are one excellent reason to own your own home.