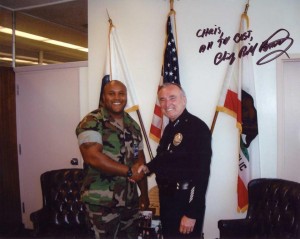 NOTE: This was set to be published on 2/12 at 20:00 but for whatever reason it didn't go. So it's going up backdated, but was actually sent live on 2/13 at about 17:39. The only edit is this comment, but the rest of the post is clearly OBE. Published for completeness only. 
The LAPD's stunning mismanagement of the search for rogue LA ex-cop Chris Dorner continues. In fact, it has so obsessed the police department that they're not responding to 911 calls or other crimes. Their focus is on protecting the fifty LAPD officials named in Dorner's manifesto and ambushing people driving vehicles like Dorner's, and that's where it's going to stay until they kill him.
"We'll continue to go until we have Mr. Dorner in custody, and the threat has ceased," LAPD Lt. Andy Neiman said Monday.

That is a tall order — costly not in dollars, Los Angeles Police Department Chief Charlie Beck said, but also in public safety.

"While this continues, our ability to do other things — to respond to 911, to do criminal investigations, to do community relations events, is crippled," Beck said.
via LAPD "Crippled" by Dorner Search, Limited in Response to Other Crimes | NBC Southern California.
Reportedly, the LAPD's arsenal includes Predator and Reaper armed drones on loan from the military, which are potentially a bad mix with the department's irresponsible use of force so far.
If they're looking to discredit Dorner's manifesto message that the department is badly led and reckless about use of force, they're doing it wrong.
Meanwhile, LA residents, doubly victimized by the police's "fangs out" approach to the Dorner hunt and neglect of regular policing, have tried to protect themselves. They're deploying "Don't Shoot Me, I'm Not Chris Dorner" signs, bumper stickers, and t-shirts.
Good idea. Make it big enough so the drone can see, folks.
Update
Looks like the endgame for Dorner. He apparently was holed up in a cabin, holding two innocents hostage. He fled and released them, but was sighted by a wildlife officer and exchanged gunfire (to no effect on either side). After wounding two more cops, he's supposed to be barricaded in a cabin. BBC Story. LA Times LA Now Blog has extensive coverage.
Dorner's as good as dead now. The police are not interested in taking him alive. He, conversely, is probably not interested in living, but he may want to take more cops with him. How he goes on that will pretty much drive whether he commits suicide in the next few hours.