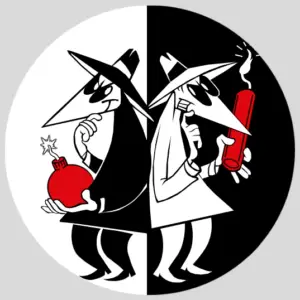 First, before we burn NSA and CIA bureaucrats at the stake for the risk to future warfighters they might have prevented, we need to remember that it was Snowden, himself, that decided to steal a three-mile-high pile of documents that weren't his business (and that in most cases, he didn't even understand), and Snowden, himself, who decided to provide them to anti-American media persons and then, further, to the Russian government.
But he's under the guardianship of his FSB owners, now. So let's get those bureaucrats sorted out, and bring us some ever-lovin' kindling.
The first finding is that investigators blew opportunity after opportunity to, well, investigate.
Snowden was described as a "serial exaggerator and fabricator" who intentionally lied about his past in order to promote himself….

CIA and NSA failed to recognize that Snowden was likely to betray the government's trust and disclose significant U.S. intelligence capabilities that have been lost or restricted as a result.

NSA security officials failed to conduct a routine check of Snowden's educational background.
Snowden is a high school dropout and listed a nonexistent school on his security clearance paperwork. They didn't catch the lie, because they never checked.
Snowden also was granted a "top secret" security clearance … despite an associate warning security investigators he should not be given access to secrets.
He made a false complaint of harrassment. He was relieved of a position overseas for modifying software and insubordination. (The "modifying software" is the reddest of red flags, and anyone with a tech background knows what it means in personnel reliability terms. God alone knows why they didn't open a CI case on him right then and there). Still, he left CIA, not under investigation, if on poor terms. Yet he…
…then applied for work at NSA and was hired by an NSA contractor in 2009.
What, when the CIA had already flagged him as a dirtbag? Er, no. They dumped him as a dirtbag, but never got around to setting the flag. Yes, that's ate up.
CIA failed to update a security database with derogatory information about Snowden. As a result, NSA failed to learn of his problems at CIA before hiring him.
Incidentally, he had to take a test. What he did. since he had access to the network at admin level already, was download the answers. Hey, best test results ever. And one more flag to Snowden's integrity — or complete lack thereof — went unnoticed.
The polyincompetent Office of Personnel Management — you know, the guys who lost everybody's SF86 data since 1984, which now rests in the hands of more foreign powers than even Snowden's disclosures, those guys? — then had to investigate him for the NSA gig. That's when they caught him, right? Wrong. You already know the spoiler, they didn't catch him. As the story says, with "an investigation later found to have been incomplete."
How many other Snowdens are out there, having received similar half-assed, pencil-whipped investigations? Quoth the report that inspired the article we're quoting here:
Among other flaws, the investigation never attempted to verify Snowden's CIA employment or speak to his CIA supervisors, nor did it attempt to independently verify Snowden's self-report of a past security violation—areas where further information could have alerted NSA to CIA's concerns.
And as the article notes:
Investigators "failed to check job references";
They only checked his mother and girlfriend. (Yep, they exist! Box checked);
His co-workers knew he was not right, "squirrelly";
He "voiced sympathies for China based on meetings with Chinese hackers"
He defended Bradley Manning (not surprising, traitors hang together).
NSA had no IDS or real-time usage monitoring on NSANet or JWICS.
McDonalds protects the secret ingredients of its "special sauce" better.
His methods were not sophisticated. He used file download tools available to any beginner admin, wget and DownThemAll. There are some details in the article, and the whole who-shot-John is in the report. Redacted report (original is TS/codewords, NOFORN):
hpsci_snowden_review_declassified.pdf