We give you, an H&R M16A1.
This rifle was:
A. Property of Auric Goldfinger
B. Property of Francisco Scaramanga
C. Property of Uday and/or Qusay Hussein
D. Property of George Soros
E. Just some dude's retro build, with a twist.
F. Shiny! (Gratuitous reference).
If you guessed any of those, you probably had a plausible reason, but the correct answer is E above. Here's the Bond-Villain's-Eye view:
We found this in the treasure trove that is the ARFCOM Retro Forum. The builder of this exotically-finished M16A1 clone, whose user name is "redbaby," had this to say (lightly edited for spelling and punctuation):
I saw some historic retro that was actually gold plated so I decided to try this out. My favorite was the H and R so thats how I went. I really had fun building this one from an 80 percent receiver. It doesn't hide well but it's fun to have. 24 K gold plate. Hope you enjoy the photos.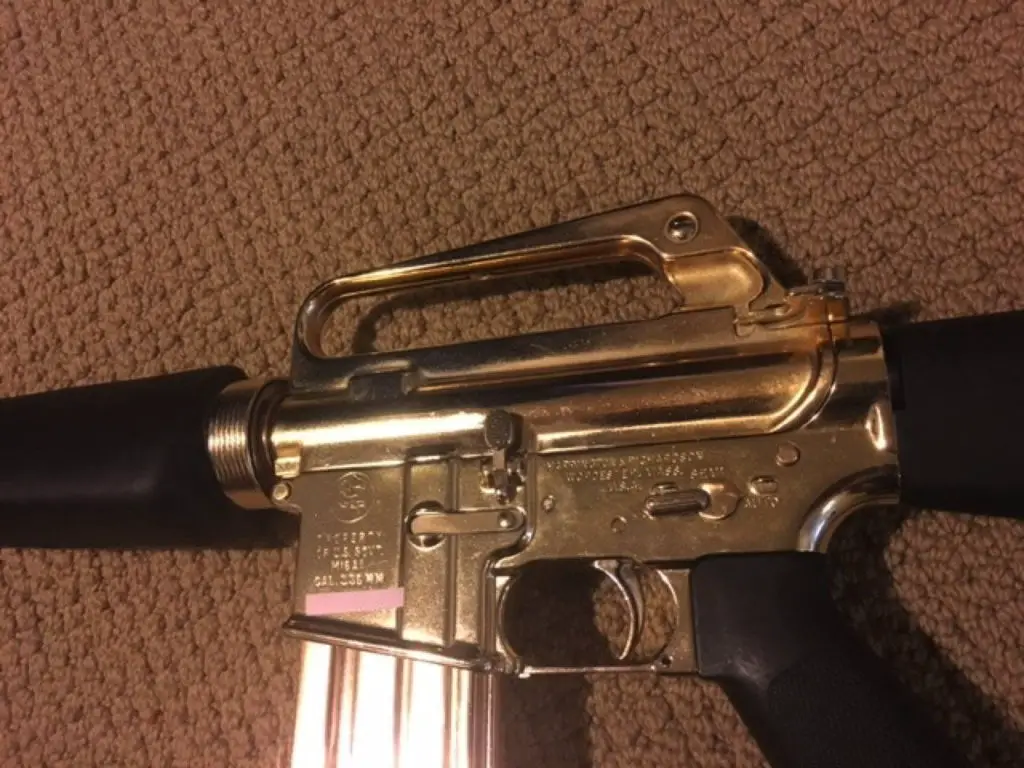 I did the plate myself as its hard to get locals to do it because of the FFL issue. Nickel plate is needed, then gold. If you have a fine control power source its not super expensive to do. If you have to buy the rectifier it gets cost prohibitive. I learned a ton doing this. It puts a lot of smiles on faces when they hold it. It's been worth it.
The only one I have seen is H and R . Was through a glass case at a gun show It was a transferable M16A1 and way out of my ability to own. Mine, alas, is mere semi auto, new manufacture look-alike. I plated all parts except the hammer and disconnector. Everything else is plated. I am thinking I will nickel plate another maybe a 1911. I had way too much fun to stop now.
He isn't the only forum member to bling out an AR. Another, HKILLER, replied:
I like it. Im working on a GM CHROME one.
The thread is brief, but interesting. The Retro Forum is a great place for fans of early ARs to hang out. And it's the global armory of international megalomaniacs of mystery.