First, the practical pistol. This is much like the P-01 we carry, except with an extended mag release, steel frame and an ambidextrous safety (instead of the P-01's alloy frame and decocker).
CZUB wound up holding the bag for an order of 500 of them, and they've all gone to a US distributor. They're reasonably priced for an all-metal quality gun, and available from several different wholesalers for delivery to your FFL (It looks like the guns pass through these wholesalers on paper, but drop-ship from the distributor). In alphabetical order:
Note that the low-cost sellers at KY Gun Co. use a picture of this gun, but the one they have is not the same SKU, and not the gun illustrated, SKU 99021. (They have an image disclaimer on the page). You can save money there — they often retail guns for less than your local FFL can get them wholesale through the manufacturer's approved channels — but never buy from there without matching manufacturer SKUs.
Personally, we prefer the light weight of the alloy frame, and these days we prefer a momentary-contact decocker to either the traditional CZ-75 safety (where the available modes are cocked and locked, and hammer down locked or unlocked) or the decocking safety as pioneered by Walther and used by so many other guns (Beretta, old S&W autos, etc.). But some people want these either for the features or for the rarity of a short-run CZ. (For hard-core collectors, note that many of the practical users will have CZ Custom or CGW customized triggers, thinning the initial herd of 500).
Hat tip to  in the comments, who sent us to this thread at the CZ Firearms forum.
Next, we have a work of art. The CZ-75B 40th Anniversary already comes in a limited edition of 1000 (of which 999 were sold, numbered 40th001 through 40th999), with some neat features. This is the prototype, 40th000, literally # 1 of 1,000.
CZ USA describes it, as you might expect, in glowing detail:
During the forty years since its 1975 introduction, the CZ 75 has grown to be one of the most important handgun designs in history. Over the last four decades, the 75 became the most widely used handgun among police and military worldwide and ranks in the top two most copied handgun designs ever. To celebrate the anniversary, CZUB set their master engraver, Rene Ondra, to the task of creating a special pistol for the occasion.

Each pistol is hand-engraved in the Czech Republic in true old-world style, with a hammer pushing the engraver's tool through each minute detail of the art decorating the slide and frame, which are then polished and finished in a deep, glossy blue.

The controls, extractor, grip screws and magazine baseplate are finished in a rainbow titanium nitride, an attractive and extremely tough finish. Lest there are any concerns about the durability of this finish, this is the same type of finish that is applied to drill bits to extend their working life up to three times those without the coating. To finish off the look, smooth, high-grade California birds-eye Maple grips are added. Dyed to match the hues of the frame and controls, the grips seem otherworldly, looking less like wood and more like a snapshot sent to Earth from the Hubble Space Telescope.

Chambered in 9mm, the 40th Anniversary Limited Edition ships in a leather-bound presentation case with two 16-round magazines. Only 1000 pieces will be produced, each individually numbered and accompanied by a certificate of authenticity.
That's nice, and a classically Czech mix of heart-of-Europe craftsmanship and space-age technology. But that's not the work of art we're talking about. It's this work of art. CZ Custom (a private firm that works closely with the importer, CZ-USA, and which is one of the two best-regarded CZ tuners) took one of these rare, expensive guns (#299 of 999), and is selling it for more than double the money that the 40th Anniversary guns (some of which are still out there for sale, including at CZ Custom) go for. Why? Well, just, look: 
Nice, eh? Yes, that's color case hardening on the frame. Note it's also been reshaped to a classic, elegant round-bow trigger guard. Flip side: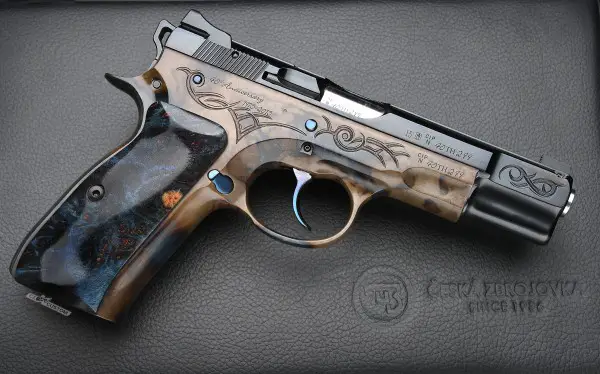 Now, here's what they did to it:
CZ Custom's Eric Zinn took special care in putting this beauty together. Great frame work from high cut for a better grip, reshaping the beavertail and rounding the triggerguard for the classic CZ look.

Also the CZ Custom trigger job with competiton hammer, short reset disconnector, extended firing pin, milled for Heinie Slant Pro sights and a beautiful black serrated front sight.

Special attention to the finish is performed too. Beautiful polished blue slide by Eric and color case harden frame done by MJ Tulo Gunworks and hand laquer wood grips.

There is no other CZ75 like this one combining beauty and performance.
As far as we know, this is the only one they made. We want it… but we told you guys first. How selfless is that? (We also are a bit diffident about the $3,500 price tag). One of a kind anything is hard to sell. But the buyer of this will have the only gun like it — a beautiful gun that is, alas, too fine to shoot.