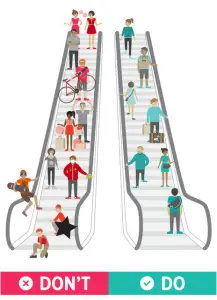 In Debenhams department store in Oxford Street, London, there is a large, airy atrium with an escalator bank along one side. Anyone who has set foot there will recall it. But in the last year, not one but two people have taken the Dive of Death from the [British, where "ground" is American "first"] fourth-floor escalator to a bone-crushing deceleration below. In November, 2014, a man died; the young woman who fell in September isn't dead. Yet.
A young woman is seriously injured after falling from a fourth-floor escalator at Debenhams
The woman, who suffered serious injuries, was rushed to hospital after falling at the store's flagship branch in Oxford Street on Sunday afternoon [27 Sep 15].

It is believed a large sign advertising a sale on the basement broke her fall. Police are treating the incident as non-suspicious.

The incident comes after a man plunged to his death from an escalator in the same Debenhams store last November.
Escalator and elevator accidents are rare enough to make the news, but common enough to keep recurring. The fact is, people die in bathtub falls, and anything as high as your stepladder can absolutely, positively kill you.
via Woman falls from fourth-floor escalator at Debenhams | UK | News | Daily Express.
While English escalator accidents seem to be an annual occurrence, the same newspaper reports (in a different story, complete with video of an escalator death) that they're commonplace in China:
Horrific escalator incidents have been far from rare in recent years.

A 13-year-old boy was killed and more than 20 injured in a Beijing subway station when an escalator suddenly went in reverse during rush hour in 2011.

A nine-year-old boy was killed when he became trapped in a department store escalator in the city in front of horrified shoppers the following year.

Last year, about 12 people were injured in Shanghai when an escalator in a subway station started moving backwards.
Anything can kill a human, including the most mundane and routine things, like taking an escalator. That said, we'll wager the Debenhams mishaps involved young people using the escalators in a manner unintended by the manufacturer. (The Chinese mishap seen in video is pure machine failure, probably caused by human error in installation or maintenance).