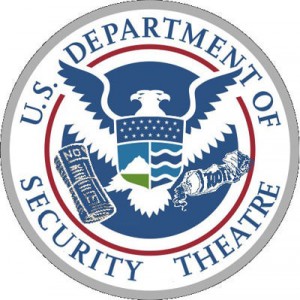 For the billions wasted on the Transportation Security Theater Agency (the direct cost of the failed agency is approaching $10B a year), and the complete lack of performance of the agency (the number of terrorists caught and/or terror plots thwarted by TSA is holding at 0), the agency is doing what government agencies do: grabbing more money. Directly from travelers.
A security fee that the government charges airline passengers more than doubled on Monday, from $2.50 to $5.60.

Lawmakers last year approved an increase in the fee, which is tacked onto the cost of airplane tickets, as part of a budget agreement.

Additionally, passengers will be charged twice if they have a layover for a connecting flight….

"Due to new @TSA fee hike, travelers will pay a billion dollars more per year in added taxes/fees thanks to U.S. [government]," Airlines for American President Nick Calio tweeted recently.
There is no limit to the greed of these payroll patriots. And there's no accountability for their failures. The director who built a multimillion-dollar Xanadu office? No consequences. The hundreds, if not thousands, of TSA agents who steal from travelers? No consequences (in the worst case, they are quietly fired with a neutral reference). The abuses of Behavioral Detection Officer quackery? No consequences. Mismanagement at every level? No consequences.
No one good, decent, honest, competent, moral, ethical or intelligent has ever been employed at TSA in any capacity whatsoever.