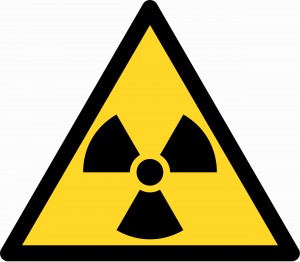 Recommended from the Comments — straight talk about soi-disant Dirty Bombs.
Recently we read a novel that climaxed as the heroes tried to stop a hostile force from using a radioactive weapon in an American City (think it was NYFC). And the radiation from this thing… had flesh falling off their bones in minutes as they tried to set it up, and then it set the building on fire.
With its radiation, you see.
There are novelists who do research, and then… there was that guy.
Anyway, Larry Grimm, who comments here from time to time, is a health physicist. We think it's fair to say he's learned more about the physiology of ionizing radiation than we have, and we know we know it better than that novelist fellow. Here's a repost of a Q&A with Larry from seven years ago.
Q: What is the biggest concern from a radiological dispersion device?
A: Two things: the irrational fear it can induce and the expense of cleanup. The possibility of the radiation actually hurting anyone is quite small. We fear what we do not understand, sometimes irrationally. The concepts of radiation are poorly taught in high school, and the only other radiation information we get has been sensationalized by Hollywood, politicians, and those looking to make a buck off of our lack of education. You can beat the fear by learning how radiation works and how to manage it safely (protection techniques). Fear and panic kill people, as any good Marine knows. Radioactive materials are chemicals. Sometimes it is easy to clean them up, sometimes hard. For example, cleaning oil off concrete is hard, but picking up chunks of metal is easy. Fortunately, it only takes a radiation detector to find the radioactive material, so it is easier to find and clean up than a non-radioactive chemical. Likely, the biggest problem will be economic disruption while cleanup takes place. Radiation dispersion devices are really disruption, not destruction, weapons.

Q: What steps should I take if a radiological dirty bomb goes off in the area?

A: There are four simple protection techniques: Contamination control, distance, shielding and time. Contamination control and distance are the most useful techniques in a bomb situation.

Remember to help others first. Radioactive materials are rarely immediately life threatening. The worst-case terrorism scenarios indicate that there would not be enough radioactive material to cause immediate harm. Did you ever feel anything or see an effect from getting an X-ray? In 99.999% of radiation exposures, no effect is felt or seen. If I went towards the blast area to help someone, I would not fear the radiation. However, I would be cautious and respectful of the radiation. Therefore, I would use the following techniques no matter if I was escaping the area, trapped in the area, or going in to help.

Contamination control: Keep the radioactive chemical off and out of your body. Button up clothing and wear a mask (or anything to cover nose and mouth.) A radioactive material is always a chemical, which behaves like the chemical wants to behave. The distance technique is the best protector in a dirty bomb scenario. However, if I need to be near the source, or if I am downwind of the blast, I will first practice contamination control. If I suspect that I swallowed or inhaled the chemical, but do not feel ill, I would later seek professional help. Radiation effects take a long time to show up, and I wouldn't want to add to the congestion at the hospital. However, there could be a nasty chemical associated with a radioactive bomb, so if I felt even slightly ill, I would seek medical help in a hurry.

Distance: In even the worst bomb scenario, you would be safe from the radiation if you get just a couple blocks away and get upwind of potential airborne material. Think of it as standing next to a campfire – get too close to the heat radiation, and it could burn you, but if far enough away, you do not get any heat. Exactly like a campfire, you do not want to be in the smoke, so get upwind. The most likely radioactive material in a dirty bomb would be Cobalt or Cesium. If the terrorist could somehow manage to get 10,000 Curies in the bomb, you only need to be about 300 yards (three football fields) away to be safe from the radiation. If you are not downwind or near the dispersion area, you are safe. Do not "head for the hills". Leave the roadways open so emergency responders can get through.

Shielding: Anything acts as a shield – a building, a car, a hill, et cetera. Your major concern is gamma radiation. Imagine the gamma as a radio wave. When don't you get a radio signal? When you are in the middle of a building, in a basement, behind a hill, et cetera. Whatever shielding decreases a radio signal will decrease gamma rays. I handled 12 million curies of Cesium (a 1000 times more than a possible bomb) with a mere 20 feet of water for shielding, and I got no dose!

Time: The less you are around the radiation, the less dose you will get. As most people would use distance, and get away in a hurry, they already used the time technique by not hanging around the radiation. Emergency responders may need to use this technique, and all across the US, they are receiving training on how to use it.

"LEARN ABOUT RADIATION, AND THE FEAR OF IT WILL MELT AWAY. TERRORISTS FEED ON FEAR. FEAR IS BONDAGE, KNOWLEDGE IS FREEDOM."
Emphasis was Larry's, but we concur about 10 thousand percent. Do Read The Whole Thing™, as there's a lot more sense in there, and it's a bugle in a wilderness of nonsense.
For what it's worth, we're not ready to die, but we live about six or seven miles from a known nuclear target. We understand that Risk = Probability X Severity. Assuming a hit on the target, and a typical strat warhead, Severity is less than you'd think; and Probability is one of those things that really rounds to zero, especially when you figure the CEP of the bomb and the fact that it has only perhaps a 1 in 4 chance of its error from baseline bringing it closer to the Manor.
We used to live just about in the shadow of a coastal nuclear power plant. (Actually, we've lived near a few of them over the years). But you know, decades after the nuclear age was rung in, there are still more deaders from riding with Senator Kennedy, or falling off the high-wire, or being hit by a falling Concorde, than from nuclear power plants.
Does radiation need respect? Yes. Does it need fear? No. More of the people reading this are going to die from bad choices with respect to diet and exercise than just about anything else. We take a lot bigger risk when saddling up the bicycle (with or without a helmet, latest stats seem to say it's about a wash) than we do living near strat nuke targets, or nuclear power plants.
Can you die from radiation? Hell, yes. Rare but it happens, like when uneducated people go fooling with abandoned radiomedical equipment, in this case in Brazil (.pdf) in 1985. But even most of the exposed people in that case lived. Unfortunately, an awful lot of people were subjected to nuclear war terror propaganda back in the 50s through the 80s, and now have a completely unrealistic idea of what radiation does.
Like make your skin fall straight off, and set you on fire.