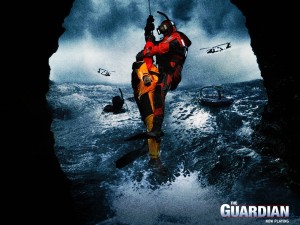 The Guardian is one of the best movies ever about the Coast Guard. That's true in part because there are hardly any movies about the Coast Guard (there was a B-Movie called Fighting Coast Guard in, if we recall right, 1951. So Hollywood hasn't quite burnt out the theme). The Coast Guard-like rescue attempt in the movie The Perfect Storm was actually carried out by the Air National Guard; we knew Rick Smith, the PJ who didn't make it, in real life. He used to come to the range with us, because he liked to shoot, and we welcomed him and his friends, because the Air Force gave them all the best toys when we were making do with M16A1s.
But it's also a decent movie. It's not a juxtaposition flick, it's not the height of Hollywood auteur-itude, and the critics hated it like Osama hated getting blown to Hell by infidels. But it's a good watchable film with decent acting, which we like around here; the scenario isn't wildly implausible, which we also like; and it treats its subject matter, the lifesaving Rescue Swimmers, men (and to our surprise, women) who hold the Aviation Survival Technician rating, with a respect bordering on reverence. And we really like a little respect around here.
The movie opens with beautiful underwater video of a surging sea and a sinking sailing yacht. Kevin Costner's voice recounts the legend of the Guardian: people rescued from the sea swear that someone was there, lifted them up, pressed them not to give in. Suddenly the camera bursts to the surface in a nightmarish gale, and you are a spectator at a technically challenging, physically brutal, and psychologically disturbing rescue attempt. What sort of men are these, that free-drop from a safe, warm helicopter into the cold, surging sea? The Guardian could tell you, but mostly it shows you.
Ben Randall (Kevin Costner) is an over-the-hill living legend among rescue swimmers.
Everyone, but he, knows he is past his prime and ought to hang it up. But he can't; he needs it even more than it needs him. Injured during the successful rescue of a couple from a sinking yacht, Ben is ordered to recuperate and sent to the Rescue Swimmer training school — to heal up, and as his captain says, "download" some of the experience he's earned. Jake Fischer (Ashton Kutcher) is a young man from a Coast Guard town. He was a student athlete and had Ivy League scholarships; but for reasons he is not forthcoming with, he enlists in the AST program. Learning that some guy named Ben Randall holds school swimming records of many years' standing, Fischer announces that he's going to break them.
Randall is standing right behind him when he says that. We can relate.
The movie rocks along, driven by the technical challenges of Rescue Swimmer A-School (Swimmers actually complete several schools before they're turned loose; the story takes some liberties with the technicalities to keep the action flowing) and the complications of Ben's and Jake's relationships, both with each other and with their respective female entanglements.
A Comparison you may Know
We kept seeing echoes and hints of the Clint Eastwood vehicle Heartbreak Ridge (a Saturday Matinee selection in May, 2012). Sometimes the parallels were glaring, as when Ben tries to sort his relationship problems out with he help of a friendly barkeeper (singer Bonnie Bramlett, cast to perfection). You have the old guy/young guy dynamic, the youth who has to conform to institutional mores, the greybeard who has to instill in the youth the desire to do so. You're never in any doubt as to whether the young guy will get himself sorted out and be a worthy successor to the older fellow, but the how of it is just as interesting as it was when the old guy was John Wayne as Sgt. Stryker in Sands of Iwo Jima. Like Heartbreak Ridge, The Guardian is not ever going to be film-school study material, but if somebody remakes this thing again in 20 years with Marine Snipers or a Navy Submarine School setting, they'll entertain people (as The Guardian did) and make money (ditto).
Another comparison some will want to make is to Top Gun. The setting, in challenging training, and the brash young co-star are similar, but Costner is much more front and center than the mentors in the old jet opera, making it more of an intergenerational buddy film than a one man against-the-odds-and-the-world evolution.
Nowadays, you don't have to wait for an older movie (2006 seems like just yesterday, but this is seven years old now) to come up, cut to ribbons and studded with commercials, on the tube. For a couple of bucks you can rent the movie, there's Netflix and cable on demand. Just the scenes of helicopter and swimmer operations out of Kodiak station make it crystal clear that there are Americans right now facing scarier and more powerful enemies than any that ever picked up an RPG or buried an IED.
Acting and Production
The acting is good enough that we never thought, "Wow. Costner is really acting here!" He's good as Ben Randall; he might have been a few years too old to be credible in the role but he made it up with a visible athleticism. (We didn't think he was acting in the hypothermia scene… we think he, and the other actors, was actually freezing his nads off). Kutcher was credible as the almost insufferably cocky Jake Fischer. But the really delightful performances come from two groups in the supporting cast. One is the professional actors: those include Neil McDonough, in an incredible turn as Chief Jack Skinner. McDonough's expressions, catlike physicality, and intense blue-eyed stare will have you guessing, just as his character keeps the candidates guessing, whether Skinner is sadistic by nature or because he believes that is the way to harden the swimmers. Brian Geraghty is dead-on as Hodge, a candidate who keeps getting recycled in training, but is too tough, or maybe he's too dumb, to quit.
In addition to the pros in the cast, the film benefits from the on-screen talents of a number of Coast Guard professionals, including pilots, senior officers and operations petty officers, and actual A-school instructors. Some of them have quite a lot of native talent (or somebody did a lot of retakes), because they hold their own with the seasoned screen stars. They also appear in an informative but too short documentary video on the DVD. Another extra we enjoyed was a set of cut scenes; while we understand why they went, they did give more depth to some characters.
The film is beautiful and colorful; the full majesty of storms is shown, but they manage to do it without turning everything into a grey mishmash. If you've ever been in a small craft in a real hurricane (we don't recommend it), it's like being inside a washing machine hooked up to a bulldozer engine. Yet, they manage to get the power across without compromising their ability to shoot the picture. How? We're not sure. We'll have to leave the producers and director some magic. A couple of pictures here (from Wikipedia) are part of the methodology, but there's a lot of craft behind that turbulent action on the screen.
Accuracy and Weapons
We're going to handle this back-end-first. There are no weapons; while the Coasties have been known to gun up for Homeland Security (i.e. drug interdiction) or Navy support missions, they mostly deal with maritime safety, doing everything from the action-guy rescues shown in this movie to the routine but vital work of maintaining buoys and other aids to navigation. "The navy doesn't like us," Ben Randall observes between bar fights, "because we don't have their combat orientation." The sailors who start the fight call the Coast Guardsmen "puddle pirates." (Do the Navy and USCG actually still get in bar fights or is this Hollywood license?)
We have no inside knowledge of Rescue Swimmer A-School, but it seems to have much in common with other special operations schools, at least in its gut-check phase. No doubt real ASTs would find points to quibble with in the film that are invisible to us in our ignorance of their operations. But we bet they're glad to have been portrayed so respectfully; the movie must have been good for recruiting — not that the service needs great numbers of ASTs.
If you want more information, here's a Coast Guard overview of the real-world program, and an article explaining how the program was created in the aftermath of a sea disaster in 1983.
We have spent some time in boats and aircraft, including time in all of the above in weather, and the weather and sea effects used, a combination of special effects such as a wave pool, and digital CGI effects, are superb.
The bottom line
The Guardian is an exciting, well-acted and -directed, film about the least-known and smallest of America's national services. It's a little surprising that no one made a film about these rescue swimmers before, but fortunately these guys did not make a botch of it.
People who watch this movie will probably either wish that they were rescue swimmers, or be very glad that they are not. And everyone should be glad that they are out there, every day and night, "That others may live." Like our own field, Special Forces, it's one of those rare niches in the military: a minority group you can actually join. We're a little relieved that we can just learn a little about it by following Jake Fischer along on his