We apologize for posting this one a little late. We think you'll see why.
This revolver, in the potent .455/.476 load, might not have had many tales to tell; it was a presentation revolver, property of a British Indian Army officer, and it probably lived its life in a succession of desk drawers, fired occasionally or not at all. J. B. Woon, who was a Major in the 40th Pathans at the time of presentation (sometime around 1903 when the unit first got that name, perhaps) and who is said to have advanced to the rank of Major or Lieutenant General. It's a certainty that Woon had some tales to tell; one of those Eminent Victorians, he surfaces in a number of books we can find thanks to the magic of Google Book Search. Or does he?
(Yes, that picture embiggens with a click).
It is, it seems, hard to tell your Woons apart, as apparently there was more than one in British Indian Army service. There was also an Edward Woon, and there may have been more than one J.B. (The British Indian Army was a post-Rebellion service. Pre-1857, the Indian Army belonged to the British East India Company. After the Sepoy Rebellion, triggered in part by the issue of paper rifle-musket cartridges the native soldiers believed to be sealed with pork fat or beef tallow, making them anathema to Moslem and Hindu alike, the Indian Army was reorganized and nationalized).

For example, is this Major-General Woon, C.B., who inspected a Royal Army Medical Corps hospital in Multan in 1908, our guy, who had become an MG and a Commander of the Order of the Bath in a few short years? Or is it another Woon, whose initials were C.B.? We'd probably need to pore over multiple musty editions of the Army List to be sure.
(Source; Journal of the Army Medical Corps, Volume 10, edited by William Heaton Horrocks).
Here's a reference that shows that Major General J.B. Woon was, indeed, a Commander of the Order of the Bath. We'll transcribe the text from the Google Books page, because it's an interesting story. It's from the History of the 5th Gurkha Rifles2:
The Battalion went through its first Kitchener test in 1906. Lord Kitchener, then Commander-in-Chief in India, aimed at increasing the efficiency of the army in India by introducing the element of competition into the annual inspection of battalions. Under the rules framed by him all battalions carried out the same series of exercises, marks were allotted on a common basis, and the winning unit held the Chief's challenge cup for a year.

The exercises began with a fifteen-mile march under service conditions, followed immediately by an attack on a position, the defending enemy being represented by service targets, and ball ammunition being used as a test of shooting efficiency.
A capsule biography of Woon that breaks out his Christian names and his general officer service turns up, of all places, posted by users of the Axis History Forum.
General Sir John Blaxell Woon (1855 – 1938)
1905: Promoted to Brigadier-General
1905: Commander, 6th (Abbottabad) Infantry Brigade, India
?: Promoted to Major-General
1910 – ?: Commander, 5th (Mhow) Division, India
1911: Promoted to Lieutenant-General
? – 1914: Commander, 9th (Secunderabad) Division, India
?: Promoted to General
1919: Retired
A reply there fills in some of the gaps:
Gen Woon, John Blaxall, was born on Feb 24, 1856, not 1855. His date of death is Aug 29, 1938. He was promoted to MG in 1905, and to LTG in 1911. I have no dates for when he took over command of the 2 Indian divisions.
And another reply gets many of the remaining gaps:
General Sir John Blaxall Woon (Feb 24 1856 – Aug 29 1938)
1903: Promoted to Temporary Brigadier-General
1903: Colonel on Staff ?, India
1903: District Officer Commanding Bundelkhand District, India
1904 (or 1903): District Officer Commanding Kohat District, India
1904: Commander, Abbottabad Brigade, India
1904 (or 1905): Commander, Sirhind Brigade
1905: Promoted to Major-General
1910 – 1911: Commander, 5th (Mhow) Division, India
1911 – 1914: Commander, 9th (Secunderabad) Division, India
1911: Promoted to Lieutenant-General
1917: Promoted to General
1919: Retired

The information is based upon London Gazette, The Times, Who's Who 1897-1996 and Whitaker's peerage, baronetage, knightage, and companionage.

Btw. Brigadier-Generals were by nature Temporary.
These sources seem to disagree on whether he was John Blaxall or John Blaxell Woon.
In 1905, he marched (on horse) in a massive parade at Rawalpindi as Commander of the 6th (Abbottabad, yes, that Abbottabad) Infantry Brigade. (How massive? The program of the parade claims 55,516 officers and men, 13,396 horses, 5,558 camels, (Trigger warning for Ken White): another ~9,000 mules and ponies, 146 artillery pieces, and 136 machine guns).3
As he did not retire until 1919, it's clear that Maj. Gen. Woon did something in the Great War. The British Indian Army deployed forces to East Africa in 1914, forces that included most of Woon's former commands, to fight the German mischief-maker von Lettow-Vorbeck. And it deployed other elements — very large elements, for it was a very large army by modern standards — to fight on the Western Front4. Where Woon went, or whether he stayed "home" to "hustle glum heroes up the line to death" is unclear.
So was Major Woon the same guy as Major General Woon? Father and Son? Uncle and Nephew? Cousins? And what happened, then, to the Major of the 40th Pathans?
And how did the Webley come to be nicely cased…
… in a presentation case with an escutcheon bearing a different set of initials (implying a different officer) and a different regiment, the British Army's 24th Regiment of Foot (the great Zulu fighters of Ishandlwana and Rorke's Drift legend)?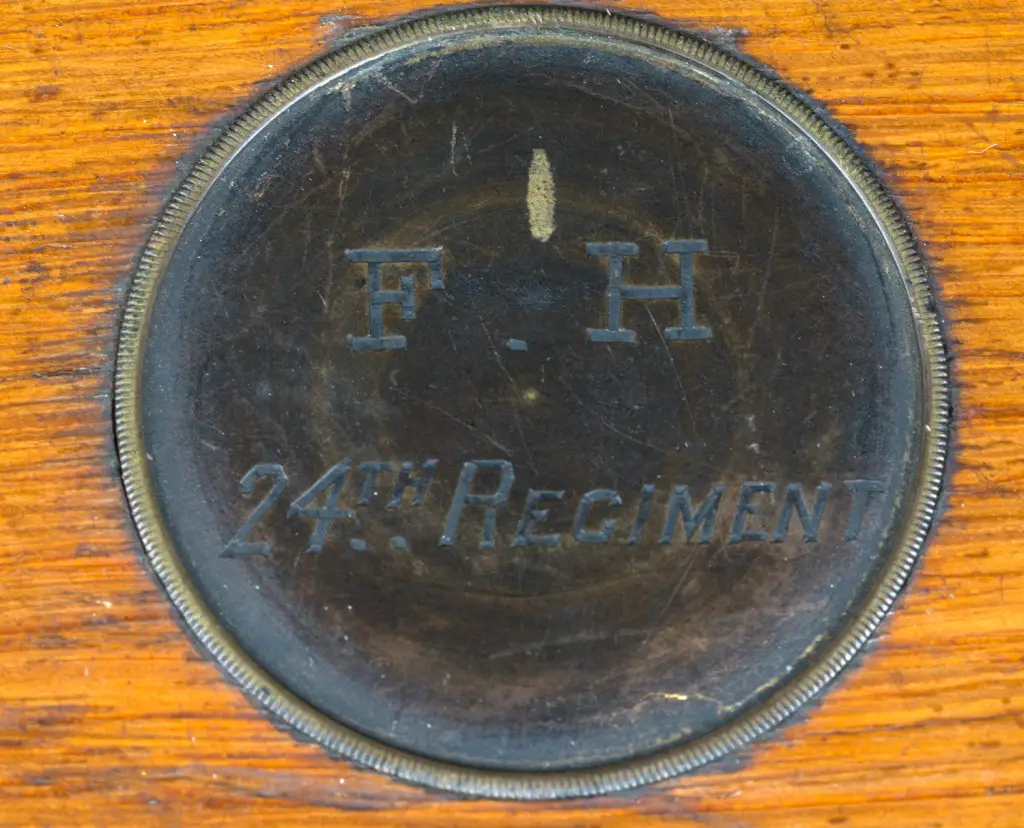 We're itching to fly to London and start researching in the IWM. The listing for the firearm suggests that this J.B. Woon served in the 40th Pathans and later became a lieutenant general. (For those without military experience, a Lt. Gen. is three stars, one more than a Maj. Gen. Yes, this is illogical. Military tradition: deal with it).
The 40th Pathans still exists today, or at least, a successor unit does, the 16th Battalion of the Punjab Regiment in the Pakistan Army. Perhaps the relevant archives are to be found in Islamabad.
But damnation, if only the revolver could speak!
The good news, if you've borne with us through all that, is that the pistol is for sale. There's a listing and even more great photographs of this unique revolver. The bad news is that the seller, Hallowell & Co. of Montana (a real wishbook if you like classic double rifles and shotguns), knows it has something rare and has priced it accordingly: $8450.
Notes: