Tam at A View from the Porch, who, thank a merciful God, is back posting (albeit with comments muzzled, which in her circumstances is understandable), earlier this month finally experienced some jams with her well-shot (and thoroughly documented) 9mm Walther PPX. Two jams in one session, actually, and both of them have some lessons for us, even though all our Walthers are so old they were made when lots of people still thought Hitler had some good ideas.
It confused us a bit because she listed the second, more interesting, jam first. We're going to turn her order around and list them in chronological order, which is also the way they appear if you go to her blog and scroll down (way down, now, as these were posted 7 Sep 14). Our main points are: what are the causes, how do you ID and reduce the stoppage when it occurs, and what preventive methods are possible.
Jam #1: Magazine Jam-Up
Here's Tam's post. She notes that:
[One round in the mag] had enough friction with the side of the magazine that it bound up, and the spring and follower tried to force the bottom round past it, They were wedged tight enough that they needed to be poked out with some vigor.
She notes that she's also seen a similar jam in a S&W M&P. We've seen this jam in a lot of double-stack mags, mostly but not all pistol mags, mostly but not all double-stack, single-feed mags. We've seen this a lot with M9 mags, especially el cheapo no-name aftermarket mags, but also with some issue mags. (We have not had trouble with Mec-Gar or Beretta factory mags, which we think are also Italian Mec-Gar mags produced for Beretta).
How do you recognize it?
It shows up, from behind the gun, as a stovepipe or as slide closed on an empty chamber. (Tam's pistol stovepiped, and it was immediately obvious to her).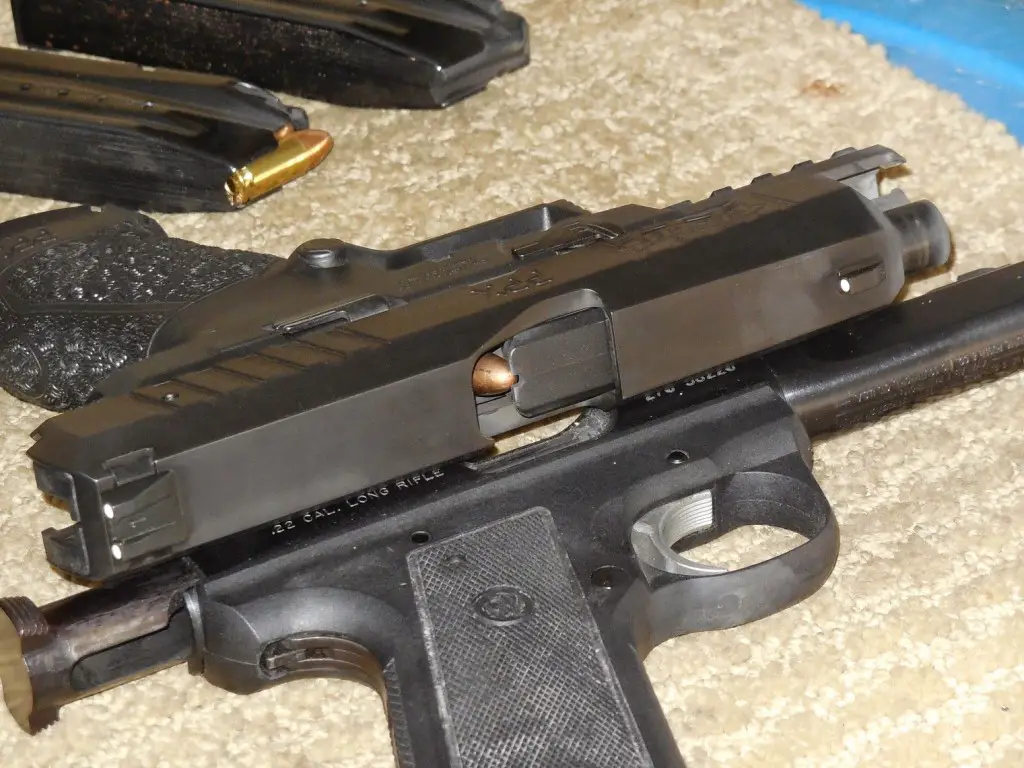 As you can see, a couple of rounds have jammed in her mag, and all the rounds above that are not being fed. The "slide closed on an empty chamber" variant is particularly insidious; it's a rare shooter who's so attuned to the gun as to pick up a loaded chamber indicator's failure to, well, indicate a loaded chamber. So you get click when you expect boom; an irritant at the range, but more serious if you, in the immortal phrase of unfortunately mortal, late Paul Poole, "dry fire in a firefight, mwah-hah-HAH!"
If you shoot enough to see this failure, you will come to recognize it with a glance in the magwell (neither rounds nor follower showing up between the mag's feed lips is a dead giveaway). Note that while this exact problem is, by definition, restricted to double-stack mags, single-stack mags can have a similar problem when a round tilts "just right" and jams inside the magazine.
A loaded or partly loaded magazine in which the top round is not retained by friction, and just falls out, is also an indicator of this problem. The rounds above the jam can be easily shaken out of the mag; the rounds below are trapped behind the jam.
Immediate Action?
Recycling the slide doesn't help, as the mag is not feeding rounds. Sometimes the jam will respond to a sharp blow on the mag base or pistol butt, but the sure-fire (no pun intended) immediate-action drill is to dump the jammed mag, check the gun is clear of loose rounds, and load a fresh mag.
Causes?
The causes can be: oversized rounds, mung (especially gritty mung) in the magazine, and bad mags. Mis-sized ammo and mung are normally hadmaidens of bottom-feeding at the ammo counter, but not always (as we'll see).
Magazines themselves have lots of failure modes. Mags can have dents or deformities that you can't see with the naked eye but that can be measured — and that can cause this problem. They can also have surface issues: rust and pitting on the inside of the mag can create enough friction to encourage rounds to hang up. There are things you can do to repair mags, although most smiths don't have the tools on hand.
With magazine issues, "Once is happenstance, twice is coincidence, three times is enemy action," as our hero Auric Goldfinger amiably pointed out to his guest. For the average trigger-and-hammer-applicator, the right thing is to expend the mag as a target (so that no one can ever rely on it) and replace it with a new one, if it has done this to you three times. Untold mischief is caused in military units and police departments (especially academies or other training facilities) from bad mags that are turned back in to supply and keep circulating. Supply hates to face the fact that mags are an expendable item; every dollar spent on mags from the supply account is one that can't be spent on other equipment. But don't let their economy leave you with the dreaded "Dry fire in a firefight!" Poole is laughing, wherever he is, but that ain't funny.
The feed system is a very critical part of any autoloading or automatic firearm and the best preventive measures are (1) to clean and maintain your magazines, (2) to use only high-quality mags, and (3) to weed out ruthlessly all substandard mags.
Jam #2: Magazine Jam-Up
Here's Tam's post. And here's what she says about it (at somewhat greater length):
The second one was the more interesting because in the middle of a rapid-fire string, I got a dead trigger.


The slide was too far out of battery to fire, fortunately. A smart rap on the rear of the slide only succeeded in getting the case stuck further. With the assistance of an RO, the round was extracted and a quick examination of the breechface, extractor claw, feed ramp, and chamber mouth showed nothing obviously out of the ordinary.
As she quickly figured out, being a sensible and systematic troubleshooter, the trouble wasn't the gun. Here's what it was: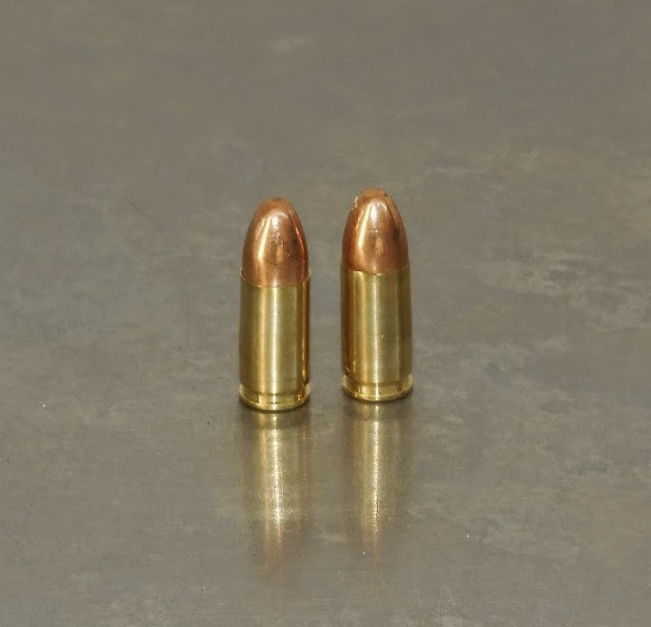 Sing with us, kiddies: "One of these things is not like the other, one of these things just doesn't belong…."
The culprit is the round on the right, with a random exemplar round from the same box on the left. Now I need a good caliper to measure it. It appears almost to be roll-crimped rather than taper-crimped.

I can't count this malfunction against the PPX, since the round was subsequently tested in my Gen 3 Glock 19 and one of my M&Ps and wouldn't fully chamber in either.
We can't judge it with the Mark I eyeball on that photo, although we could probably use the photogrammetry tools in photoshop or GIMP to have a hack at it. But several dimensional failures could have caused this: bad taper on the case, case length too long, bullet badly seated. Most pistol rounds headspace on the case mouth, including the 9 x 19, so odds are the case length was too long or the taper insufficient (probably the former, given the thing imitating a no-go gage in three different brands of 9mm pistol).
As a side note, this malfunction tied the gun up hard; if somebody had been shooting at me, I'd have been hosed.
This wasn't with Acme imported-from-Bufugliland steelcase crap; it was economy bulk Winchester, but still, Winchester ammo. Name brand ammo has fewer brand rounds than budget stuff, but not zero. An occasional bad round is kind of inevitable when you produce ammo in great bulk: you can't measure every case and every round, so you rely on statistical quality control. SQC is great stuff, but just because you have got your standard quality out to four nines to the right of the decimal point, your error rate is still nonzero. Somebody's going to get the turkey round, and this time, it was Tam. 
How do you recognize it?

It shows up as a failure to chamber. Trying to force the slide or bolt home will either succeed in chambering the round (in effect, the gun becomes a resizing tool) or, more likely, lock the gun up tighter than the action's ever been. (This is part of why the forward assist on the M16A1 and its successors was always a bad idea.
Immediate Action?
Recycling the slide or bolt is the only possibility, but it might require force and/or tools, especially if the gun has been forced towards battery. Take great care to prevent a negligent discharge when clearing the gun. (Be cognizant of the rules if you're at a range, and make sure the RO knows you're having a problem. They may have a policy you need to follow). Save the stuck round for examination. Note the lot number of the failed ammo (if it's available) and contact the ammo manufacturer.
Causes?
This is pretty much a bad ammo thing. Relegate that lot of ammo to training only. It probably does not make sense to change ammo brands, unless your brand is "Uncle Bubba's no-name mixed-brass reloads). Preventive measures include careful ammo selection, and, if you're seriously expecting combat, ammo inspection (World War I fighter pilots used to do this to prevent jams of their MGs due to slapdash ammo quality). We should probably do a post on bench and field-expedient ammo inspection sometime.