Actually, we wanted to use a crude word beginning with "A," after a girl we knew who was an A—— Magnet. But we didn't, we used "Trouble." And he is George Zimmerman, whom I think we all expected to retire to obscurity after he was tried for his self-defense shooting of young thug Trayvon Martin. George has not fulfilled that expectation in any way, shape or form: his latest advent into the headlines is not like his rather admirable foray into art (left). Nope: media are reporting he got shot in the face in a road rage incident. George's wounds are not life-threatening. (Update: the round was fired at him, and entered the cabin of his truck, but missed; he was injured only by flying glass. George does not seem to have returned fire). 
So, trouble, or trouble magnet?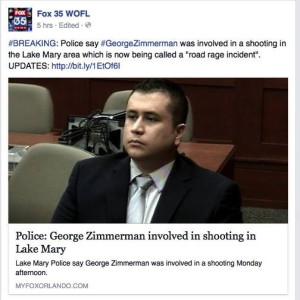 It's worth noting that the media, deeply invested in the Saint Trayvon story and the six-years-out-of-date angelic kid picture, initially reported only, "George Zimmerman involved in road rage shooting" — not that George was the shoot-ee, not the shoot-er. Initial media reports are often wrong, of course, and when the media has a prefab Narrative handy, they're almost always wrong.
The story has been a great chance for the media to stir up the Trayvon crowd, though, and recap the frequent "Zimmerman arrest!" highly hyped stories, none of which has turned into charges against the most famous Peruvian-American in the country, let alone convictions. 
According to Fox 35 Orlando (which initially ran with the juicy hed, ZIMMERMAN INVOLVED IN SHOOTING (caps theirs, since broomed), the shooter may be a man named Matthew Apperson who has a long-running dispute with Zimmerman, and who accused him of a road rage attack in September, 2014, in a case that collapsed due to Apperson's shifting story and lack of corroborating evidence.
Zimmerman was treated and released at a hospital in Sanford, FL (other media suggests he was only hit with glass from a gunshot that missed him), and was interviewed on the scene by police; his Honda Ridgeline, showing a bullet hole in the passenger side window, has been towed. Apperson has also spoken to police.
Police are likely to get to the bottom of the story a lot sooner and more accurately than the hacks at Fox 35 Orlando or any other media outlet. (The reporters and editors at Fox 35 didn't blurb or promote the new headline like they did the ones shown here suggesting Zimmerman was the shooter. Media ethics for you!)
More media:
http://www.wesh.com/news/george-zimmerman-involved-in-shooting-in-lake-mary-police-say/32943828