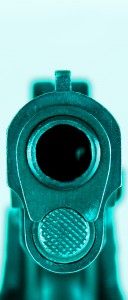 An experience every concealed carrier prepares for, but no reasonable carrier wants, came to a Pennsylvania doctor Thursday, when, for reasons that are unclear (except that the guy is a certified nutball), a certified nutball opened fire on his caseworker and the doc.
The doctor pulled out his own firearm, and when the shooting was over, the doc was grazed, but standing; and the nutball was on his way to another wing of the hospital, where his three gunshot wounds (one in the arm but two in the torso) have been treated.
The suspect, Richard Plotts, of Upper Darby, Pa., was reported in critical condition after the shooting at 2:20 p.m. in an office at the Mercy Wellness Center of Mercy Fitzgerald Hospital in Darby, Delaware County District Attorney Jack Whelan said at an evening news conference.

The unidentified 52-year-old doctor shot Plotts three times and suffered a graze wound when the suspect returned fire, Whelan said at an evening news conference. Two guns were recovered.

Another doctor and caseworker tackled Plotts in a hallway and held him until police arrived.

Whelan said Plotts, who has a history of unspecified psychiatric problems, and his caseworker arrived at the doctor's third-floor office about 2 p.m., Whalen said. Soon after, another staffer heard a loud argument and opened the door to find the suspect pointing a gun at the doctor. The worker then closed the door and call 911.
via Pa. doctor shoots patient who killed caseworker.
Unfortunately Plotts's caseworker, a 53-year-old woman who has not been identified, was killed by Plotts's shots. According to another story, Plotts was known to be combative.
The doctor who saved his life, and who knows how many others (possibly even nutball Plotts's, because these nutballs' shooting sprees usually culminate in self-destruction) may have lost his job in the process.
Hospital spokeswoman Bernice Ho described Plotts as a "victim" in a prepared statement, and condemned the doctor for violating Mercy Health Systems' corporate weapons policy, which is to die in place in the 20 minutes it takes for a 911 call to turn into a cop on the scene.
Not everyone was as quick as Ho to blast the doctor. (Well, Potts was apparently all for blasting him, in his own way). District attorney Jack Whelan said the doctor, "from all accounts, would have acted in self-defense… his life was in jeopardy." Police Chief Donald Molineaux was even more explicit in his praise for the defensive doctor:
I believe the doctor saved lives. Without that firearm, this guy (the patient) could've went out in the hallway and just walked down the offices until he ran out of ammunition.
Even after receiving life-threatening wounds, Plotts still tried to flee, but another doctor and caseworker tackled and disarmed him. They were also praised by the authorities.
It is as simple as this: will you take responsibility for your safety, or will you trust to luck or chance that no Richard Plotts will insert himself into your life? If the doctor had taken the advice of Michael Bloomberg or Shannon Watts he would be dead. Hell, even Bloomberg and Watts don't take their own advice — they're wealthy enough yto have paid bodyguards.