Let's have another one from Guy in a Garage. In this case, he's test-firing a James R Patrick Songbird .22.
You see some of the limitations of the 3D printed plastic firearm here.
But you also see some potential.
Barrels were never going to be the best test case for fused filament fabrication type 3D printing, for the same reason that even commercial manufacturers deeply committed to polymer firearms parts have never produced polymer barrels.
Polymer receivers go back almost 60 years to the Remington Nylon 66 (1959) and its derivatives, which had unitary receivers and stocks of DuPont Nylon 6/6, a polyamide that was then one of the toughest injection-moldable plastics available. Polymer handguns go back nearly almost 40 years — to 1979-82 and the development and launch of the Glock 17. Millions and millions of polymer frames have been made, but zero commercial polymer barrels.
There have been experimental barrels that were made of wound fiberglass, or fiberglass around a metallic rifled liner, such as the ones that Armalite of Hollywood, California experimented with for shotguns and some early AR-10 prototypes.
These early experiments left some of the Springfield greybeards wondering if Armalite was sourcing parts from Acme…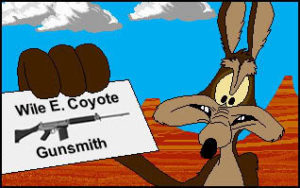 …and having them installed by graduates of the Wile E. Coyote School of Gunsmithing.
Modern composite technology such as carbon fiber filament and tow, and filament winding machinery, has finally brought the technology into line with Armalite's vision. Carbon fiber (lined, of course) barrels have also been adapted to modern rimfire arms as well.
What does this mean for the future of polymers? Well, it's a fact that after all these years, good old Nylon 6/6 is still a competitive material for high impact uses. What has happened in the injection molding industry over that span of time is increasing use of inserts and overmolding to make molded parts out of multiple materials.
This is almost certainly the wave of the future — or one wave of the future — in 3D printed firearms parts. Many printers now have the capability to print in multiple materials or to pause for the insertion of an insert (such as a threaded socket for a screw; you've probably seen molded plastic parts with inserts like these).
We can still expect 3D printing to be used for convenience, short runs & micromanufacturing, customization and personalization, prototyping, making jigs and fixtures, and making molds and patterns for traditional manufacturing processes.
But if you really want to, you can make a gun out of it.