Every once in a while, something comes along that does a pretty good Stump the Monkey on is. This is one of those. Collector/Dealer Bob Adams thinks it might have been some kind of a test fixture.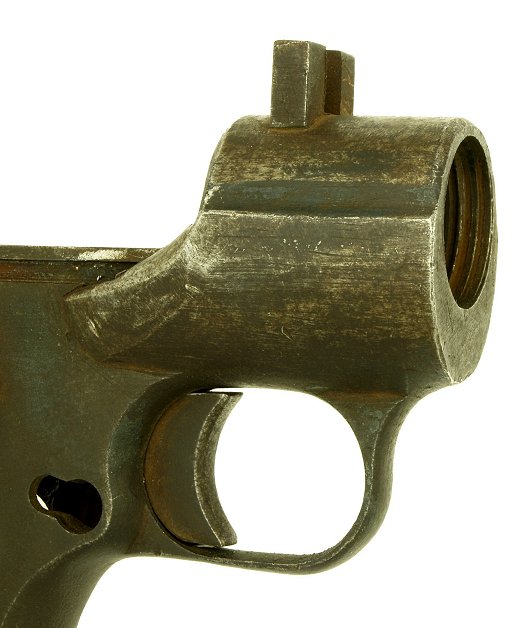 Unknown device or test fixture possibly made from a ca. 1918 Colt 1911 frame. Fitted with what appears to be a large threaded ring. Equipped with two vertical uprights at the top of the ring and a hole on the left side. The grip safety has been replaced with a solid backstrap/mainspring housing. The non-functional half slide is not original to the device. There is no longer any provision for a breech locking mechanism, nor any way to secure a slide on the rails, so it could not function as a firearm. This appears to have been an unfinished or scrap frame extensively remanufactured into some unknown device or test fixture and is not a firearm. It may have been a fixture for testing hammer fall impact, or firing pin spring strength, firing pin protusion, or ???? Any ideas?
via Adams Guns.
We're not so sure about that. It looks to us like those big threads were meant to receive a big barrel, and the two blocks — rear sights? suggest it might have been a long barrel. We also note the one piece backstrap (replacing the stock 1911's mainspring housing and grip safety) doesn't fit entirely well:
Could those gaps have to do with a removable stock? Perhaps the gun was meant to have some sort of single-shot action and a Marble Game Getter style stock that clipped on here. But we think it is more likely to have been a firearm than a fixture. Bob disagrees.
What do you think?