We've featured an MP.18-II before, which is a later iteration of this exact same gun, with a magazine well reconfigured for straight magazines. (It led in turn to the MP.28, the Lanchester, and the Sten, by fairly direct process of derivation). But this gun, the MP.18-I, is the granddaddy of them all, and it could be yours.
It is certainly the first widely produced submachine gun, defined as a shoulder-fired infantry weapon firing a pistol cartridge with an automatic or select-fire mechanism. A blowback mechanism, it showed the way for many designs that would follow through three generations of submachine guns, until the rise of compact versions of intermediate-cartridge assault weapons would replace most of them.
Some would say it has a face only a mother could love:
And it's just as awkward looking from behind. 
The drum magazine is so odd looking because it was already in production for the Lange P.08, the "Artillery" Luger. Rather than try to design a thirtyish-round magazine, the engineers at Theodor Bergmann in the weapons-manufacturing center Suhl, Germany, did what many later gun designers would do and borrowed a proven one.
The gadget with the lever is the magazine loader, a must-have for these unique mags. Note the sleeve that fits on them for SMG use.
Like all first-generation submachine guns the MP.18-I is made using the rifle processes of the early 20th Century. It is primarily made of steel parts machined from billet or forgings, richly blued; and the stock is solid walnut. If four years of relentless naval blockade had damaged the German Empire's war production capabilities, this gun doesn't show it.
The auction has a very reasonable opening bid, for what it is, but there is also a reserve. No, we don't know what the reserve is.
As the catchy song goes, what does the ad say?
This is a really nice example of the early 9 mm German submachine gun used in WWI. MP18-1 was the first true Submachine Gun. This is not all matching, but is an excellent example with an excellent bore.

These are very rare and hard to find because most MP18's were modified to accept the straight magazine instead of the drum magazine.
There was a show on the tube, the one with that perv guy, where they bubba'd up a later MP. 18-II to resemble this, so you might want to ensure that this is not the Bubba gun version.
It has a 1920 stamp on the receiver so it was used by the Weimar Police.

This comes with 2 drums with adapters and 1 drum loading tool. These drums are the same drums used with the Artillery Luger. This is C&R fully transferable and is currently on a form 3.
via German WWI MP18,I with 2 Drums & Loader : Machine Guns at GunBroker.com.
If you're familiar with later German SMGs, the bolt and striker of the MP.18 look pretty familiar:
The simplicity of this firearm was so elegantly perfect for its purpose that it spawned hundreds of work-alikes, few of which improved on its basic function (after replacing the overly complex magazine).
This may look like a lot of pictures, but there are way more at the auction link — something like 30 of them all told. You know you want to click over there anyway.
Sure, it's more than our pickup cost, new, and it's almost 100 years old. But on the other hand, our pickup will be worth approximately $0 in ten years, and an original MP.18-I is unlikely to lose much value. (If you buy it into a business you can even try depreciating it and see if the tax guys let you).
In case two drums aren't enough for you, the same seller has a third, too. Without loader, but with dust cover. They're all First Model snail drums. Annoy a totalitarian, buy a 32-round magazine.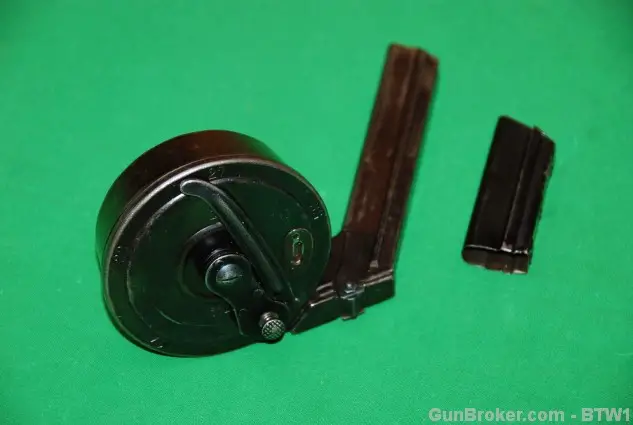 One nice thing about this seller's auctions is that they run for a good, long time. The MP.18 has eight days to go. (Serious bidders may not show up until close to the end. Don't read too much into lack of bids on an auction when it still has weeks to run).
Another nice thing about these auctions? They give all of us the chance to see many rare collector pieces. We can't own them all, but we can get eyes on them when they change hands. How cool is that?