So, let's take a look back at something we've been discussing recently: reverse engineering. The term is a relatively new one, but the practice is older than engineering itself. When you get right down to it it's just "copying." And manufacturers have been doing that since… Well, since sometime very soon after they first started manufacturing!
Bear in mind that parts were not made from drawings until well into the 20th century. Specific jigs and measuring tools were made to ensure that parts were produced in conformance with a physical, mechanical prototype. And designers didn't work from, or produce, drawings, at least not exclusively: a designer like John M. Browning produced a physical, working model, and brought that to his manufacturing partners. They engineered it for production. Sure, he made drawings, or had them made, but that was for patent purposes (below, right).
In the early twentieth century, talent in gun design usually resided in a different man than talent in production engineering. (There were some who could do both, like John Garand and some of the Russian masters, like Vladimir Grigoryevich Fyodorov, but they were rare).
So in John Browning's day, putting any of his guns into production was, to one extent or another, an exercise in what we would today call reverse engineering. Production engineers would review the prototype, gain an understanding of its design philosophy and features from the designer, and then figure out how to mass-produce the weapons. And the World War I Browning Automatic Rifle may be the greatest reverse engineering saga you haven't heard.
Winchester, the firm, was struggling when it was tasked to produce Browning's new designs, the Browning Automatic Rifle and the yet-nameless .50 caliber machine gun, with priority to the auto rifle. There was only one problem: there was only one prototype or specimen BAR in the world, and Colt had it, and was re-engineering it all day long, Monday to Friday. In the spirit of wartime cooperation, Colt would let its New Haven rivals borrow the new firearm – for a weekend.
Winchester, which had seen massive orders, but incurred staggering debt in order to fulfill them, needed the order badly. They accepted what seemed to be an unreasonable offer.
In September 1917, Winchester was instructed to commence tooling up for the manufacture of the Browning Automatic Rifle (BAR). Edwin Pugsley, then Manufacturing engineer, went to the coat factory to see the only existing model. Since the BAR was needed at Colt during the work week, it was borrowed for a weekend, and in that time drawings were made and the project begun. By the end of December The first Winchester BAR had been completed. Production was well on by March, and by Armistice Day, November 11, 1918, Winchester had made approximately 47,000.

Winchester also had begun construction of the Browning .50-caliber machine gun and had a working model completed within about two months. That gun, however, never entered into production, because of the end of hostilities.1
The earnings from wartime contracts, including 1917 Enfield rifles, riot guns, and the BAR, were substantial: $76 million. It wasn't enough to retire all of Winchester's debt, a substantial $16 million, but they were able to pay off about half of it. The company still had to reorganize and the Winchester-Bennett family wound up giving up control.
But it's hard to beat, in the annals of reverse engineering, the one-weekend crash metrology and documentation Winchester had with the world's only BAR before delivering it back to the Colt engineers in Hartford, and that produced the wartime BARs and led to the rifle's future as the basis of fire in the American rifle squad, not in time for that war but in plenty of time for the next two. This is especially remarkable when you consider the sheer complexity of the BAR. It has scores and scores of parts.2 (Winchester cheated a little, for example, by using the sight they were already producing for the M1917 Enfield rifle).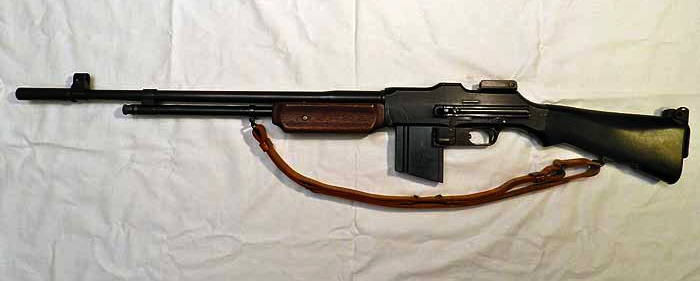 The problem, of course, with two independent reverse-engineering projects? Parts from the Colt Monitor don't interchange 100% with Winchester's military BARs. But what do you want for two days?
Update 1000R 8 Apr 15
This post has been corrected. Several (more like twenty) unproofread dictation failures have been fixed. We're not sure we got them all. Thanks to Ullr in the comments.
"I don't need to check it… it was done last night, just needed the pictures." Zug.
Notes
Wilson, RL. Winchester: An American Legend. New York, 2004: Chartwell Books. p. 171.
As well Hognose knows. He was sure he was going to flunk BAR in SF Light Weapons School in 1983. "Cups and cones, cups and cones…." He pulled out a pass on the BAR, but got a downcheck on the M3A1 Grease Gun, of all things (IIRC you could get two downchecks, or maybe it was three. Didn't want to test the limits).